Estimated read time: 4-5 minutes
This archived news story is available only for your personal, non-commercial use. Information in the story may be outdated or superseded by additional information. Reading or replaying the story in its archived form does not constitute a republication of the story.
SALT LAKE CITY — You may recognize the clean lines, bright colors and stark horizons of Justin Wheatley's portraits of Utah homes and places.
The Clinton, Utah native started making art as a child and was inspired by his art teachers at Northridge High School.
"I had some really great art teachers, Mr. Loveland and Ms. Dimick, and decided I wanted to be just like them," he said.
Since then, he earned a degree in fine art and education from Utah State University and moved to Salt Lake City, where he continues to create fine art and teach art at Granite School District's Connection High School. After meeting his wife Camille at her Master's in Architecture project presentation, the couple married and now have three daughters together with another baby on the way.
He said a study abroad trip in Germany helped him develop a love for modern architecture and art, and artists Edward Hopper, Lyonel Fieninger and Richard Diebenkorn have inspired his work. Wheatley's geometric paintings exaggerate the buildings' designs while cleaning up a structure's surroundings, helping the viewer focus on the architectural features.
Wheatley uses mostly acrylics but also ventures into oil and mixed media, using photography, collage and acrylic to reimagine local places like Salt Lake's Main Street, Daybreak and the Redmond Building.
"The narrative of my work comes from living in suburbia and trying to figure out the present while planning for the future," Wheatley said. "I began painting portraits of houses after thinking about the history of the home we live in. Every once in awhile we hear a story from neighbors about someone who lived in our home before us. Each house has stories to tell, but the stories usually remain within its walls.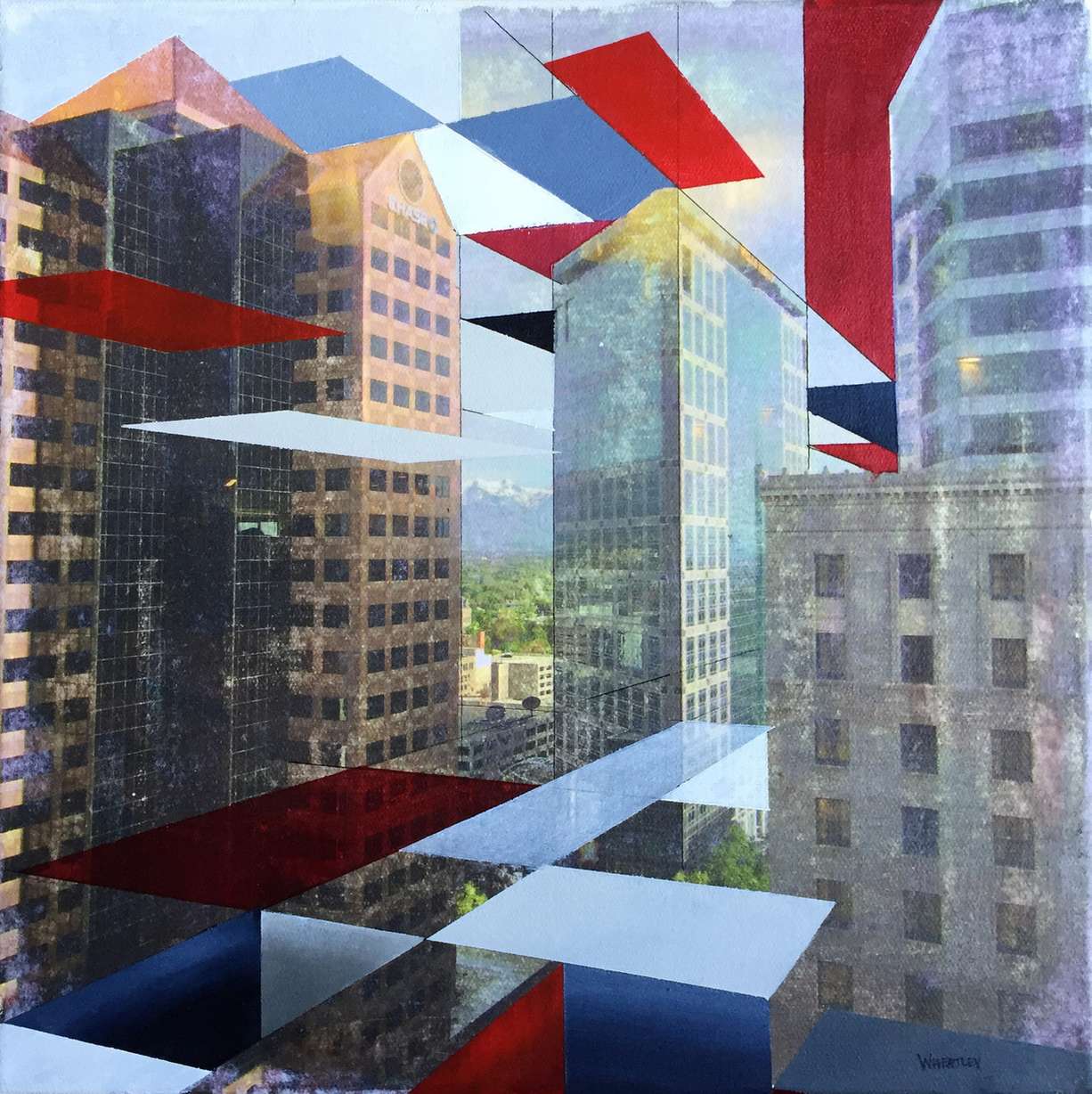 While his paintings rarely feature people, the work feels like an examination of architecture's personality or humanity.
"Good architecture is the grandest form of functional art. It is sculpture that you can experience from inside and out," Wheatley said. "I'm interested in how buildings spring up from a natural setting and relate for good or bad to their surroundings. They are also fragile and ever-changing. In this sense architecture becomes a great metaphor. Even the grandest buildings created by humans are eventually overcome by what was created by God."
Wheatley's deliberate use of strong vertical lines is a subtle homage to that creator, he said.
"I often use a vertical line in my work. The first time I did this it was an extension of an outline of a building I was painting. While it seemed to work aesthetically, it was a way to offer my own personal nod to the Creator without being overly obvious. I continue to use the line in most of my work. I like the idea of the relationship of the strong vertical element of mortal architecture to immortality."
Recently, his piece "Prodigal Son" was recognized by The Church of Jesus Christ of Latter-day Saints in its International Competition held by the Church History Museum. It was included in the Purchase Awards.
"This painting was borne from another work that is similar in composition called 'The Prayer,'" he said. "Both show a division of space in which light and dark meet at a vertical line that stretches towards heaven. In 'Prodigal Son,' a lone figure remains in the darkness while facing a home in the light. The invitation to come home is there, but it is up to the person to take the step forward. The painting is simple and straightforward, just as the parable."
While Wheatley has seen personal success, he said the most rewarding experience for him is how people experience his art.
"The best moments are when I'm at a show or a gallery and I overhear someone talking about a painting in a positive way. I've never been great at communicating verbally, and to have someone get something from a painting is incredibly rewarding," he said.
He also credits the Salt Lake artist community with providing inspiration and support for one another and making art accessible to the public. Wheatley advocates the Gallery Stroll on the third Friday of the month.
"Salt Lake has a thriving art scene," Wheatley said. "The gallery stroll every third Friday of the month is an easy way to experience it. The stroll skirts the intimidation of walking alone into a gallery on a weekday. There are always lots of people, refreshments, and it's casual and family-friendly."
×
Photos
Most recent Utah stories