This archived news story is available only for your personal, non-commercial use. Information in the story may be outdated or superseded by additional information. Reading or replaying the story in its archived form does not constitute a republication of the story.
SALT LAKE CITY — The pressure was intense, but the Chem-E Car team at the University of Utah was prepared to go the distance.
Their car, in the first round, was not.
"There was a bit of a malfunction," said Steve Stafsholt. "We know exactly what happened."
Stafsholt said the team would make adjustments and be ready to face even the stiffest of competitors.
University teams from around the country were participating Sunday in the American Institute of Chemical Engineers' Chem-E Car competition.
Teams engineered and built small cars powered solely by chemical reaction. To add an extra level of difficulty, students didn't find out how far their car would have to travel — or how much of a payload it would have to carry — until a couple hours before the competition.
The University of Utah, as the host school and 2014 defending champion, was under extra scrutiny.
"The pressure is on," Stafsholt said.
The ingenuity of the teams' designs were limited only by their imagination — which is how competition founder Scott Folger wants it to be.
"This is designed to teach creativity and basic chemical engineering principles," said Folger, who is past president of the institute.
Babe the Bio Car, for example, was the brainchild of the University of Maine, powered by beef liver and hydrogen peroxide.
The 34 teams competing Sunday had already emerged victorious at regional competitions.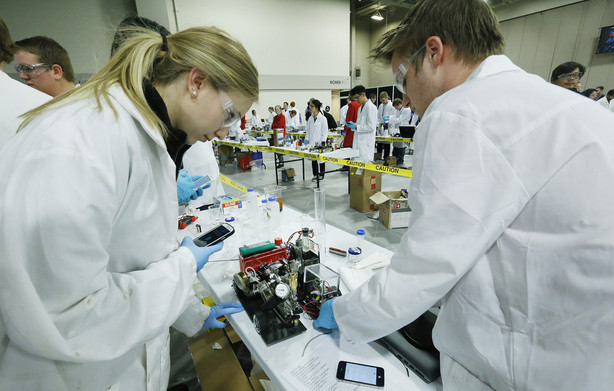 Folger said to be at the national level event is a feat itself.
"There are 60 to 70 teams that never made it this far," he said.
Teams had to hastily work out the calculations given the two parameters of the competition — distance and payload.
Adorned in lab coats, rubber gloves, safety glasses and a lot of nerves, the students made the last minute adjustments and readied for their turn in the spotlight.
Tonya Kuhl, a chemical engineering professor at the University of California at Davis, said the students put an incredible amount of work and creativity into their cars, which are about the size of a shoebox.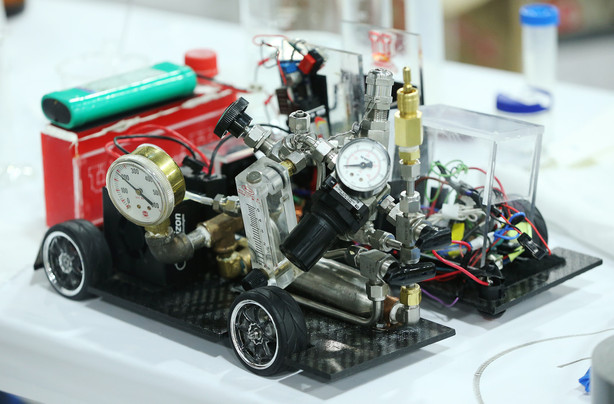 Some of the fuels in this year's competition include homemade fuel cells and lead batteries, lye and aluminum foil, baking soda and vinegar.
The car that makes it closet to the set distance — and doesn't go past the finish line — wins the day.
On Sunday, there were two first place finishers: Cornell University and McGill University. The University of California at Davis took third place, and the University of Utah walked away in 10th place.
×
Photos
Related Stories