This archived news story is available only for your personal, non-commercial use. Information in the story may be outdated or superseded by additional information. Reading or replaying the story in its archived form does not constitute a republication of the story.
This story is sponsored by Auric Solar. Trust your home to the largest solar provider in Utah and Idaho.
Solar power is on the rise. In fact, according to the Union of Concerned Scientists, the amount installed in the United States grew 485 percent between 2010 and 2013. Repeat, 485 percent! That's a lot of solar power.
And why not? The cost of solar power continues to decrease, it generates electricity in a clean and reliable way, and it saves money. Most people would call that a win-win-win. Not only is it becoming more popular among households, but big companies are also buying into the solar power phenomenon. Below are seven businesses you may not have realized use solar power.
1. Intel Corporation
Combining wind and solar, the technology and telecom company's total annual usage is 3,107,050,000 kilowatts. The environmental impact of Intel's green purchases equals taking more than 455,000 cars off the road or powering more than 327,000 American homes in one year, according to epa.gov. Go Intel.
2. Rocky Mountain Recycling
Based in Salt Lake City, Rocky Mountain Recycling provides recycling services to people across the country. Labeled the largest paper recycler in the Intermountain West, the company has 265 solar panels on its roof — totaling 53 kilowatts of power. It is currently saving over $500 per month.
3. Wal-Mart
"Using the power of the sun and installing solar panels lowers our energy costs and is clearly good for the environment," says David Ozment, senior director for energy at Wal-Mart.
Wal-Mart proved its commitment to solar power by installing 240 solar projects through 2013, saving about $4.8 million, according to Ozment.
4. Rio Tinto Stadium
On Oct. 8, 2015, Real Salt Lake unveiled 6,500 solar panels at Rio Tinto Stadium. Taking only six months to complete, it is now the largest solar array in Utah. The 2,020-kilowatt system is expected to offset 73 percent of Real Salt Lake's total annual stadium power needs.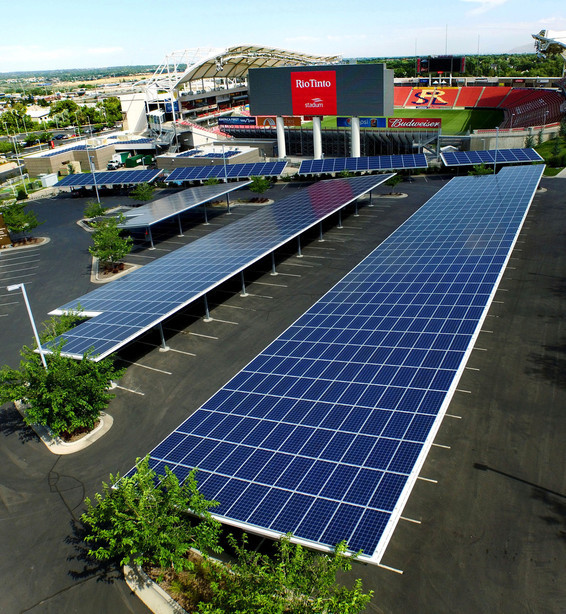 The go-green impact, according to mls.com, is comparable to taking 450 cars off the road or powering 284 homes for a year.
5. Apple Inc.
In 2011, Apple earned a "D" grade on Greenpeace's "How Green Is Your Cloud" report. The report ranks companies on four different energy prototypes. Thus, Apple's commitment to 100 percent renewable energy was born.
Since then, Apple has had two solar installations and announced a third in 2014. These projects brought about huge change and progress in the company's efforts to go green.
6. Ace Recycling and Disposal
In May 2014, Ace Recycling and Disposal installed 919 solar panels, completing the largest solar parking structure in Utah at the time. The company expected a 40 percent decrease in its electric bill from the new installation.
"We are moving forward with our goal to generate renewable energy as a step to be self-sufficient and secure our company's future," says Matt Stalsberg, one of the company's owners. "All of our green decisions have to make financial sense because you can't do it for free."
7. Kohl's Department Stores
Kohl's reached an annual kilowatt usage of 1,429,749,630 in 2015, according to epa.gov. In 2014, Kohl's totaled 161 solar locations in 13 states, resulting in 50 megawatts of power. Its goal to go green stems from a commitment to better the world.
"As a national retailer, it is important for Kohl's to be a good corporate citizen. We aim to be a corporate sustainability leader, which is demonstrated in our commitment to on-site generation through our solar program and a continued investment in support of green power," says Ken Bonning, Kohl's senior executive vice president.
Solar Power!
Going green just might be the way to go. Other big company names that use solar power include Chevron, Costco, Ikea, Walgreens and more. Three of the companies above, all based in Utah, (Rocky Mountain Recycling, Rio Tinto Stadium, & Ace Recycling and Disposal) have trusted Auric Solar to help them make the switch. For more information on solar installation in Utah, visit Auric Solar, the largest and most trusted solar provider in Utah and Idaho.
×