Estimated read time: 4-5 minutes
This archived news story is available only for your personal, non-commercial use. Information in the story may be outdated or superseded by additional information. Reading or replaying the story in its archived form does not constitute a republication of the story.
SALT LAKE CITY — Struck Advertising may be a business, but it's certainly not average. A directory of logos can share a shelf with a wampa figure from "The Empire Strikes Back," and the only guy in a suit jacket is the one who meets with clients.
After all, an ad agency doesn't really sell anything but ideas, and a comfortable environment can help the ideas flow. Creative director Alex Fuller calls it a mix between creativity and commerce.
"I didn't know this existed, really, when I was younger," she said. "I wanted to be a poet."
Even the way the company's employees are structured can seem a bit unconventional — their CEO is often sitting with a laptop, writing copy.
"We're all down in the trenches," said Fuller. "There's no middle management layers where people just shove stuff around. It doesn't work that way. It means our quality's quite high. There are really no junior teams of people getting stuff done."
The team at Struck helps sell feelings — feelings on everything from sourdough hamburgers to Spongebob Squarepants. They try to make everything "cool." But ultimately, what's "cool" is up to the client.
"It has to do with what their taste is as well," said designer Mike Dehaan. "So they may not like purple, they may not like light green, so you kind of cater it to them, say 'This purple will work, but this purple will not work.'"
You might think it doesn't get any bigger than working with Dora the Explorer, but one of their most well-known clients isn't a business at all: it's us.
"No other place boasts so many national parks so close together," said Fuller. "Close enough to do in a single, epic road trip."
This team helps sell the "Mighty 5," the wildly successful Utah tourism campaign. "We want to make them feel awe and excitement and wonder," said Fuller.
Tourism in Utah has exploded in recent years, making it the fastest-growing industry in the state. The ad's creators say it's because of a rebranding effort, completely reworking the old campaign.
"People saw Delicate Arch and they thought it was in Arizona," said Fuller. "They wanted what we had, they just didn't know it was us that had it. The truth is, we wimped out a little bit. We landed up in this place of saying something for everyone — literally to the point where we crammed something for everyone on top of one car."
Fuller's referring to an old ad campaign, featuring a Jeep loaded down with bicycles, kayaks and enough equipment for a dozen different vacations. She says part of the reason it came about was because a variety of groups all wanted to be included.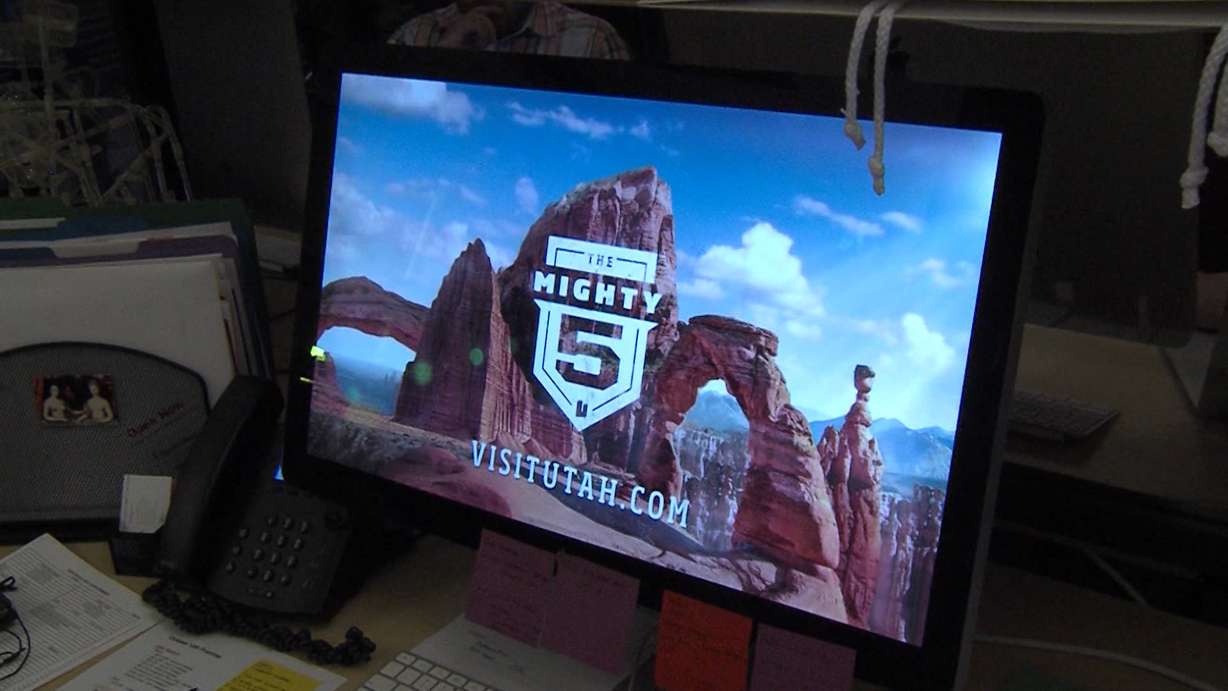 "There are so many different elements pulling on Utah tourism at all times," Fuller said. "All these constituents whose job it is to fight to see themselves reflected in that advertising. It makes a lot of sense."
But when viewed by potential tourists who knew little about what Utah has to offer, Fuller says it helped create a lack of identity for the state.
"The problem with saying something for everyone is that first of all, everyone can say that," she said. "And really, it says nothing at all. When it came time for the account to be reviewed a few years ago, we said, 'Okay, we have to stop doing that. We have to be bold, we have to find focus. We have to find the one thing that we can truly own, and we have to lay claim to that, and hold to it.'" Fuller says the idea of promoting Utah's national parks wasn't new, but her team's idea was.
"What was new was the idea to brand them as a single, bucket list entity," she said. "To put that on par with life adventures like the Inca Trail, and the Amazon, and the Pyramids and the Grand Canyon — to package that. And that became the 'Mighty 5.'"
Tourists spent nearly $8 billion in Utah last year, and state officials often give much of the credit to the "Mighty 5" campaign. The project's success is something the team takes a lot of pride in.
"Tourism work, especially when it's in your home state, is really uniquely rewarding," said Fuller.
Struck's contract with Utah's Office of Tourism was recently renewed, and they're currently working on the state's winter campaign, with the next evolution of the "Mighty 5" in the works.
Fuller says her job isn't too far off from the dreams she had in her youth.
"Poetry jokes aside, we get to actually create poetry," she said. "It just serves a different purpose in the end."
Related Story
---
Ray Boone is a photojournalist at KSL. He can be reached with story ideas at rboone@ksl.com.
×
Related stories
Most recent Utah stories