This archived news story is available only for your personal, non-commercial use. Information in the story may be outdated or superseded by additional information. Reading or replaying the story in its archived form does not constitute a republication of the story.
WEST VALLEY CITY — Christine Espinel took the day off of work Thursday, expecting to spend hours at the Utah Driver License Division so her teenage son could get his learner permit.
Espinel was surprised when they were in and out in less than 20 minutes.
"This is absolutely crazy. I've never done this so fast. I've been a Utah driver my whole life and have had plenty of time sitting in one of those chairs," she said, motioning to the waiting area.
Mother and son didn't spend any time sitting. Instead, they walked straight from filling out forms to the information booth, then to a work station.
The experience is not unique to the Espinels.
Since December, the Utah Department of Public Safety has significantly cut down on the wait time for customers, said Nannette Rolfe, deputy commissioner at the department.
The Driver License Division in West Valley City, previously the slowest license-issuer in the state, went from a 28-minute average wait time to waits between four and nine minutes, Rolfe said.
Within the past year, employees have rearranged the West Valley office to decrease customer traffic. Pictures and signatures are now taken at the newly added information desk before a client goes to a station. At the desk, employees sort customers by case type.
"If you just need a copy of your record, we're going to put you in one category, versus if your license is expired and it's going to take you awhile to get it renewed," Rolfe said.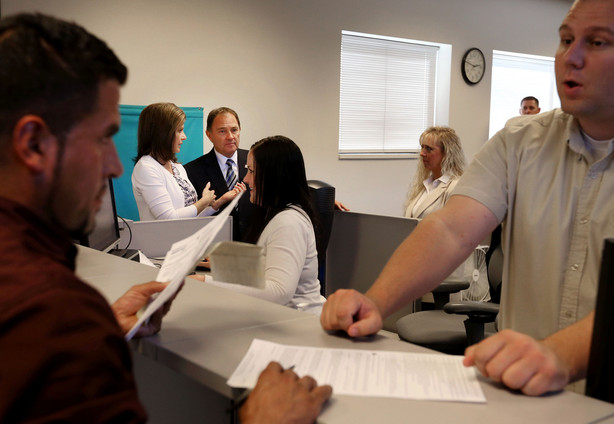 People who need a copy of their driving record no longer have to wait in line while others have their documentation checked because that work is now done at stations after customers receive a call number. Customers can also schedule appointments and fill out application licenses online.
Such practices are being applied in Utah Driver License Division offices across the state, Rolfe said.
From filling out forms to exiting the building, it took 16-year-old Claire Wood and her mother, Christine, just five minutes to get a new copy of Claire's learner permit.
About 18 months ago, Christine Wood waited 90 minutes to renew her license, she said.
Gov. Gary Herbert said the Utah Driver License Division is a leader in efficiency in the state. Two years ago, the governor challenged all state agencies to increase their efficiency by 25 percent by 2017. So far, efficiency has increased by 24.6 percent statewide, he said.
"It takes time to change, but we are in the process of evolution. We are not only going to meet the goal; we are going to exceed the goal," Herbert said. "(The Driver License Division) made changes here that we can replicate in many of our agencies because it just takes a few seconds here and a few seconds there to make a difference."
---
Tori Jorgensen is a Deseret News intern and current communications major at Southern Utah University. Find her on Twitter @TORIAjorgensen Email: vjorgensen@deseretnews.com
×
Photos