Estimated read time: 4-5 minutes
This archived news story is available only for your personal, non-commercial use. Information in the story may be outdated or superseded by additional information. Reading or replaying the story in its archived form does not constitute a republication of the story.
SALT LAKE CITY — When M. Hasna Maznavi founded the Women's Mosque of America, the first all-female mosque in the United States, media reports spun the story to suggest women were running away from Muslim men, she said.
Nothing could have been further than the truth.
"The reason I founded this mosque was because I love my religion. I love Islam. I love mosques. I love Muslim men, especially the Prophet Muhammad, peace be upon Him," Maznavi said, speaking on a panel on opening day of the Parliament of the World's Religions.
Thursday marked the Parliament's first-ever Women's Assembly, which included workshops and presentations on social justice, religious traditions, sexual violence, human rights and dignity of women.
From Maznavi's perspective, the opening of the mosque in Los Angeles was a celebration of Muslim women's voices, the history of Islam and lifting up the faith's many female scholars.
"Yet it was just rebranded and reframed as if we're running away from Muslim men," which was highly disappointing, Maznavi said.
Maznavi, one of five speakers on a panel that explored "Women Re-imagining Religious Traditions," said she has read the Koran cover to cover in English.
Many Muslims recite passages of the Koran in Arabic from memory, not fully understanding its meaning, she said.
"If you read the Koran, it's very clear that any injustice, any inequality that you see in the world is really a result of post-colonial politics, as a result of cultural traditions masquerading as Islamic traditions," Maznavi said.
Another panelist, Victoria Rue, said she has been twice ordained as a Roman Catholic priest — once in the streets of New York City as part of the LGBT Cathedral Project and a second time on a boat on the St. Lawrence Seaway.
The ordinations are not recognized by the Vatican. She and other members of Roman Catholic Women Priests, some 215 priests, bishops, deacons and candidates worldwide have been excommunicated, she said.
"We're not accepted by the Vatican and of course we claim that excommunication as a great big red badge of courage. We do not accept being outside the church. We are Roman Catholic women priests," Rue said.
"So even if the Vatican would open its doors to us tomorrow, the cause of ordination means you can't just add women and stir. You can't just pour women into vestments or cassocks or collars. The patriarchal system has to change," she said.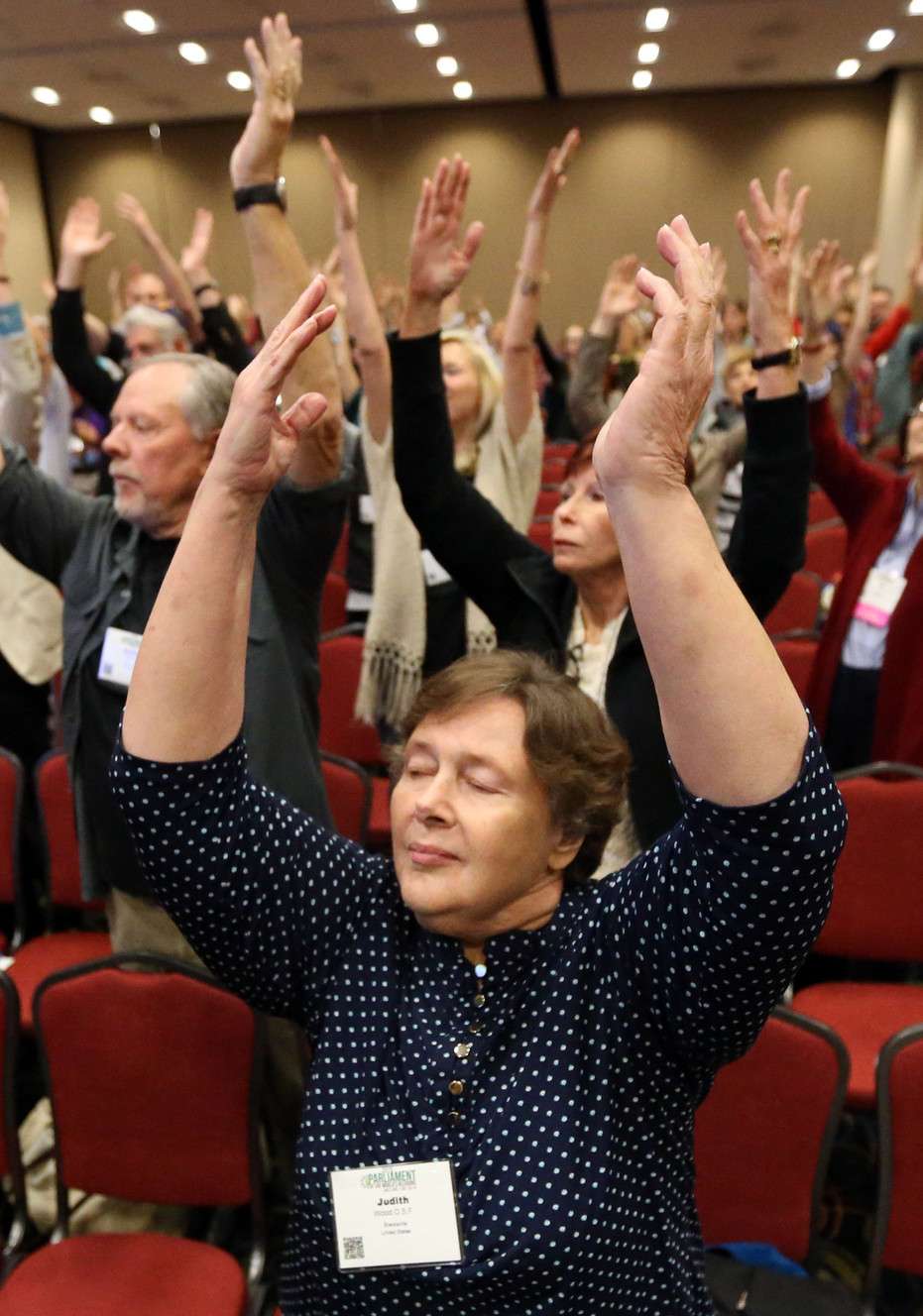 Maeera Yaffa Shreiber, a University of Utah professor, author and a lay leader at Congregation Kol Ami, said she recently attended an Orthodox Hasidic synagogue for the final of a sequence of Jewish holidays, which concludes with the Day of Celebrating the Torah.
"I went because I am a religious pluralist. I really went with a full heart, although I should have known better, I also genuinely admire the sincerity with which that community loves Torah too. I felt perhaps there was common ground," she said.
When she arrived, men and women were divided into separate prayer space, which is not unusual in Orthodox synagogues.
On the other side of the curtain, men were drinking, toasting and being called up for various blessings, Shreiber said.
Meanwhile, women visited with one another, fawned over babies and an occasional circle of women would get up to dance.
"Once or twice I looked over and what really hurt me the most was the honor of holding the Torah was extended to men, who were boys, really, who had no clue, I don't think, of the power source that they were being privileged to have this intimate encounter with," she said.
A friend who is a feminist theologian helped her sort out her feelings about the experience.
She told her, "Even as it was benign itself, the exclusion of women from those particular honors, it was part of a much larger pattern of social injustice, a pattern of let's say, social indoctrination that sanctions injustice specifically to women."
In Israel, where Orthodox rabbis "reign large," until recently, women were expected to take seats in the back of public buses, she said.
Women running for political office are not allowed to produce campaign materials that include their photographs.
That said, orthodoxy is evolving, Shreiber said.
"Women, especially in this country, orthodox women are, indeed, being ordained as rabbis. I think they are transforming spaces and transforming prayers."
×
Photos
Related Stories