This archived news story is available only for your personal, non-commercial use. Information in the story may be outdated or superseded by additional information. Reading or replaying the story in its archived form does not constitute a republication of the story.
GOSHEN — Some residents of the small Utah County town of Goshen say they're fed up with the inaction from town officials to fix a months-long contaminated water problem.
"We've been trying to get you to get something done. We've been pushing you," shouted resident Richard Wolf at a town council meeting Tuesday night.
Some residents of the town with fewer than 1,000 people say they received a written boil-water notice 12 weeks ago from town officials stating their culinary water was unsafe to use. The boil-order indicates "fecal coliform (or E. coli) bacteria were found in the water supply on July 28, 2015."
"It's been three and a half months," Wolf exclaimed. "Something has got to be done."
Wolf's mother, Bethea Wolf, says her life has been "hell" for the last few months.
"I'd like to go and have a shower," she said.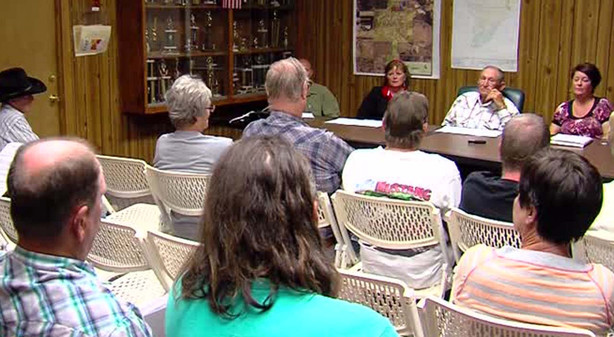 Richard Wolf says he's had enough of sponge baths and boiling drinking water, but that's not the only problem.
"On the 3rd of August mom got sick," he said. "She'd been running to the bathroom, upset stomach."
Richard said doctors told her she had an E. coli infection.
Richard Wolf said he's tried numerous times to talk to town officials about a solution.
"They're saying the state's responsible that they're dragging their feet," he said.
During the town council meeting, Councilwoman Kathy Peterson told a room full of residents, "It's not our fault there's E. coli in the water."
Richard Wolf said his patience is running thin, and the town's excuses are running out.
"I like Goshen; I like the people in it, but this is ridiculous," he said. "This has gone on too long."
Goshen City officials told KSL only five homes were affected by the E. coli-contaminated water. They declined an interview saying, "We have nothing to say until we talk to the State Health Department tomorrow."
Residents say the town has provided free water bottles at city hall for those who need it, and their water bills have been waived for the last three months.
×
Photos