This archived news story is available only for your personal, non-commercial use. Information in the story may be outdated or superseded by additional information. Reading or replaying the story in its archived form does not constitute a republication of the story.
SALT LAKE CITY — We like to think that our doctors know what they're doing. And they do — for the most part.
But for decades, clinicians who help patients recover from traumatic brain injuries after falls, car accidents and sports injuries have been operating in what David Ryser calls a "black box."
"There are many — literally hundreds — of processes going on [during rehabilitation]", said Ryser, the medical director of the Intermountain Medical Center Neuro Specialty Rehabilitation Unit in Murray. "So to say that inpatient rehabilitation helps is kind of a blanket statement and not well-defined."
Researchers have struggled for years to pinpoint what part of the extensive brain injury rehab process is doing the trick — and why it works.
Those are the questions Ryser and Susan Horn, an adjunct professor of biomedical informatics at the University of Utah and a pioneer of so-called "practice-based evidence," set out to answer seven years ago when they launched a massive study on traumatic brain injury rehabilitation. That study, published in August, involved more than 2,000 subjects at 10 rehabilitation centers across the U.S. and Canada (one of them headed by Ryser, at Intermountain).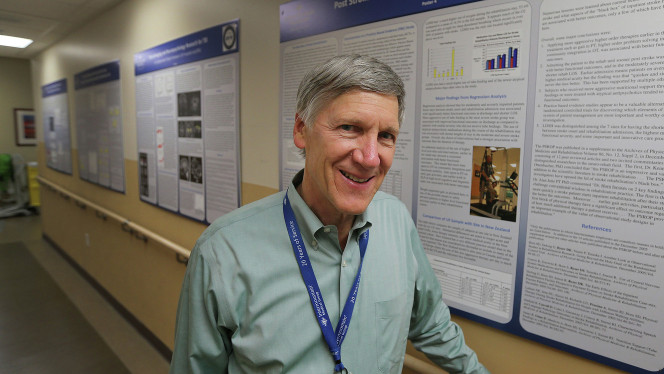 Tom Smart/Deseret News
Take someone like Greg Nordfelt, 53, a Salt Lake banker and motorcycle enthusiast.
One late summer day in 2011, during a bad spell of food poisoning, Nordfelt passed out on his Harley and ran off of U.S. Highway 95 in Idaho, his life came to a halt.
He woke up two weeks later on the 12th floor of Intermountain Medical Center in Murray with a broken leg, a shattered kneecap and an irreparably damaged left brain that had been crushed against the inside of his skull by the impact.
"What I remember after I woke up is they had me immediately into speech, occupational and physical therapy," Nordfelt said. "It was on the white board in my room, I was scheduled all day long and I worked as hard as I could possibly work."
A patient like Nordfelt will go through intense rehab in multiple disciplines — from recreational therapy to speech pathology to social work. What's at stake is not just the chance to rebuild his physical ability or mental capability, but to regain his sense of self-worth.
In his first speech therapy session, doctors had Nordfelt painstakingly put together a four-piece puzzle, then asked him to identify what was in the picture (a butterfly).
"I couldn't get the word out of my mouth," said Nordfelt, who said he began crying. "It was the most devastating thing to me to look at that picture and have it be so simple and have it take me such a long time to put this puzzle together and then not be able to get that word out."
Traumatic brain injury isn't a small problem. The CDC estimates it resulted in 2.2 million emergency room visits and more than 50,000 deaths in 2010.
But in a report prepared last year, CDC researchers called for more studies to fill in large "research gaps".
Traumatic brain injury has numerous health effects — cognitive, physical and mental — that affects each individual differently. An almost infinite list of factors, like the intensity of treatment, the combination with other types of treatment, or even pre-injury factors like age or family support, can affect outcomes. There isn't one "typical" brain injury patient. And that's what makes rehab so hard to study.
"There's just so many things going on that people have looked at that question and kind of thrown up their hands saying, 'How in the world are we ever going to describe this?'" Horn said.
The best way to pinpoint what works, Horn contends, is "practice-based evidence" — an emerging research methodology that has drawn controversy for not relying on the gold standard of the randomized controlled trial, which works by comparing patients who get a treatment with patients who don't in carefully designed experiments.
Instead, practice-based evidence is based on taking excruciatingly detailed data on treatments as they're happening in the real world. There are no control groups — everyone gets a treatment — and sophisticated statistical modeling is used to tease out which treatments have effects.
Nordfelt, along with the other subjects in the six-year study, had every detail of his rehab process recorded and analyzed, from how many minutes of speech therapy he did to what kind of food was being put in his feeding tube.
The resulting database — with more than 1,000 clinicians contributing written notes on 350,000 therapy sessions — has millions upon millions of data points and is likely the richest database on traumatic brain injury rehab ever assembled, Ryser said.
---
There are many — literally hundreds — of processes going on [during rehabilitation]. So to say that inpatient rehabilitation helps is kind of a blanket statement and not well-defined.
–David Ryser, Intermountain Medical Center Neuro Specialty Rehabilitation Unit
---
And the study, which was published in a series of 14 papers, suggested some immediately applicable findings:
• The shorter the time from injury to rehab, the better the outcome. Ryser noted that his rehab unit communicates often with the intensive care unit, just eight floors below his office, about getting patients into rehab quickly.
"Working closely with the trauma unit could impact and shorten this time," he said.
• It's not the amount of therapy that matters but the intensity. It's common practice to start patients slow, by teaching them to turn over in bed or sit up, Horn said. But "getting them to move brings back both their motor and cognitive recovery much more quickly.
Intermountain, after seeing similar findings with stroke patients in a previous study, installed harnesses at every bedside in its new rehab unit and saw positive results, she said.
• Feeding tubes help. "Staff don't like it because they have to do all sorts of things to keep the tube in," Ryser said. But motor and cognitive outcomes were vastly better when patients were fed a high protein diet via tubes for at least 25 percent of their stay, the study showed.
There are limitations to this kind of study. One, it wasn't easy. Funded by $7 million in grants, it wasn't cheap, either.
But Nordfelt, who was part of the study and read the results afterward, attributes the fact that he's now walking, talking and working again full-time to the decisions Intermountain made in his treatment, including starting him in therapy almost immediately.
"I — and other patients like me — want them to be as aggressive as they could be because we were intent on recovery," Nordfelt said. "It's something I can say from my own experience helped me dramatically."
Nordfelt reads every article and study he can find on traumatic brain injury now. In the hopes that he can give back to other traumatic brain injury patients and caregivers, he and his wife also both volunteer at the rehab unit.
Meanwhile, practice-based evidence has started to gain acceptance, Ryser said. In disciplines like psychiatry or brain injury rehabilitation, where the illness or injury tends to affect patients in hard-to-quantify ways, practice-based evidence is gaining acceptance over randomized controlled trials.
Horn said the NIH has "shied away from this type of research," but "might be more willing to support this kind of research in the future."
"Finally, after they've asked all their questions and they see the same thing is coming out over and over again, they say, 'I'm going to try it,'" Horn said.
---
Daphne Chen is a reporter for the Deseret News and KSL.com. Contact her at dchen@deseretnews.com.
×
Photos