Estimated read time: 4-5 minutes
This archived news story is available only for your personal, non-commercial use. Information in the story may be outdated or superseded by additional information. Reading or replaying the story in its archived form does not constitute a republication of the story.
PROVO — BYU running back Algie Brown walked into the postgame interview area after the Cougars' 30-13 home win over UConn Friday night with a big smile on his face before sitting down at a table behind a couple of microphones.
When he was asked how he felt, he laughed then sighed as if weighed down by exhaustion.
"It's good to be back," said Brown, who ran for a team-high 95 yards on 18 carries in his first game in nearly a month. "Sitting three weeks out, my body is feeling it, but I'm just grateful to be back."
The Skyline High product's return to the field paralleled another big return Friday night — the BYU offense. After a humbling and embarrassing 31-0 shutout loss at Michigan the week prior, the Cougars (3-2) piled up 539 yards of total offense on 95 plays as they pulled away late from the Huskies (2-3).
Much of that production came through the air where freshman quarterback Tanner Mangum completed 35-of-53 passes for 365 yards, two touchdowns and two interceptions.
"He got back on track this game, as well as the team," BYU head coach Bronco Mendenhall said of Mangum, who threw for just 55 yards against the Wolverines. "It's what I was hoping would happen."
Mangum found eight different receivers on the night, including a pair of scoring passes to Mitch Mathews as the Cougars outscored UConn 20-3 in the fourth quarter. Mathews finished with 78 yards on eight receptions.
"When you have great receivers like the ones we do, it makes it fun," Mangum said. "You know someone is going to make a catch for you."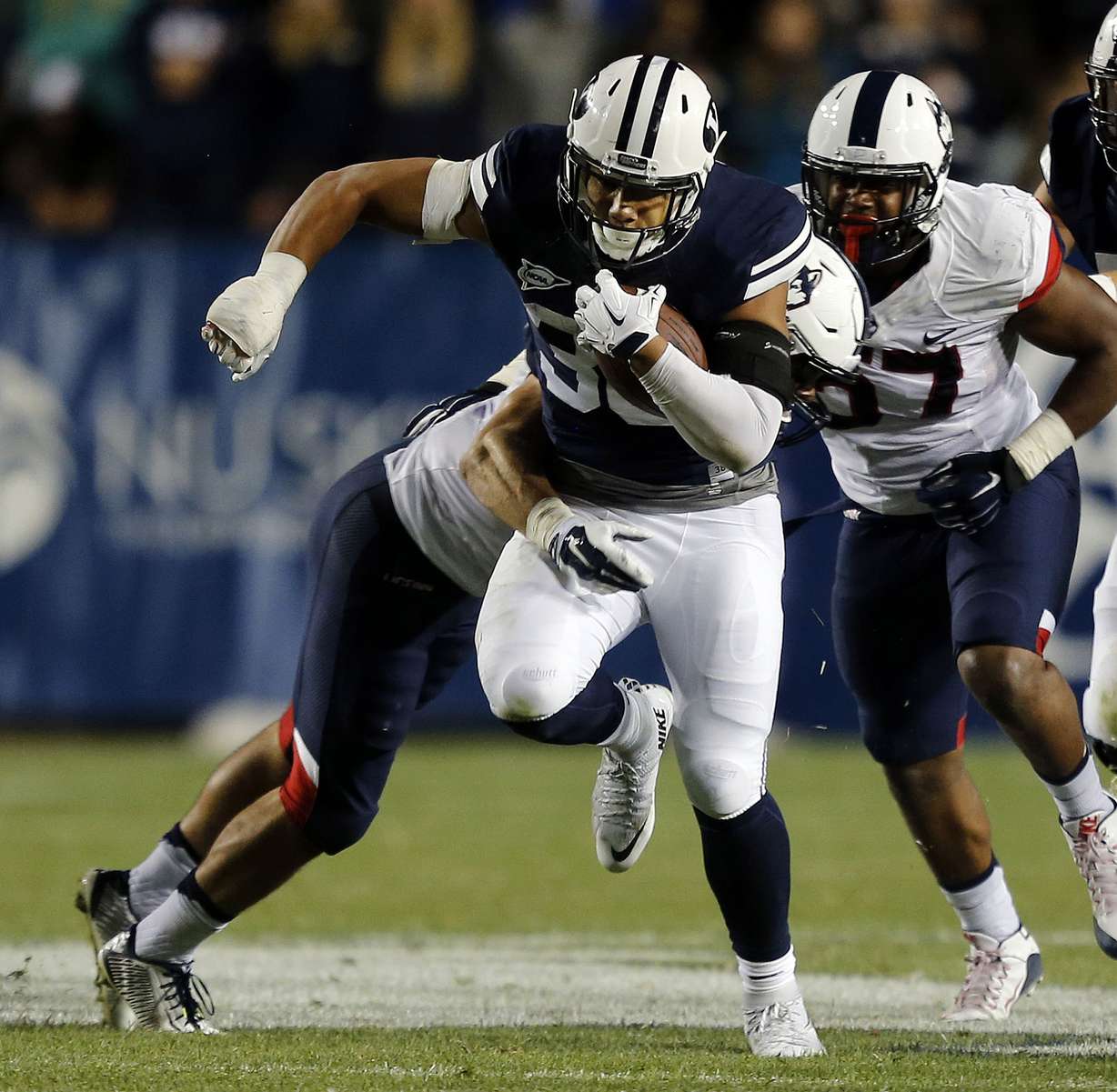 No receiver was bigger than senior Terenn Houk, though. The Enumclaw, Washington, native who had just one Division I FBS offer out of high school, hauled in six passes for a career-high 129 yards — many of them right up the middle and with acres of green grass in front of him.
Houk averaged 21.5 yards per catch and seemed to find running room after the catch easier against a UConn defense that played a similar man defense as BYU's secondary.
"I feel like I just saw open space, and I was running to it," Houk said. "I wanted to give Tanner some confidence in the receivers, and you only do it by catching the ball. It doesn't matter if it's high or low; it's our job to make plays and to catch the ball."
Houk acknowledged the 365-yard receiving night was redeeming for the receivers, who were publicly and privately shamed by wide receivers coach Guy Holliday and offensive coordinator Robert Anae after a woeful performance in The Big House in Ann Arbor, Michigan.
"I feel like we had our number called last week against Michigan, and it was hard to produce anything as a receiving corps. It was embarrassing," Houk added. "This game was a really big opportunity for us as an entire receiving corps to step up and make a statement."
But the heart of the team was the defense that allowed a season-low 13 points against the Huskies. Mangum called the defense "the MVP of the game," and linebacker Sae Tautu, who led the unit with six tackles and three tackles for loss with a sack, said the key was the approach by Mendenhall and the rest of the defensive coaching staff.
Related Story
"This week was very simple. We didn't make many adjustments, and everyone just knew to fly to the ball and do their job," Tautu said. "I think that's when we play the best on defense, when everyone is not thinking, but just playing."
Brown's return also hopes to rejuvenate an offense alongside a defense that is also clicking. The emergence of freshman running back Francis Bernard, who had 69 yards and a touchdown on 11 carries, will also bolster a BYU rushing offense that will be without running back Adam Hine for at least four weeks.
"Seeing Francis breaking runs up the middle was fun to see," Brown said. "I was impressed with how he made his one cut and go. He looked like he has been out there for while."
Now the Cougars have a chance to start a new winning streak Saturday at 5:30 p.m. MT when they host East Carolina.
"Any win is big. It's great to start October, our home stretch, with a win," Mangum said. "The crowd was really behind us tonight, and anytime you get a win, it builds momentum everywhere. It'll motivate us to work harder next week and be even better against East Carolina."
×
Photos
Related stories
Most recent Sports stories