This archived news story is available only for your personal, non-commercial use. Information in the story may be outdated or superseded by additional information. Reading or replaying the story in its archived form does not constitute a republication of the story.
PARADISE, Cache County — After a Alan Lawrence's unique photography project went viral, his family has been selected as the 2015 recipients of the Utah Down Syndrome Foundation Buddy Walk Recognition Award.
Lawrence, a resident of Paradise, said he was shocked when his son William — who they call "Wil" — was born with Down syndrome in October 2013. Lawrence decided to use his photography to help spread a message of positivity about Down syndrome and began to create beautiful composite photos of Wil "flying" in various settings.
Lawrence posted the pictures on his blog and Instagram and began a Kickstarter campaign to raise funds to create a calendar. The photos quickly went viral.
As a result, the family was selected by the community and recognized for doing the most to create awareness for Down syndrome in the Utah Down Syndrome Foundation Cache County Chapter. The Lawrences received the award Saturday at the American West Heritage Center as part of the annual Buddy Walk event, according to Utah Down Syndrome Foundation Cache County Chapter advertising director Donnell Owen.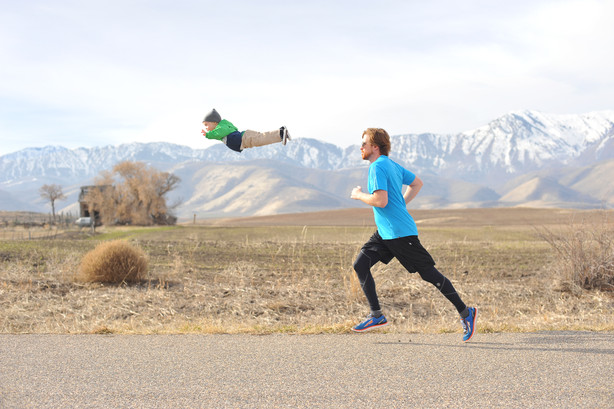 "This year we chose Alan and Nikki because of their 'Wil Can Fly' project,'" Owen said. "They've (raised) awareness even worldwide. … It's pretty cool."
The award was presented by Sen. Lyle Hillyard, R-Logan, who also has a son with Down Syndrome.
"The day was very uplifting," Owen said. "There was so much support from family, friends, neighbors, and the local businesses. … It's such a wonderful feeling to be a part of such an awesome community, to know that I'm not alone. There are so many other people who have children with Down syndrome and their lives are also crazy beautiful just like mine."
The Lawrences sold photos and their 2016 "Wil Can Fly" calendars at the event and are donating half the proceeds to two Down syndrome foundations. Owen said more than $7,000 were raised at the Cache County Buddy Walk that will benefit the local chapters of the Utah Down Syndrome Foundation.
×
Photos
Related Stories