Estimated read time: 3-4 minutes
This archived news story is available only for your personal, non-commercial use. Information in the story may be outdated or superseded by additional information. Reading or replaying the story in its archived form does not constitute a republication of the story.
MIAMI — Every now and then there's a story about someone whose baby decides to arrive a bit early; such as in a car, on the side of the road on the way to the hospital.
How about on a cruise ship? That happened a few weeks ago to an Ogden couple.
Doctors and nurses are calling little Haiden Morgan a "miracle baby."
His parents, Chase and Emily Morgan, along with 3-year-old daughter Chloe, were on a Royal Caribbean Cruise liner, taking a 7-day trip through the Caribbean. With Emily's due date in December, her doctors cleared her for the trip. But the second night into the cruise, at sea, the labor pains began and continued to get worse.
"At 1:20 a.m. the doctor came over, looked at me and said, 'keep your legs closed, don't push because we are not porting for another 14 hours,'" Emily said. "And I said, 'I am pushing because this baby is coming, I know!'"
Thirty minutes later, the baby arrived. At first, the ship's medical staff told Emily she had miscarried and that the baby had died. Emily asked to see the baby, but the staff refused at first.
The Morgans were understandably shocked and saddened. Then came another twist. "About 45 minutes after I had delivered, the two doctors came back in and said the baby was still alive, however, they didn't expect him to live very long."
Emily and the medical team spent the night keeping Haiden covered up and warm. The next morning, the ship's captain, who was originally told the baby had died, called and spoke to Emily. "And I was sitting with the baby and he could hear the baby crying," Emily said. "And he said, 'Wait a minute, he's alive?' And I said, 'He is.' He said we are going as fast as we can and we'll port two hours early in San Juan and we'll get you guys to the hospital, but he said that's as fast as I can get you there."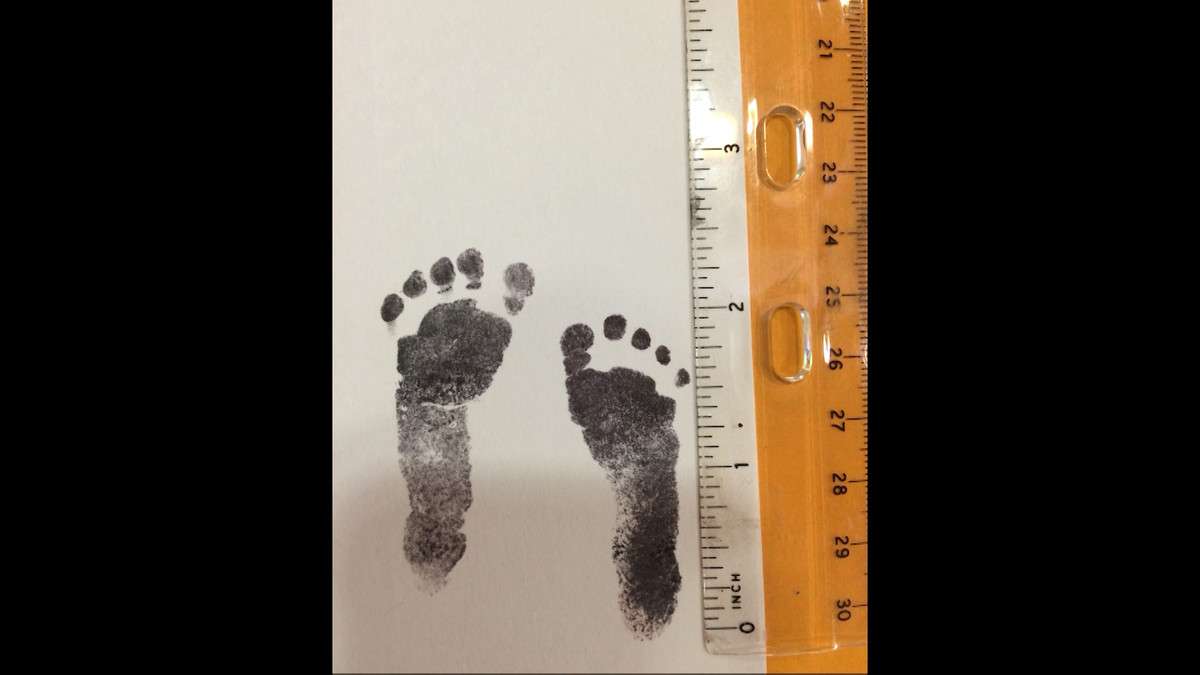 The ship, which was supposed to dock in Puerto Rico anyway, arrived two hours earlier than scheduled. Doctors say that two hours probably saved Haiden's life. The Morgans spent three days in Puerto Rico and, after many phone calls, they were able to get a medical transport jet to fly them to a Miami hospital, where they will spend the next month.
"His feet are 2 inches long and his hands are about an inch and a half," Emily said. "His body length is about 13 inches, so he's very, very small." Haiden weighed one pound, eight ounces at birth.
He's so tiny that doctors and nurses call Haiden a "micro-preemie." But his lungs were fully developed, and so his prognosis is good. "On a daily basis they tell us he's a miracle baby and that he wants to be here," Emily said.
---
His feet are 2 inches long and his hands are about an inch and a half. His body length is about 13 inches, so he's very, very small.
–Emily Morgan, mom
---
The Morgans are thankful for all the help they received along the way. They've been on several cruises before, but this one will certainly stand out from the rest.
"Royal Caribbean has really been great in keeping in touch after we got into Puerto Rico, making sure that everything was running smoothly," Chase Morgan said. "They even sent translators with us when we first got into Puerto Rico."
Haiden will continue treatment at a Miami hospital until his condition stabilizes. The Morgans are hoping to return to Utah in about a month. Haiden will likely stay at Primary Children's Hospital until December — the month he was supposed to be born.
To help with medical expenses, a GoFundMe* site has been set up, and an account is open at America First Credit Union under 'Haiden's Medical Journey.'
*KSL.com does not assure that the monies deposited to the account will be applied for the benefit of the persons named as beneficiaries. If you are considering a deposit to the account, you should consult your own advisors and otherwise proceed at your own risk.
×
Photos
Related stories
Most recent Utah stories