Estimated read time: 4-5 minutes
This archived news story is available only for your personal, non-commercial use. Information in the story may be outdated or superseded by additional information. Reading or replaying the story in its archived form does not constitute a republication of the story.
STEINAKER STATE PARK — If you want a weekend getaway where you can enjoy fishing, hiking and see fossilized remains from an ancient sea, Steinaker State Park is the destination for you.
Located about 7 miles north of Vernal, Steinaker State Park was established in 1966, according to park manager Mike Murray. The area was originally settled by John Steinaker, who the lake and park are now named after. The dam for the reservoir was finished in 1961, and Steinaker attended the groundbreaking ceremony as an 81-year-old man, according to the park website.
The reservoir is unusual because it doesn't have a river running into it like most lakes in Utah, Murray said. Known as an offline reservoir, it instead has a 2-mile man-made canal that channels water from Ashley Creek. Murray said Steinaker Reservoir is used for irrigation in nearby Vernal and the water level can be increased with the canal when needed.
Along with having an interesting water system, Steinaker State Park offers a variety of activities, many of which are available year-round.
Fishing
Steinaker Reservoir is 820 surface acres and provides a lot of the recreation in the park. The reservoir has a variety of fish species, including largemouth bass, bluegill, rainbow and brown trout. It is stocked annually by the Division of Wildlife Resources and about 800 largemouth bass were moved from Red Fleet State Park into the reservoir on Monday, Murray said.
The reservoir typically freezes over during the winter months and the park hosts an annual ice fishing tournament on the last Saturday of January, Murray said. It is a one-day event that typically begins at 7 a.m. and ends at 2 p.m.
Prizes are awarded to people with the largest fish in each category: trout, bass and bluegill. The tournament is a family event and has a separate category for children. The entry fee is $15 for adults and $10 for kids.
The reservoir has one main boat ramp, allowing people to fish on the water or from the shore. A fish cleaning station is also available.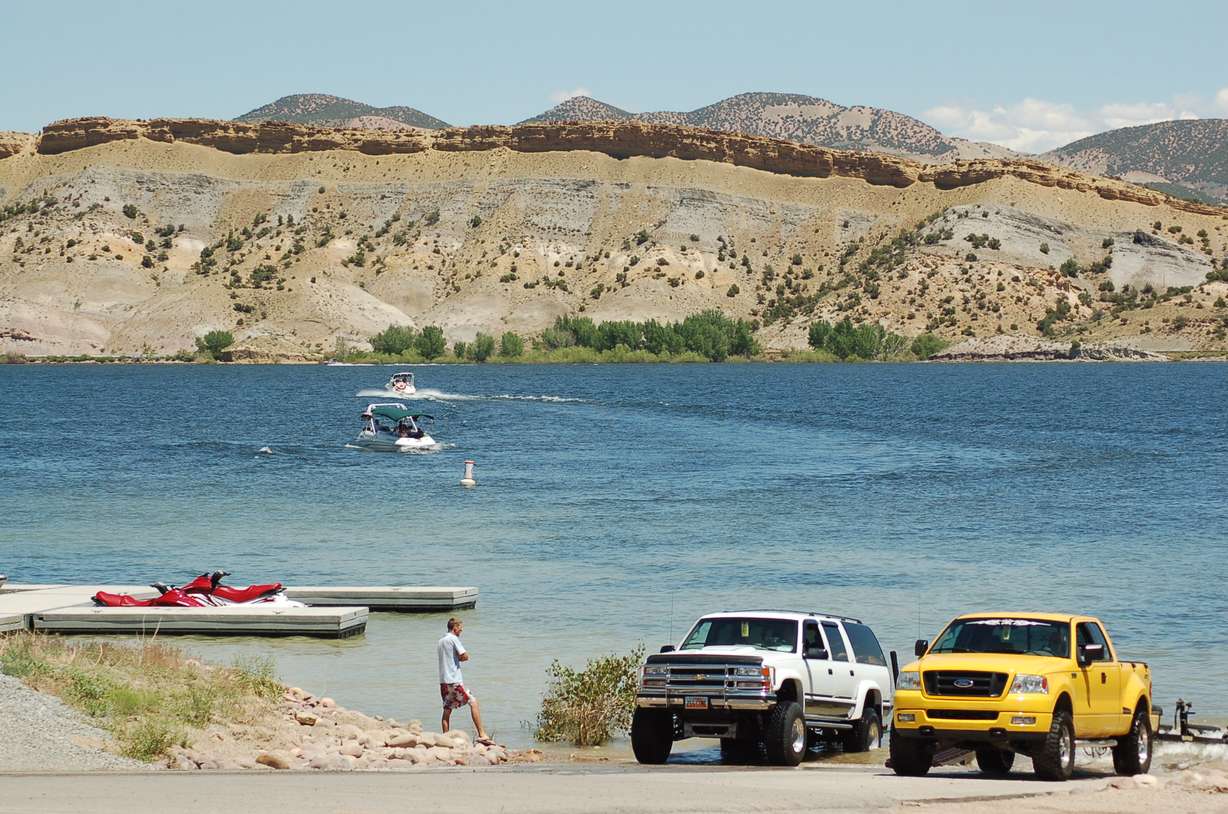 Seeing fossilized remains
Visitors to the park will also have the opportunity to see fossilized oysters and little sea squids called Belimites that are remnants from an ancient sea in the area.
"There's a lot of oysters' shells around Steinaker that are in the rock, and if you walk around different places at Steinaker, you'll find them," Murray said.
People aren't allowed to take any of the fossil remains, but they are exciting to look for and discover around the park. Murray said dinosaur bones have also been found at the park, but they weren't the best specimens because they had water damage.
The park is located about 45 minutes away from the Dinosaur National Monument and 10 minutes from the Utah Field House of Natural History State Park Museum, where people can learn more about dinosaur species that once roamed the area.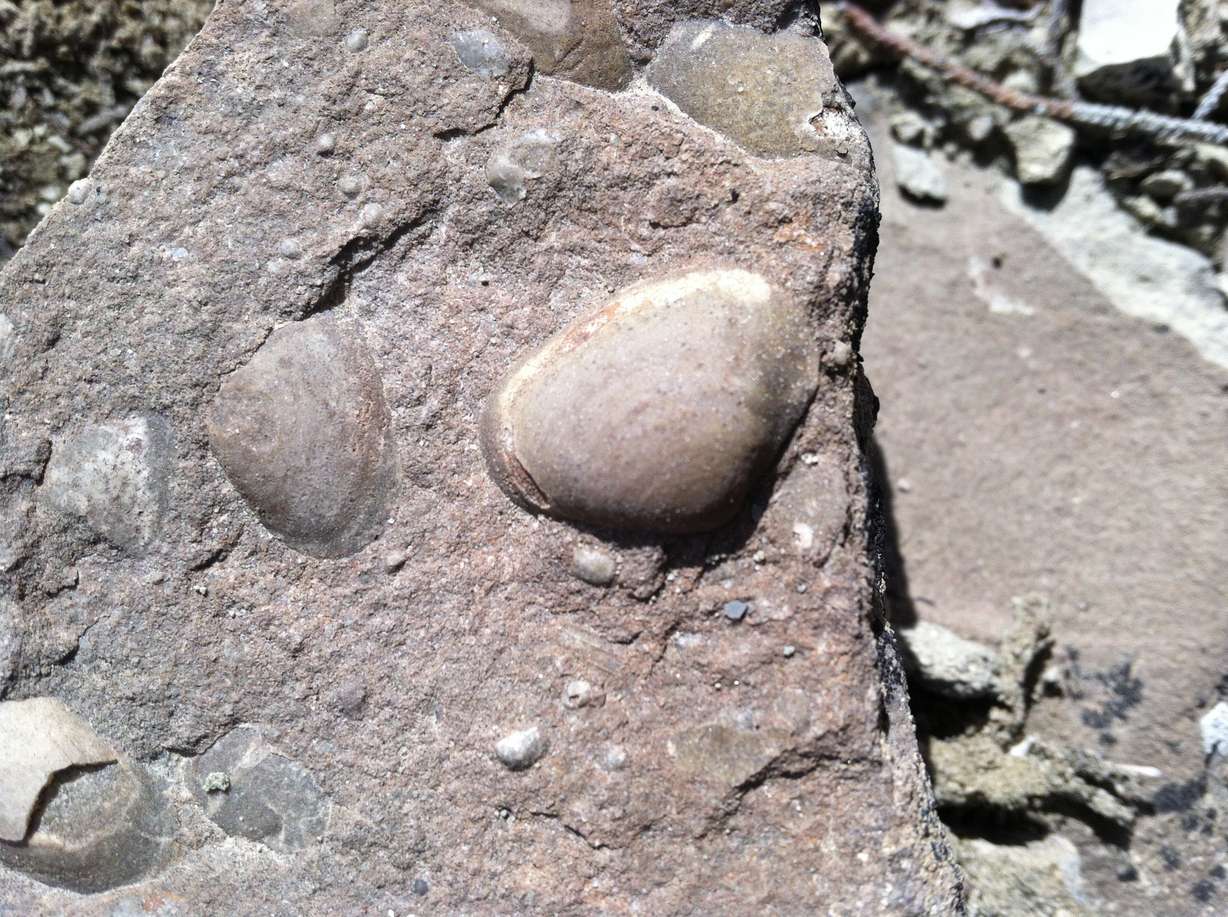 Camping
The park has a variety of camping options, including 15 primitive campsites, eight sites with full water and electric hookups for RVs and trailers and eight sites with electric-only hookups, Murray said. The campground has restroom facilities, but doesn't include showers. The water in the campground is turned off from October to April, but the electric hookups are available year-round.
A group area —Eagle Ridge— is also available and can hold up to 50 people. It includes eight sites for RVs, a large fire pit, two charcoal grills and a pavilion with eight tables.
The park also rents a cabin for $60 a night that is available year-round. The cabin has a queen-sized bunk bed, a futon, a microwave and a fridge. While the cabin has electricity, it doesn't have running water or a bathroom, Murray said.
Birdwatching
Murray said Steinaker Reservoir is a popular destination for birdwatching since a lot of species nest or migrate through the park. Blue heron, Canada geese and great horned owls nested in the park this year, and loons and pelicans migrate through each spring and fall, Murray said.
A lot of duck species also gather on the reservoir, including mallards, green-winged teals and gadwalls. The park also allows people to hunt for ducks on the reservoir during the fall season, but they must be a half mile from any developed facilities in the park, Murray said.
Hiking
The park also has a few trails available for hiking or mountain biking. The Eagle Ridge Trail is a 1.2 mile loop that takes hikers to the top of the ridgeline, giving them a nice view of the reservoir and part of Vernal. Because the trail is quite steep, it would be difficult to mountain bike, Murray said, however, there are several dirt roads throughout the park that can be used for mountain biking.
Horseback riding is not allowed on the Eagle Ridge Trail.
×
Photos
Related Links