This archived news story is available only for your personal, non-commercial use. Information in the story may be outdated or superseded by additional information. Reading or replaying the story in its archived form does not constitute a republication of the story.
SALT LAKE CITY — MRAPs carry American soldiers in and out of tight spots and protect them from improvised explosive devices, but the Unified Police Department now has one and has repurposed it as an armored ambulance.
Salt Lake County Sheriff Jim Winder more formally calls it a "civilian rescue vehicle," and said this week he envisions using the MRAP (mine-resistant ambush protected) in active-shooter-type situations, potentially backing it up to front doors and storefronts and getting people out of harm's way.
Though it can be configured in multiple ways, a tour of the vehicle revealed it contained IVs, first-aid gear and metal triage tables.
"Most people would say, 'why would you ever need that?'" Winder said. "This vehicle can withstand almost any armament."
Winder said the department got the MRAP, valued at roughly $1 million, at no cost from the U.S. Department of Defense.
UPD then invested $12,000 to $18,000 to transport and repurpose the vehicle. According to Winder, that's about half the cost of a new patrol car.
"We have to be prepared for the worst-case scenario and for a free vehicle, I don't know why we would ever turn such an asset down," Winder said.
Winder noted other police agencies have returned their MRAPs to the federal government over police militarization concerns, but he suggested the value of the MRAP as a rescue vehicle will pay dividends.
Last month, police deployed the MRAP to Millcreek where they said a man allegedly shot his wife and another woman multiple times.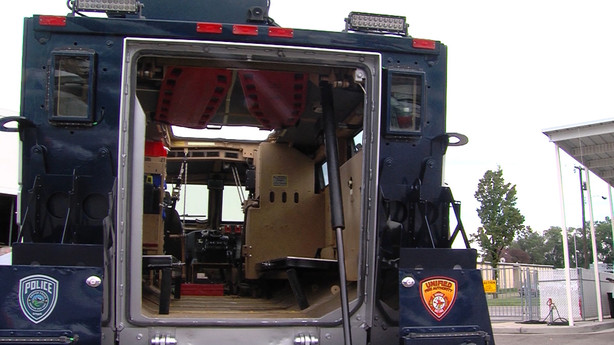 Winder said the department's new civilian rescue vehicle can withstand explosive blasts and 50-caliber rounds. He said "hundreds, if not thousands" of people in the Salt Lake Valley own those rounds and guns, and detectives recently discovered two grenades during a drug bust.
The sheriff said his department would like to eventually own two MRAPs and place them strategically around the valley, potentially making them available to any agency that needs them.
"I think when the public needs it, they'll be doggone (thankful) we have it," Winder said. "I just pray we never do."
×
Photos