Estimated read time: 2-3 minutes
This archived news story is available only for your personal, non-commercial use. Information in the story may be outdated or superseded by additional information. Reading or replaying the story in its archived form does not constitute a republication of the story.
SALT LAKE CITY — The driver of an airport shuttle service as well as the passengers he was transporting luckily avoided serious injury as he was driving on I-80 Tuesday afternoon. Mike Peterson was heading west on I-80 in the center lane, going about 60 mph, when he went under the overpass at 13th East.
He never knew what hit him.
"I don't know if I screamed. It was more like, oh my word, what just happened?" he said.
The hood of Peterson's Toyota Sienna was heavily damaged by a large chunk of concrete that fell from the overpass. The hood was crushed, the windshield had several big holes in it. One piece of concrete, weighing at least 25 pounds, ended up in the front passenger seat.
Peterson has driven for Express Shuttle for about 20 years. "I'm over the million mile mark," he says proudly. And never had an accident until now. "The only thing I can think is I was just really blessed. If it hit another 6 or 8 inches to the side, you might not have been talking to me [right now]."
Peterson was transporting a couple to the airport from Park City when the concrete hit the hood of his vehicle. The impact was very loud, he said. Immediately, he pulled the van over to the side of the freeway until a UHP trooper arrived. Though covered with pieces of glass from the windshield, neither Peterson nor his passengers were hurt.
The 13th East overpass on I-80 is one of the older structures in Utah. UDOT public information officer John Gleason says it was built in 1964, and through the years, the elements have taken their toll.
"When you have a bridge that's that age, you can have elements that can seep in," Gleason says. "Water salt, the freeze-thaw cycle that we have in northern Utah that can contribute to some erosion over the years. And that's what appears to have happened here."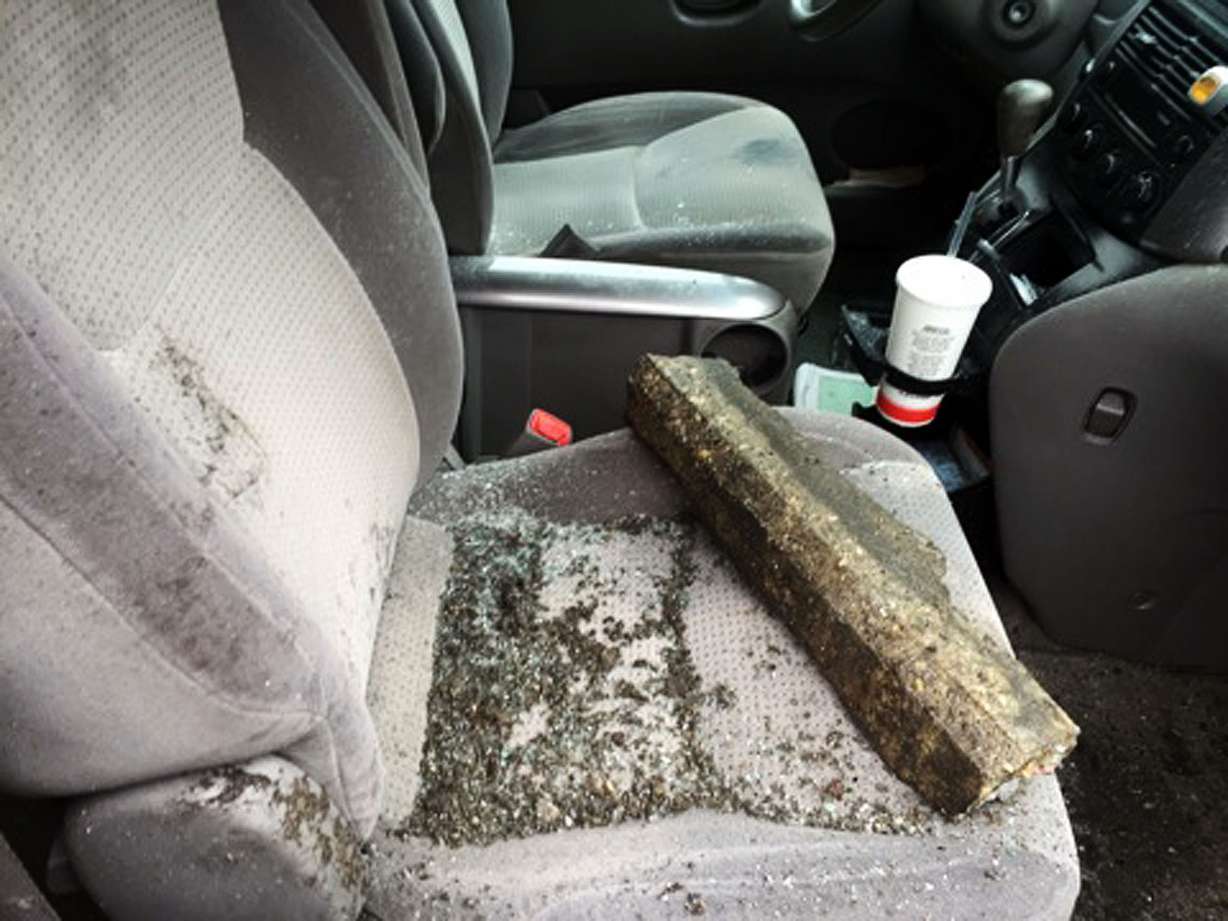 UDOT has an aggressive bridge maintenance program, and Gleason says all bridges in the state undergo inspections at least once every two years. The 13th East structure was inspected in August 2014, and no issues were found. Engineers inspected it again after Tuesday's incident as well. "Thankfully, no one was injured in this. But the bottom line, this shouldn't happen and it's unacceptable," Gleason says.
As for Mike Peterson, he still shakes his head over what happened. But adds, he can't wait to get new wheels. "I love driving. It's been my occupation for 20 years. I'll get behind the wheel again."
×
Photos