Estimated read time: 4-5 minutes
This archived news story is available only for your personal, non-commercial use. Information in the story may be outdated or superseded by additional information. Reading or replaying the story in its archived form does not constitute a republication of the story.
PROVO — With BYU's defensive presence in a 35-24 win over then-No. 20 Boise State, few noticed the lack of defensive back Jordan Preator from the now-No. 19 Cougars' starting lineup.
Head coach Bronco Mendenhall addressed that Monday, saying the sophomore cornerback won't be back before BYU's fourth game at Michigan next Saturday.
"He wasn't available, and he won't be available again this week as well," Mendehall said.
The head coach who is also the defensive play-caller said Preator is missing from game time because of a combination of injuries during fall camp slowing his physical progress, as well as an undisclosed disciplinary issue that will keep him sidelined at least through the Cougars' game Saturday at No. 10 UCLA.
"With Jordan, the issue has shifted. He's still not healthy, but he also has a team discipline issue now," Mendenhall said.
The head coach also said that fullback Francis Bernard, who missed the first two games of the season with injury, may still be in play to return against the Bruins.
"Still possible right now," Mendenhall said. "I haven't heard anything yet today, or if that's going to happen or not. But that was the report going into surgery that it was possible for UCLA."
LAPUAHO DISCIPLINED — Mendenhall also said that offensive lineman Ului Lapuaho, who was seen on ESPN's camera apparently punching a Boise State player in the groin Saturday, has accepted internal discipline from the team and will not face any suspension.
"We have a very clear policy in place for personal fouls, and that's what he's faced up to," Mendenhall said. "He made a mistake, he knows it, I know it and the world knows it. The team has addressed it, and we plan to move forward. I'm comfortable with what has happened."
Mendenhall said he hadn't heard from the College Football Officials Association, which governs disciplinary fouls against BYU as an independent, and he doesn't expect to.
"It will be interesting to see if that happens," he added. "If their statement is different, we'll do whatever is required."
BYU heard back from CFO West late Monday afternoon, and released the following statement through an athletic department spokesman.
"BYU received notification Monday from its contracted officiating organization CFO West, which reviewed the unsportsmanlike foul called on BYU offensive lineman Ului Lapuaho during the second quarter of the BYU-Boise State game on Saturday," the statement read. "CFO West has advised the athletic department and the student-athlete of appropriate disciplinary action. Details of communications regarding student-athletes are generally not made public unless an announcement is warranted (e.g., disqualification, suspension, public reprimand)."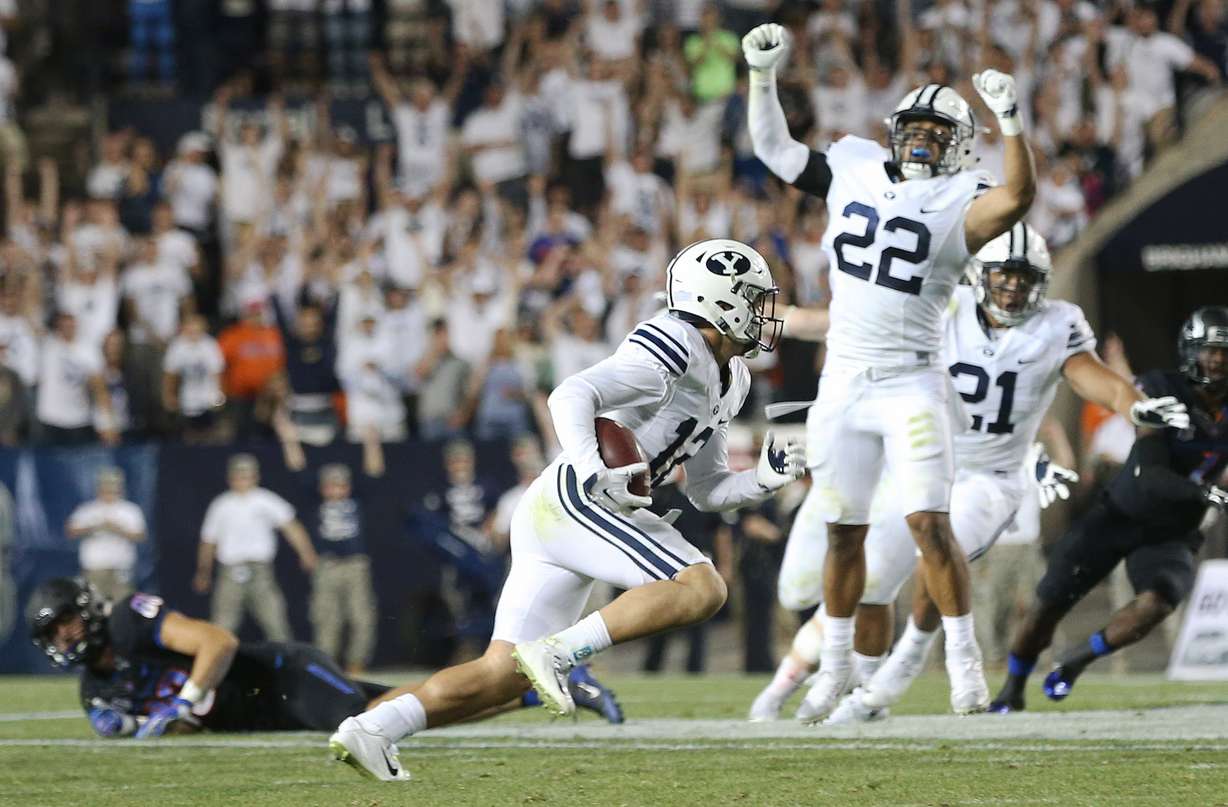 TAKITAKI DISCIPLINED — Linebacker Sione Takitaki returned from a one-game suspension against Boise State following an incident last July in which he confessed to steal two articles of clothing from the women's soccer and track and field office areas at BYU. But Mendenhall wasn't pleased with his play.
The 6-foot-2, 240-pound sophomore had one tackle, but also drew a personal foul for a hands-to-the-face violation against the Broncos in the win Saturday night.
Mendenhall compared the play to Lupaho in its undisciplined nature.
"Sione was undisciplined and not assignment sound," the head coach said. "He played with emotion and was aggressive. He has the exact same punishment within the program in my eyes with his hit on the quarterback and hands to the face. The world might view that different, but as a coach, I am just as frustrated."
Mendenhall did not announce the dimensions of either discipline, stating only that they were handled internally.
NACUA'S SERVICE — One player who did reveal a portion of his internal discipline was Kai Nacua, who met with the media after his three-interception game against the Broncos.
Nacua, who was suspended for the season opener against Nebraska for his role in the post-game brawl following the Cougars' loss to Memphis in the Miami Beach Bowl, said that — in addition to his suspension — he was required to fulfill 100 hours of community service.
"It was fun. I like to do that type of stuff, so It was good," Nacua said of the service. "I just went around the community to find anything. I had people texting me to help me find people to move and anything I could."
×
Related stories
Most recent Sports stories