This archived news story is available only for your personal, non-commercial use. Information in the story may be outdated or superseded by additional information. Reading or replaying the story in its archived form does not constitute a republication of the story.
PROVO — BYU has its fair share of proven commodities on the field this season, players that coaches and fans alike have come to trust in critical moments. Mitch Mathews, Bronson Kaufusi, Tejan Koroma, and until last Saturday, Taysom Hill are all standouts who readily come to mind. But aside from those players, there are many more trying to make a name for themselves. It's an exciting mix of core veterans, alongside hopefuls with untapped potential. With those elements in place, it's no surprise there will be some growing pains.
"We have a lot of guys who are still trying to get game experience," outside linebackers coach Kelly Poppinga said. "Yeah, they've practiced a lot, but there's still not that much game experience out there. I thought the lack of game experience really affected us in the first quarter (at Nebraska), but we settled in for the second quarter."
Two key starters, Taysom Hill and Travis Tuiloma, suffered significant injuries on Saturday. Now all eyes in Cougar Nation will be on their replacements. Tanner Mangum was impressive in his debut, and Poppinga loves what he sees from Tuiloma's backup at nose tackle.
"You can't replace Travis (Tuiloma). He dominated, and if you watch him against the center in that game it wasn't even close. He was killing that dude and it was awesome. Replacing him is going to be hard, but I think Logan (Taele) is the next best we have, and I think he's going to do a great job."
Many of the newcomers, including defensive backs Michael Wadsworth and Eric Takenaka, gained valuable experience last week on one of the biggest stages in college football. They learned some lessons that will help going into this weekend's Boise State game and beyond.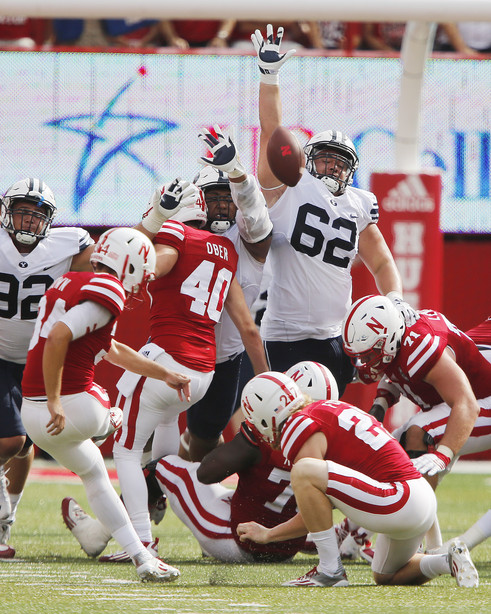 "I definitely have to play faster and be more physical," Takenaka said. "I was a little shocked at first getting used to the speed and size of Nebraska, but after a couple plays I felt good. I just have to make those adjustments, and I'll do it."
Wadsworth had a similar experience.
"Having already experienced live tackling and the atmosphere at Nebraska gets you ready because you've had a taste of it," Wadsworth said. "I won't be as rattled if I get a chance to go out again. I'll be more confident."
The Cougar defense will get some veteran reinforcements come Saturday, as Sione Takitaki and Kai Nacua will both return from suspension for the game against Boise State. In addition, defensive lineman Tomasi Laulile and wide receiver Trey Dye will also be back in the fold. Wadsworth had some high praise for his leader in the secondary, Kai Nacua.
"I love Kai. I missed him during the game because he is an emotional leader who rallies everyone up. I was looking around (at Nebraska) wishing Kai was there because he will yell and get everyone up. That's something that I feed off of, so I'm looking forward to having him there."
It's a dynamic mix of personnel at different stages of their careers. While there surely will be some growing pains along the way, the experience these young players are gaining now will go a long way in their development. Maybe one day we'll look at Tanner Mangum and Company in the same light as the leaders on 2015's team. Only time will tell. Blake Dorton is a student at BYU studying broadcast journalism and French. He hopes to pursue a career in sports broadcasting following his graduation.
×
Photos