This archived news story is available only for your personal, non-commercial use. Information in the story may be outdated or superseded by additional information. Reading or replaying the story in its archived form does not constitute a republication of the story.
AMERICAN FORK — Sarah Larsen recurrió a Internet para reducir su colección de zapatos caros de tres pares a dos. Los zapatos que acondicionados para la venta en línea eran un par de tacones de aguja que su marido le compró por $500.
"Mi esposo los compró para mí por nuestro aniversario de 10 años", dijo Larsen.
Ella pidió $675 por los tacones de aguja utilizados. Un hombre llamado Daniel le envió un cheque por más de $1.300 por encima de su precio de venta.
"(Un cheque por) $1,980.50. ¿Por qué habría que enviar a alguien tanto dinero? Ella dijo." Soy una gran creyente en que hay que escuchar tus intestino, y cuando esas banderas rojas aparecen .... ".
Una bandera roja era la dirección en el sobre de envío que no coincidía con la dirección en el cheque; era una dirección en Hawai, mientras que el otro estaba en California.
Otra bandera roja era el cheque en sí.
"Parecía un cheque impreso genéricamente", dijo Larsen. "No parecía de fiar para mí".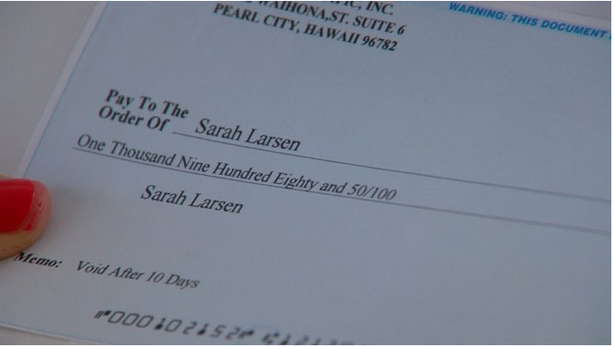 Llamó al banco.
"Dijeron que le faltaba un número", dijo Larsen.
Si Larsen habiera seguido las instrucciones que Daniel le envió en un mensaje de texto y le hubiera mandado el dinero extra, ella habría perdido cientos de dólares cuando el cheque fuese devuelto a su banco como fraudulento.
"Le envié un mensaje y le dije: 'Usted y yo sabemos que esto es una estafa'", dijo. "'No puedo creer que esté haciendo esto'".
Que al parecer alentó a Daniel a intensificar su juego. Larsen dijo que al día siguiente le envió un mensaje y le preguntó si tenía una impresora y una computadora en casa. La quería para imprimir cheques falsos.
"Me dijo que si podía hacer eso, podríamos entrar en el negocio juntos y hacer un montón de dinero con ello", dijo. "Yo estaba como, 'Tienes que estar bromeando'".
Aquí hay tres cosas que la gente debe saber sobre esta estafa: El comprador podría disfrazar el número de teléfono para hacer que parezca como si estuvieran en contacto dentro de los Estados Unidos, cuando están realmente fuera del país; desconfiar de los números de teléfono que sólo aceptan mensajes de texto y no una llamada telefónica; cualquier transacción en línea que requiera que un vendedor trasfiera dinero a un comprador es una bandera roja.
×