This archived news story is available only for your personal, non-commercial use. Information in the story may be outdated or superseded by additional information. Reading or replaying the story in its archived form does not constitute a republication of the story.
HERRIMAN — A Herriman High School senior said she felt "exposed" after Lifetouch photo staff and volunteers at Herriman High School forced her to change into a small drape in an area that was used as a makeshift dressing room instead of the bathroom during a photo shoot for senior pictures.
Ari Roche, 17, says she is an artist, so she understands what it takes to get a picture just right.
"I'm an aspiring makeup artist," said Roche. "I draw in multiple styles."
On Wednesday, Roche said she was wearing a shirt with a collar that was too high for off-the-shoulder velvet drapes required for senior pictures with Lifetouch Photography.
"They told me that I would have to take my shirt off in order for the black velvet top to look the way it should," said Roche.
Roche said she asked to change in the restroom, instead "they told me they had a dressing room," she said. "There was no dressing room."
Roche said the staff directed her to change in a corner adjacent to the line where other students were waiting to take pictures.
"There were about a hundred seniors there and they made me change my shirt right there with no undershirt or anything," said Roche. "The only protection I had was one woman held another black velvet top in front of me. This was in front of a window inside a tech atrium."
Lifetouch Photography said this is against company policy.
"If for any reason they (students) need to remove that (their clothes) for any reason, in order to put on the black drape," said Kelvin Miller, corporate vice president of Lifetouch Photography, "they would be excused to the restroom."
Miller said the use of the off-the-shoulder velvet drapes for girls and tuxedos for the boys is the school's choice. "A school policy to create a more uniformed look," not that of Lifetouch Photography, he said.
"If indeed there was a change in policy made by the photographer on duty," said Miller, "that would have been against Lifetouch rules."
---
If indeed there was a change in policy made by the photographer on duty, that would have been against Lifetouch rules.
–Kelvin Miller, Lifetouch Photography
---
On the "Involved Citizens of Herriman" Facebook page, some parents reported similar cases. In regard to what her daughter reported, one mother wrote: "They had a wipe board for the girls to change behind. But her friend just had to go over to the corner to change for hers (photo session)."
Two other students who said they witnessed Ari Roche being sent to the corner to change sent notes to KSL. One student wrote "the only changing area was a lady and another student holding up some cloth for Ari to change behind."
A spokesman for the Jordan School District confirmed "they were holding up a sheet and there was a whiteboard positioned as well to block the view so no one could see her," said Steve Dunham. "I have been assured by the volunteers that were in the room that nobody could see the students that were changing."
The volunteers were members of the Herriman High PTSA. A statement to KSL via the Jordan School District reads: "We followed the instructions we were given, and gave our best effort to provide the girls with a discreet place to change. We truly care about these students, and we would never, at any time, expect any girl to change in a manner that exposed her to other students in the room. We simply would not do that!"
Dunham said the district has had a great relationship with Lifetouch Photography and that an incident like this has never happened before. He said the company performs background checks on their photographers before they come into the schools.
"We appreciate that very much; however, we will re-evaluate our relationship with Lifetouch Photography," said Dunham.
Dunham also said that no other parent or student complained about the makeshift dressing rooms to the district. The information he received came from the principal of Herriman High School.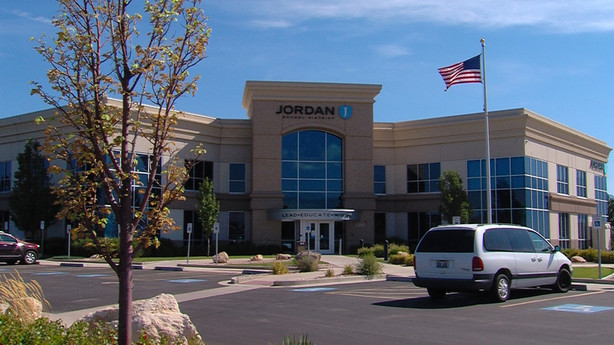 Miller said the photographer involved in this case has been placed on paid administrative leave, pending an investigation. Miller said he hoped to complete the investigation next week. If the Lifetouch photographer is found to be at fault, Miller said "we'd be very willing to make additional photography, additional senior pictures, and make those complimentary."
Miller said no matter what the investigations turns up, the incident is "regrettable, it is certainly not policy. It is certainly not intentional." Miller believes the staff was trying to make the photoshoot process move faster. "And in making things faster," said Miller, "I would guess that any one of us could make a mistake when we're going outside of the regular rhythm of our process."
At this point, one father does not want what happened to his daughter to happen to anyone else's child.
"We want awareness," said Cory Roche. "We want people to understand that a child should never be asked to take an article of clothing off in public, not even asked. That's wrong."
×
Photos
Related Stories