This archived news story is available only for your personal, non-commercial use. Information in the story may be outdated or superseded by additional information. Reading or replaying the story in its archived form does not constitute a republication of the story.
RIVERTON — Un buen samaritano está recaudando dinero para una niña de octavo grado a quien nunca ha conocido y que está perdiendo su pelo.
Kim Matz dijo que su hija 13-años de edad, Abby Matz, fue diagnosticada con la alopecia areata hace unos dos años, y ahora está estudiando opciones para usar pelucas.
Kim Matz ha monitoreado los manchones en donde u hija ha perdido su pelo durante el último par de años, y se dijo que todo iba a estar bien, cuando se dio cuenta de algunos rebrotes.
Hace aproximadamente un mes, después de que los manchones sin pelo se hicieron más grande y aparecieron con mayor frecuencia, Kim Matz decidió que ella y Abby necesitaban hablar de cómo su pelo no crecería de nuevo.
En la actualidad, parece como si Abby tuviera pelo, pero si se inclina hacia adelante, los puntos calvos son visibles. Ella está en la primera etapa de la alopecia, pero Kim Matz dijo que Abby se está moviendo a la segunda etapa, alopecia total, por lo que sus puntos calvos están creciendo y no hay crecimiento del cabello.
Los miembros de La Iglesia de Jesucristo de los Santos de los Últimos Días, Kim y Abby compartieron recientemente su historia con los miembros de su barrio.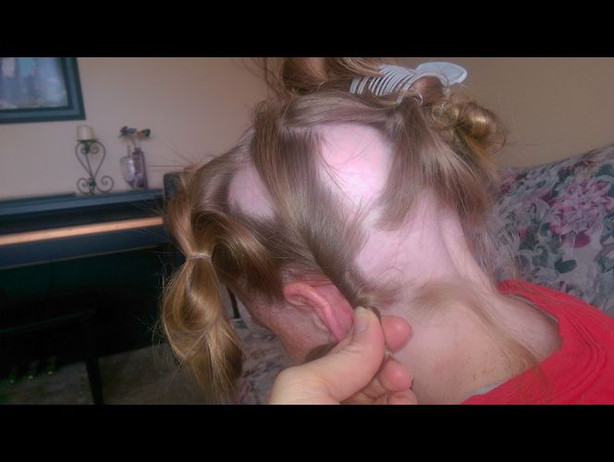 Cuando un miembro del barrio le dijo a su hermano, Stephen Wells, que la familia estaba buscando que la gente donara para el pelo para Abby, Wells creó una cuenta GoFundMe * para recaudar $6,000 para un par de pelucas.
Wells dijo que creció con un impedimento en el habla y sabe lo que se siente al estar en la escuela secundaria.
"Yo estaba imaginándome tener que ir a la escuela con grandes parches de cabello faltante y me hizo dar cuenta de lo difícil que sería", dijo Wells. "Y esa es una de las razones por las que quería conseguir algo de dinero recaudado y ayudarla a conseguir una peluca hecha así podría sentirse mejor y estar lo mejor posible".
Kim Matz dijo que varias personas están donando pelo para Abby. Entre las donaciones de pelo y el dinero GoFundMe, ellos tienen la esperanza de conseguir equiparse con dos pelucas, al menos una del color rubio de Abby.
Hasta el momento, más de $2,000 se ha recaudado para el nuevo pelo de Abby. Kim Matz dijo es increíble lo que está Wells y los demás están haciendo.
"Esta alopecia, no es divertida, pero este tipo de amor y apoyo es la experiencia que nuestra familia estaba necesitando", dijo Kim Matz.
Abby dijo que ella va a perder su cabello, pero se ha centrado en las cosas positivas acerca de perderlo, como duchas más cortas y no tener el pelo en la cara.
Para cualquiera que esté pasando por un momento difícil, Abby dice, "Sólo mantente fuerte y sé feliz y ve todas las cosas buenas que tienes".
Cualquier persona interesada en donar cabello para Abby puede enviar un correo electrónico a Kim Matz al freckleskim@gmail.com.
×