This archived news story is available only for your personal, non-commercial use. Information in the story may be outdated or superseded by additional information. Reading or replaying the story in its archived form does not constitute a republication of the story.
CLEARFIELD — Isaac Bryant tiene ojos brillantes y una personalidad juguetona, pero está perdiendo la mayoría de sus dientes permanentes debido a una condición genética llamada displasia ectodérmica.
"Se siente raro no tener dientes en la parte inferior, ya que no puede masticar alimentos normalmente", dijo Isaac, de 12-años de edad, que vive en Clearfield.
El babeo es un problema y decir ciertas palabras es difícil: "como canela y Mississippi", dijo.
Displasia ectodérmica es un trastorno genético raro que afecta el pelo, dientes, uñas, glándulas sudoríparas y la estructura cráneo-facial, dicen los ortodoncistas.
Pero la parte más difícil para Isaac fue lo que le ocurrió en la escuela primaria cuando otros niños no entendían su condición.
"Ellos me intimidaban, me llamaban por nombres", dijo.
Su papá desea que las cosas fueran diferentes.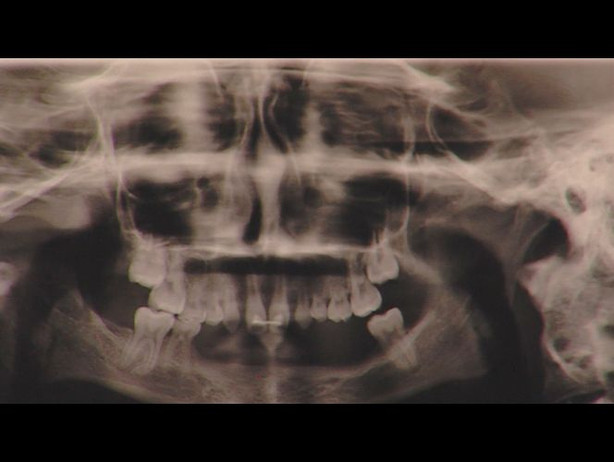 "Lo más difícil es saber que no puedo hacer nada por él", dijo Chris Bryant, el padre de Isaac. "No puedo protegerlo de todo".
Isaac es inteligente y feliz por naturaleza, dijeron sus padres, pero la burla era tan mala, que sus calificaciones sufrían.
"Llegó al punto en que estaba tan frustrado con la escuela que él tiraba su tarea en el cubo de la basura luego de salir de clase", dijo Chris Bryant.
Una radiografía de la mandíbula de Isaac muestra que es más pequeño de lo normal, y se trata de una punta afilada, por lo que es difícil de encajar las dentaduras, dijo Sheldon Peck, ortodoncista de Isaac.
"Él sólo tiene ocho dientes permanentes en total", dijo Peck. "La gran diferencia que hay en la parte frontal hace que le sea difícil hablar, comer, y varias cosas diferentes".
Peck comenzó poniendo frenos en sus dientes superiores. Isaac no puede tener los implantes, Peck dijo, porque los implantes se fusionan con el hueso y no crecerían con Isaac. Usarán microimplantes y los reemplazaran con frecuencia.
"Estos pequeños mini tornillos van en el hueso", dijo Peck. "Básicamente, vamos a poner una sobredentadura sobre esos dientes".
Peck dijo que también finalmente va a fijar la mandíbula de Isaac por injerto de huesos de sus costillas. Será un viaje largo y costoso para ayudar a evitarle sentirse triste a Isaac.
Lo que le falta en los dientes, se compensa en valor. ¿De donde viene eso?
"Mi familia y mi corazón", dijo Isaac.
Las compañías de seguros consideran que la cosmética dental de Isaac es muy cara. Si desea ayudar, visite su cuenta GoFundMe *.
×