This archived news story is available only for your personal, non-commercial use. Information in the story may be outdated or superseded by additional information. Reading or replaying the story in its archived form does not constitute a republication of the story.
SALT LAKE CITY — When Dennis Erickson comes knocking on your door, it's hard to turn him away. There are few coaches currently in the football industry that have as much experience as Utah's assistant head coach.
And for Joe Williams, a running back at the junior college level looking for a place again in football, the knock from Erickson was a game changer — an opportunity to start fresh at a Division I school.
Prior to enrolling at lesser-known ASA College in Brooklyn, New York, Williams was projected to be the backup running back as a sophomore at Connecticut behind starter Lyle McCombs. But Williams got caught up with the wrong crowd and found himself on the wrong side of the legal system. He was charged with larceny in 2013 for stealing a credit card to purchase an expensive backpack.
Williams was dismissed from UConn shortly after and was desperate for a lifeline. More importantly, he had violated one of the reasons he started played football in the first place: "My parents wanted me to (play football) to stay out of trouble and to have something to do after school."
With the chance of Division I football out the window, Williams contemplated his fading options and relegated himself to the junior college level as seemingly the only glimmer of hope on what he thought was a dying dream.
"I was going to leave Connecticut after the situation and probably just go home and get a 9-5 (job) and probably fade into the sunset," Williams said, resolute on giving up his dream.
Williams excelled, however, at ASA College where he led the Northeast Football Conference in rushing, averaging 156.1 yards per game. He finished the football season with 1,093 rushing yards on 163 carries and was named to the first-team all-Northeast Football Conference team in 2014.
---
I was going to leave Connecticut after the situation and probably just go home and get a 9-5 (job) and probably fade into the sunset.
–Joe Williams
---
Still, few remembered him, let alone wanted to take a chance on a young kid who had previously been involved with legal issues. But Erickson came knocking and found his so-called diamond in the rough — a young athlete who was looking for another chance, an opportunity to prove himself at the highest level in the collegiate world again.
"I'm happy that we got him," Erickson said. "Not a lot of people knew about him, but we got him."
"I want to prove a lot of people wrong," Williams said. "But just being able to showcase my ability again, coach Erickson and coach (Kyle) Whittingham and the whole Utah staff gave me an opportunity to come out here and perform. It's just been a very humbling experience."
Looking back, Erickson said he was attracted to Williams' speed and ability to "give you that burst" in the run game.
"He's one of the fastest backs I've ever been around … and one of our faster players on the team, so he gives you that burst," Erickson said. "If he gets in that open, it's going to be hard to catch (him)."
Williams showcased a glimpse of his speed in fall camp, most recognizably on an unsuspecting 60-yard touchdown run during Utah's first scrimmage of camp. Throughout camp, Williams stood out as a solid backup at running back.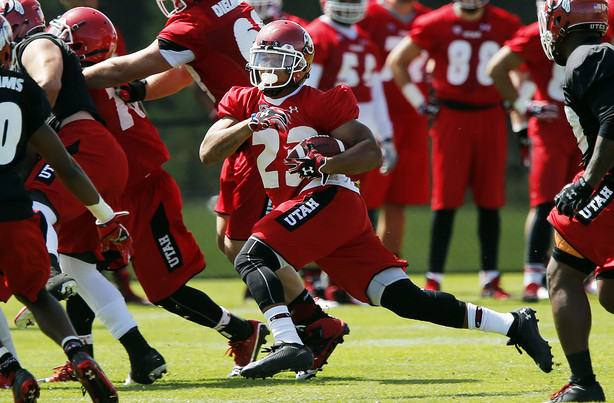 Although Williams has the speed and is more than relieved to be back playing Division I football, he said he wants people to know that he's "the real deal," that he's more than capable to back up Utah's star running back Devontae Booker.
"I just want the fans to get a taste of Joe Williams," he said. "They've gotten to see little hints and bits in scrimmages, but I really want people to know that I'm the real deal."
But Williams said he recognizes the upcoming season is not particularly about his redemption and return to Division I football, it's all about the Heisman Trophy for Booker.
"This year is really just backing up Booker," he said. "This year is his Heisman candidate year, so I expect to get minimal reps. But I'm going to make the most of those reps.
"It's not like I look down on it. I came in and I already have the backup role," he added. "I'm able to learn from him and pick up his techniques and everything. It's patience. When he leaves, he's obviously going into the draft and everything, and that following year they'll be looking at me to come and do the same thing he did. So it's kinda like just waiting my turn, just get my opportunity when I can and just make the most of it."
Whether Williams will have a lot of opportunities to showcase his talent in game situations isn't of the most concern at this stage, he says. It's more about living up to the opportunity to play at a high level again.
×
Photos