This archived news story is available only for your personal, non-commercial use. Information in the story may be outdated or superseded by additional information. Reading or replaying the story in its archived form does not constitute a republication of the story.
LAYTON — As a Layton family prepares to bury a father and his young daughter, the community has rallied with tremendous support. Ryan Chambers and his young daughter were killed in a crash on I-15 Sunday in Riverdale, while his wife and another daughter were hospitalized.
"He found meaning in life, and every little thing he loved to share," Trevor Chambers said of his brother, Ryan. "He was loving, and he spread his love to everyone he knew."
He said the family is thankful for the love and support they are receiving from friends and strangers.
Ryan Chambers and his young daughter, Evelynn or "Evee," died when their car was rear-ended by a motorist's car traveling at freeway speeds while they were stopped in traffic. His brother said the whole family was waiting for them in North Ogden.
"Every Sunday we go up to my parents' house for dinner, and they were on their way up there," said Trevor Chambers.
The Chambers' Mazda was pushed under the bumper of a semitrailer in front of them. That chain reaction crash happened after state troopers slowed traffic to get a doghouse off the interstate that had tumbled from a vehicle.
Ryan's wife, Alyssa, is recovering from her injuries at the University of Utah Hospital, while 7-year-old Kaya is at Primary Children's Hospital.
Investigators Tuesday picked up a key piece of information in the case. They interviewed the driver who lost the doghouse on I-15 that caused the chain reaction crash. The Utah Highway Patrol said charges are pending against the driver who did not properly secure the doghouse, and the woman who rear-ended the Chambers' car. Due to the complexity of that crash, the UHP did not release any more details.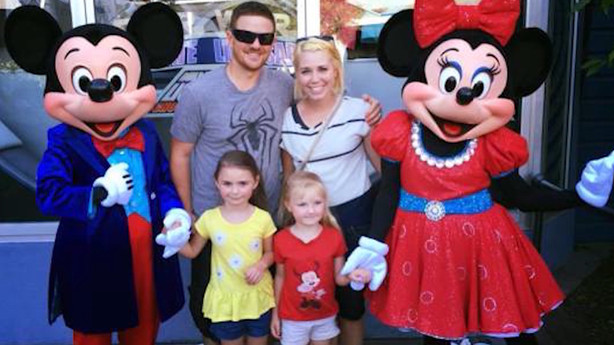 The family set up an online fundraising account* Monday with Give Forward. Donations already totaled $30,000 Tuesday afternoon.
"It's coming from everywhere," said Trevor Chambers.
The family is overwhelmed and thankful. They have received emotional notes and donations from people near and far, and comments that keep them going in a challenging time.
"Put in a position like this, to have so many people reach out to you, it's so comforting," he said.
*KSL.com does not assure that the monies deposited to the account will be applied for the benefit of the persons named as beneficiaries. If you are considering a deposit to the account, you should consult your own advisers and otherwise proceed at your own risk.
×
Photos
Related Links
Related Stories