This archived news story is available only for your personal, non-commercial use. Information in the story may be outdated or superseded by additional information. Reading or replaying the story in its archived form does not constitute a republication of the story.
PROVO — BYU's first practice of the third week of fall camp following Saturday's scrimmage showed plenty to work on. Head coach Bronco Mendenhall said he likes the overall state of his team, even if Monday wasn't perfect.
"Not as much energy or passion about practice, which is to be expected with the last week of camp before Nebraska," Mendenhall said. "We have a lot to learn from the scrimmage. Our team has big play potential, and it started to show up in the scrimmage. I like that part of our team right now."
Still, the explosive plays he saw, as well as the emergence of offensive skill players like Adam Hine and Nick Kurtz, left a lot of optimism from his angle.
"BYU always has high expectations," the head coach said. "I think every coach and every team in the country is optimistic in the beginning. I would put us in that category."
Depth continues to be an issue in fall camp, but several areas that have been noted in the past as lacking have been buttressed over the past two weeks. Newly returned missionary Tanner Mangum's emergence has helped put his head coach at ease for a backup quarterback, and Beau Hoge and Koy Detmer Jr. have also shown glimpses of talent for true freshmen.
Offensive coordinator Robert Anae called the backup center spot behind freshman all-american Tejan Koroma "a work in progress," but signalled Parker Dawe as a talent quickly climbing the depth chart at that position.
The final week of camp will focus on installing the remaining schemes into the offense. There won't be a lot of new plays, just new formations and a few tweaks will be added to the system.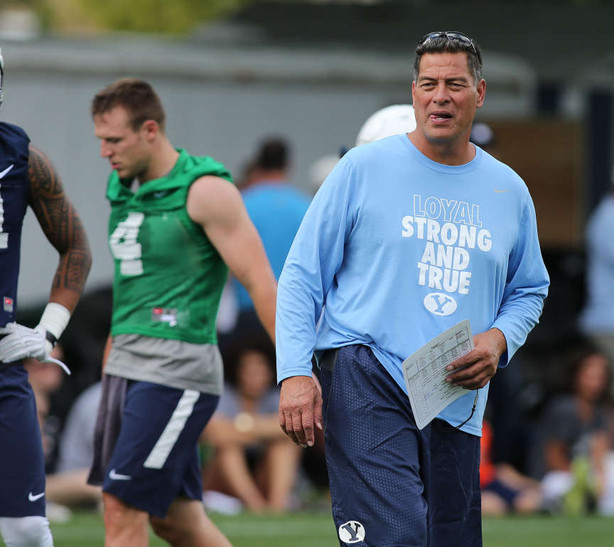 "We're right on point," Anae said. "We have vet dudes in the skill spots, and we're bending and twisting their minds. You see the up-down station in the back; if you aren't on point, you go do up-downs."
The mental aspect — often something just as or more important as the physical one — will be a continued focus for improvement this week. Mendenhall anticipates one final scrimmage on Wednesday, mostly for backups and special teams players, before releasing a depth chart before next Monday.
"Our execution is improving," Mendenhall said. "It's becoming clear who to get the ball to and where, and what to call defensively and with whom. We need every day this week to continue to polish and get ready."
TUNI'S BACK — Offensive lineman Tuni Kanuch returned to practice Monday. Anae didn't notice the return of the lineman who brings his regular rotation to eight players, but Mendenhall said his cautious return for a few series was fueled as much by the player as the coaching and athletic training staff.
"I'm always worried if he's back too soon. I'd rather he wait two or three more days than have a setback," Mendenhall said. "But he's chomping at the bit, so I think we managed him well today."
Anae's lack of attention to Kanuch's return signals something good, the coach said. The Cougars bring back four returning starters on the offensive line, and Kanuch's presence helps to solidify depth at multiple positions.
"It's moving so fast and bombs are going off, that I didn't notice," Anae said of Kanuch. "I point out all the obvious flaws, and I didn't see Tuni. He must've been doing good."
Related:
HINE IMPRESSED TEAMMATES – Running back Adam Hine had a breakout performance at Saturday's scrimmage, a performance unlike anything his teammates have seen at fall camp. "For me, I just saw another Hine," running back Algie Brown said. "All camp, he's been one Adam Hine and Saturday, he was a different guy. I was happy to see that on Saturday."
Brown appears to be entrenching himself as the Cougars' starting tailback, a significant development from the past two years as one of the squad's "big backs," or fullbacks. Alta graduate Toloa'i Ho-Ching and freshman Francis Bernard have been picking up the slack in the latter category.
So Brown is ready for the new development.
"I feel like I'm ready," he said. "(Running backs coach Mark) Atuaia is helping us a lot, getting everyone into the groove of things and having the younger guys step up and play some big roles."
SAMOAN FIRE KNIFE — Anae had a group of BYU football newcomers over to his house Sunday as part of his annual bridge group, and receiver Micah Simon captured video of the coach performing a traditional Polynesian dance with a Samoan fire knife.
"It's just like Boy Scouts; any time you have fire going around, a lot of guys are interested and excited," Anae said. "I was having fun with the freshmen."
He also let the players attempt their own dance with the fire knife. And that's where he's noticed the greatest improvement in this year's team.
"This year's group had way more courage," Anae said. "We've taken a step forward in the courage department. I could tell with who steps up to the fire knife."
Mendenhall said his offensive coordinator may have "opened a Pandora's box" of new skill sets, and Brown called his coach "a man of a lot of skills."
"I've seen it before. I was a little impressed," Brown added with a cheeky grin, "but I think he's been practicing a lot on his own."
Coach Anae doing work at summer bridge! 🔥🔥🔥 pic.twitter.com/Bvm9kFQBqH — Micah Simon (@MicahSimon7) August 24, 2015
×