This archived news story is available only for your personal, non-commercial use. Information in the story may be outdated or superseded by additional information. Reading or replaying the story in its archived form does not constitute a republication of the story.
SALT LAKE CITY — It's not an easy task for a younger brother to fill the shoes of an older brother who leaves a legacy behind.
It's no difference for sophomore defensive lineman Lowell Lotulelei as he attempts to make a name for himself at the University of Utah behind current NFL player and older brother, Star Lotulelei.
At Utah, Star Lotulelei quickly made a name for himself as a hard-nosed defensive lineman who was named a first-team All-American and a two-time first-team All-Pac-12 defensive tackle. He was the focal point of the defense and commanded double and triple teams in his three-year career at Utah.
"I think there's a lot (of pressure)," Lowell Lotulelei said, speaking about coming into Utah behind the success of his brother. "But I think at the same time it's good pressure; it pushes me. I'm grateful for what he did over here and set the standard for me."
But the Utah coaching staff believes Lotulelei is already creating his own legacy, separate from his brother. As a true freshman, Lotulelei started much of last season and still has several years to prove his worth in a traditionally diverse and talented defense.
"It could be (hard) for the next guy to measure up, but Lowell doesn't seem to have any problems with it," Utah head coach Kyle Whittingham said. "He's so talented he shouldn't have any problems with it. He's going to forge his own trail."
Whittingham added that the two brothers have their respective strengths and "things that they're very good at," but that Lowell is "making a name for himself."
"Lowell is his own man. Star was a great player here, but Lowell is not Star, and Star is not Lowell," Whittingham said. "We expect him to be a very, very good defensive lineman in this league."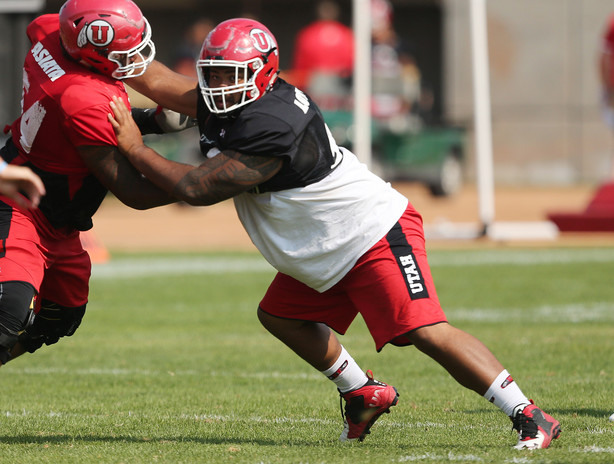 As for comparisons, Utah defensive coordinator John Pease said it's never easy to make a direct correlation with any current or former player, let alone a family member.
"He's played a lot, but he's a young, young player," Pease said. "It's hard to take a player that's an early-round draft choice in the NFL and (compare to) a kid that's a (sophomore). We've got a ways to go to see how much he can develop."
"I knew it was a hard program," Lotulelei said. "I knew it wasn't a joke up here. I knew I had to come ready and be ready for whatever they threw at me."
Pease said the coaching staff will always "ignore" the generational legacies and evaluate players on their own merit and not on family members who previously attended the university or played competitively elsewhere.
"I look at them as far as knowing their mindset," Pease said. "But as they start playing, I couldn't care (less)."
Lotulelei said he sees his older brother as being a benefit rather than a potential distraction or constant desire to live up to the Lotulelei name.
"I think it's good. I think it's a benefit to me just because he knows everything I'm going through, especially since he came here, too," Lowell said. "He knows what I need to do. He's made a name for himself and since we have the same name it just makes it that much easier for me."
---
Lowell is his own man. Star was a great player here, but Lowell is not Star, and Star is not Lowell. We expect him to be a very, very good defensive lineman in this league.
–Kyle Whittingham
---
"Star will give him great ideas, which I'm all for because Star was a great player," Pease said. "If he can teach him one little trick that can get one more sack or one more tackle for loss, I'm not going to fight him."
Last season, Lotulelei started in the last nine games of the season and recorded 33 total tackles, 4.5 tackles for loss, 4 sacks, and one forced fumble. As a result, Lotulelei was named a first-team Freshman All-American by USA Today. This season, Lotulelei said he's lost about 20 pounds and hopes to be more mobile.
"I'm going to focus on moving more sideline to sideline," he said. "Last year I kinda just stayed in the middle, just trying to plug up holes. I think this year I'd like to try to make more plays, try to run around more."
"He's pursuing a lot better," Pease said about Lotulelei. "The whole defense has got to step up there. We've got to get a bunch of sharks after a dying fish. It's going to look like a pack of wolves. It's when you watch good football defenses, you know they're swarming."
×