This archived news story is available only for your personal, non-commercial use. Information in the story may be outdated or superseded by additional information. Reading or replaying the story in its archived form does not constitute a republication of the story.
SALT LAKE CITY — Welcome to our first KSL mock draft, where today I'll break down a 12-team ESPN mock I took part in.
We'll go in chunks, stopping along the way to provide analysis. For this draft, I assumed my league was a standard-scoring ESPN league. I frequently utilized concepts from The Mantra, which you should be sure to reference. I drafted third overall — let's take a look.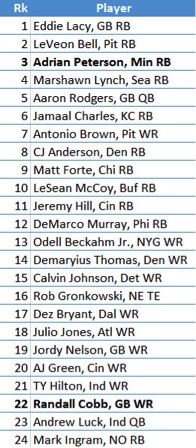 Ben Dowsett/KSL
Peterson is first on my overall board, so I'm thrilled with him at third. He's coming off a missed year due to suspension and not injury — his legs will be as fresh to start the season, and he's primed for a workhorse load in a Minnesota offense I have a lot of optimism about.
My slot worked out quite well for me on the back end of the second round as well. Cobb is a guy I have rated right in the same tier as Hilton, Green and even Jordy Nelson, but more importantly I see a significant drop-off in the RB/WR pool after these guys. I think this could be the year Cobb is set to truly surpass Nelson as Aaron Rodgers' top target in the NFL's most consistent offense (note: Nelson was injured in preseason play Sunday, and his initial diagnosis is a torn ACL according to league sources, which would cause him to miss the full season).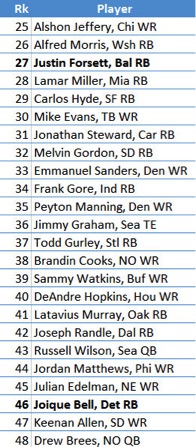 Ben Dowsett/KSL
Forsett would be directly after Cobb on my personal board, and I was happy to get him early in the third round. The Ravens have one of the top offensive lines in football, something I always target with running backs, and Forsett emerged as the bell cow last season. I think he'll continue in that role even under new coach Marc Trestman, who has indicated as much.
I'd have loved to see Jordan Matthews, a guy I'm a big fan of in a huge-volume Philly system, fall to me at 46, but alas he was taken two spots earlier. I'm fine with Bell here, though — indications out of Detroit are that he'll retain the early-down load for an above-average offense when he returns to health, and further indications are that this will happen before week one.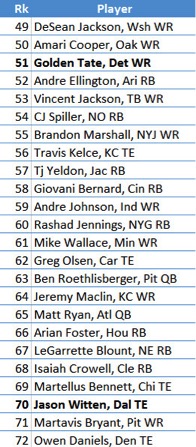 Ben Dowsett/KSL
True to The Mantra, I had targeted two guys at 51: Tate and Oakland rookie Amari Cooper. The tactic paid off when the latter went one spot ahead of me, but I'd have been fine with either one. Tate gets consistent matchups with second cornerbacks out of the slot while Calvin Johnson draws the top defender out wide. Golden pulled down 99 receptions last year, sixth in the NFL, showcasing how often Matt Stafford looks his way when Johnson is blanketed or double-teamed.
The 70th pick was a killer. I had specifically hoped to grab Martellus Bennett, Chicago's TE, here — he had a career year in 2014 and figures to draw even more attention in the red zone following WR Brandon Marshall's departure. But he was snatched up one pick before I could get him, forcing me to go with Witten, a guy I like but don't have on quite the same tier.
The rest of my picks, in order:
75. Charles Johnson, Min WR: My official "sleeper" of the 2015 fantasy season. Johnson came in part way through last year and saw tons of targets from Teddy Bridgewater, and he has reportedly improved a ton this offseason.
94. Ameer Abdullah, Det RB: The first of three straight handcuffs I grabbed for my top three running backs. Abdullah could have Bell's starting job at some point if he continues to impress at this level.
99. Lorenzo Taliaferro, Bal RB: Taliaferro is first in line if anything happens to Forsett and could even threaten his goal-line touches.
118. Jerick McKinnon, Min RB: AP's primary backup, pure and simple.
123. Philip Rivers, SD QB: There's tons of QB value at the end of drafts. Rivers is a sure-thing starter, with the 123rd pick.
142. Antonio Gates, SD TE: He's suspended for four games, but seven bench slots leaves room for one stash guy who's a preferred target of his QB.
147. Daniel Herron, Ind RB: He had success last year in a timeshare and is behind only aging Frank Gore on the depth chart.
166. Teddy Bridgewater, Min QB: I wouldn't typically draft two QBs, but I like Bridgewater to break out as a fantasy QB and Rivers has worn down late in each of the last few years.
171. Eagles D/ST/190. Blair Walsh, K Min: Defenses and kickers in the final rounds only, folks.
My final roster looks like this: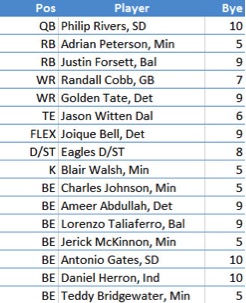 Ben Dowsett/KSL
A good draft. Lots of depth, handcuffs for my lead backs and top-end talent I'm happy with. I'm concerned a bit about lots of similar bye weeks, but those things tend to ebb and flow as your roster changes a few weeks into the year.
Agree or disagree with my picks? Leave a comment, and be sure to check in for more fantasy coverage in the coming days and weeks.
×
Related Stories