This archived news story is available only for your personal, non-commercial use. Information in the story may be outdated or superseded by additional information. Reading or replaying the story in its archived form does not constitute a republication of the story.
SANDY — Javier Morales led Real Salt Lake to its seventh shutout of the season with a 2-0 home win over Seattle Sounders FC to keep its playoff hopes alive Saturday night in front of 20,559 fans at Rio Tinto Stadium.
Morales started the scoring early, stepping up to the penalty spot after Seattle's Roman Torres was whistled for a handball in the box. The Argentine midfielder stutter-stepped, then calmly lifted his penalty shot past Stefan Frei for the 1-0 advantage in the 12th minute.
"I tried to be calm, and knew it was an important goal," Morales said. "It could open the game. I just tried to take it in a way that I did, and I was happy it was a goal."
Sebastian Jaime struck seven minutes later, heading home a rebound on an empty net after Luke Mulholland's shot from distance caromed off the crossbar. Frei dived to his left to on Mulholland's attempt, and Jaime was all alone to clean up the rebound to give RSL its first 2-0 halftime lead of the season.
Nick Rimando made one save on only five shots to earn the shutout.
Here are a few quick thoughts from the must-win victory.
Good things happen for RSL when Morales scores
The 35-year-old Argentine maestro's dream season continues with his sixth goal in 18 appearances in 2015. Incredibly, the midfielder also has a team-high nine assists, making him directly involved in 15 of RSL's 25 goals this season.
Morales again led his team in touches with 114, and he also generated three of RSL's nine chances in a must-win game for RSL to attempt to climb back into the MLS Cup playoff race.
"We enjoy playing like that," Morales said after the match. "But for me, tonight wasn't a lot different than with the last game with Portland. The only difference was we scored our goals today, and then the game changed. When you score two goals, you have time to possess the ball."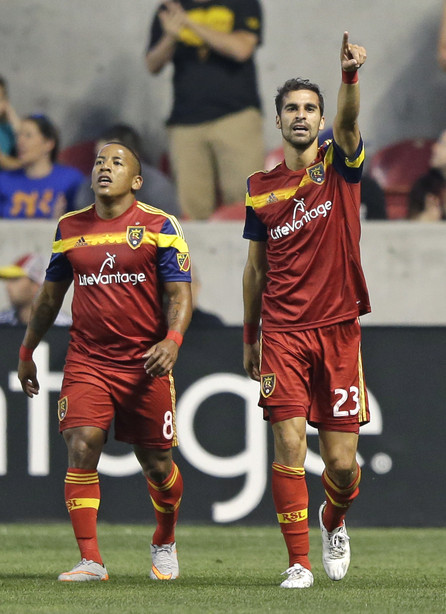 Jaime can use his head
Jaime's goal in the 19th minute was an opportunistic blast created by a cracker from the edge of the area by Mulholland, and the hustling Argentine blasted his goal on frame of an empty to help the home side double its lead in a game that RSL needed to cut Seattle's lead on the final playoff spot to three points.
RSL coach Jeff Cassar has constantly stated that good things happen for RSL's offense when it takes its chances — and unlike last weekend against Portland, the Salt Lake side buried its chances early.
"We created a lot of chances against Portland, but didn't make their goalkeeper make many saves," Cassar said. "Tonight was different. It gave us confidence, and the way the guys managed the rest of the game was very classy on their part. On a different night, we could've gotten a couple more."
A Burrito sighting is appetizing
Less than 48 hours after touching down at Salt Lake International Airport, new designated player signee Juan Manuel "El Burrito" Martinez was on the bench for RSL.
The former Boca Juniors forward did not make an appearance on the night, but he was seen joining his new team for pregame warmups and hamming it up with a few of the Spanish-speaking squad mates during five-vs.-two pregame drills. Martinez's next home game will come Sept. 15 against Santa Tecla in CCL play, and RSL's next home game in MLS play is four days later against the star-studded L.A. Galaxy.
"It's really just to get him into the group, to be honest," said Cassar, who said there was a scenario that saw Martinez get on the field. "If things worked out, it would've been nice to put him in at the end. But we have guys who deserve to be out there, so I wanted to do the right thing for the group."
Midfielder Luis Gil was a healthy scratch from the RSL lineup, according to team officials. The 22-year-old midfielder was an unused sub in RSL's 1-0 loss to Portland a week ago, and he has seen inconsistent minutes since starting and playing the full 90 minutes July 4 in a 1-1 draw with Orlando City SC.
Joao Plata comes back
The Ecuadorian forward made his first start since Aug. 4 in Guatemala City, a CONCACAF Champions League game RSL won 1-0. The diminutive Plata hadn't played in an MLS game since the club's 6-4 loss Aug. 1 at D.C. United.
But his return reaped dividends, even without a goal. Plata had 34 touches, completed 29 passes and finished at a 82.8 percent passing clip of his advanced position on the right wing, creating one chance, before being replaced by Olmes Garcia in the 69th minute.
"He's a special player. He's a game-changer," defender Tony Beltran said. "It's great when he's healthy. We want him on the field; he has to be on the field. It's not easy being out and then getting right up to speed. But he was tremendous tonight."
Luis Silva continues to impress
Still searching for his first goal in an RSL uniform, the recent D.C. United transfer started his third straight game in his fourth appearance with the club since coming over in exchange for Alvaro Saborio in July.
Silva's technical ability was praised by his teammates, though, and his ability to slot into RSL's forward line as well as midfield wing — often in the same play — helped create several chances for the host side. The recent acquisition in the final year of his current MLS contract had 47 touches and completed 38 passes in his box-to-box role.
"It really helps the fact that Luis is a very technical player," Beltran said. "He's really good on the ball, and he can pinch inside and be close to Javier, Plata, Seba (Jaime), Kyle (Beckerman) or Luke. It's almost like when he does that, it's the days of old — like we're playing a diamond. Then you see those 5-10 yard passes, dicing through opponents and switching the field."
×
Related Stories