This archived news story is available only for your personal, non-commercial use. Information in the story may be outdated or superseded by additional information. Reading or replaying the story in its archived form does not constitute a republication of the story.
PROVO — After last week's scrimmage, BYU offensive coordinator Robert Anae praised the work of running backs Algie Brown and Nate Carter, then singled out senior tailback and return man Adam Hine as needing to catch up.
Hine narrowed the gap at Saturday's second scrimmage of fall camp.
The fifth-year senior and Snow Canyon High product ran the ball five times for 73 yards and two touchdowns, including a 53-yard touchdown early in the 11-on-11 session to help move the offense forward.
"It feels good, especially on my part," said Hine, who came back from an offseason foot injury and a minor hernia-related surgery. "It's been awhile since I've been running. It'll be nice to get more carries this season. The more carries I get, the more chances I have to show my talent."
Hine's first touchdown came off a draw play up the middle in which he bounced off one tackle, juked aside a linebacker and sprinted toward the right sideline to carry the ball into the end zone from 53 yards out.
The play came down to the massive hole in front of him on the offensive line, though.
"Anyone could've done what I did, but it was nice," he said sheepishly while gently holding his baby girl after practice. "The second one, we were close on the goal line and just pounded it in."
Carter added 32 yards on three carries, and quarterback Taysom Hill ran the ball twice for 22 yards. The senior signal caller also completed 13 of 18 passes for 143 yards.
But even Hill admitted the day belonged to Hine.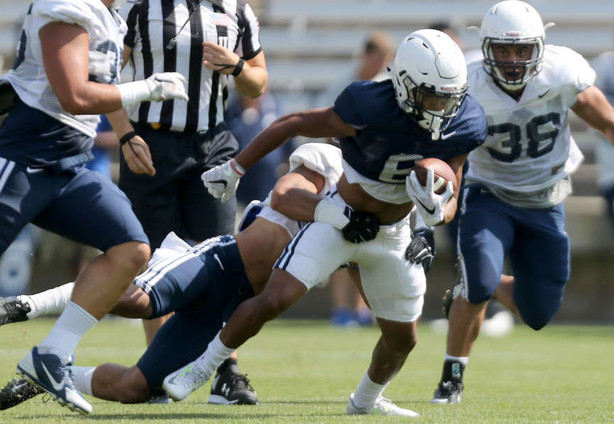 "I think the biggest improvement has been Adam. He ran really well today," Hill said. "Algie is Algie, and we don't worry about Algie. He'll be ready to go at Nebraska. But I thought Adam took a big step forward and solidified a spot there for himself."
Still, Hine knows he has more improvement — the team still has two weeks left of fall camp and at least one more scrimmage. Head coach Bronco Mendenhall said the running back stepped up his game Saturday, but there's still work to do.
"He's catching up," Mendenhall said of Hine. "It'll be a minimum of two weeks, and I think he'll need every day in the two weeks to get to where I would like him to be."
Newcomer Riley Burt from Box Elder carried the ball eight times for 22 yards, and Francis Bernard also saw significant reps at fullback.
On the outside, wide receiver Mitch Mathews did not play, but Nick Kurtz created several moments of separation and explosion on the other side. The 6-foot-5 junior caught two passes for 52 yards and also had a pair of touchdown grabs called back on penalties.
Cleaning up penalties were a common theme for the offense.
"I think we are progressing, but we still see from today we've got some offsides and penalties that we need to get better at," Hine said. "Once we can fine-tune that stuff, we'll be rolling."
KICKING OUT — Trevor Samson seemed to step out as the Cougars' primary field goal kicker Saturday, booting a 50-yard field goal and adding another 33-yard kick on one of the final series of the scrimmage.
"Our kickers looked good, Trevor Samson especially," Mendenhall said. "He's putting the ball consistently through the uprights, which is scoring potential. I like what I saw from that standpoint."
WALK ON UP — Besides Bernard, another newcomer that impressed Mendenhall the past week was walk-on linebacker Scott Huntsman. The true freshman was one of five players with three tackles Saturday, the second-most on the team behind Fred Warner.
The 6-foot-4 linebacker from Coppell, Texas, saw a few snaps with the first team, though Mendenhall said Huntsman showed athleticism to merit playing time with the second-string defense this season.
Huntsman turned down a few scholarship offers to walk on at BYU, and his transition has been a boon for the football team in only two weeks.
"He reminds me a lot of Jordan Pendleton as a freshman," Mendenhall said of Huntsman, who trained with Pendleton during a month this past summer. "He'll play for us this year as a true freshman."
HIGHLIGHTS — Check out highlights of the Cougars' second fall scrimmage in the video above.
×
Photos
Related Stories