This archived news story is available only for your personal, non-commercial use. Information in the story may be outdated or superseded by additional information. Reading or replaying the story in its archived form does not constitute a republication of the story.

PROVO — Erin Armstrong faced a dilemma: she wanted to prevent the feral cat colony near her home from growing out of control, but she didn't want the felines to be euthanized at a shelter. So she took matters into her own hands.

Armstrong founded Provo's Cats, an organization that traps feral cats and takes them to the Best Friends Animal Society in Orem be spayed and neutered for free before releasing the felines back into the community.

"I did some research to see if there were any programs here in Provo where you could get cats neutered and returned, because I had heard of that, and there was nothing," Armstrong said. "So, I did more research and kind of looked into how to start something like that — and realized that I was just as capable as anyone of starting it."

> [](https://www.facebook.com/provoscats/videos/836802993022244/)This is Mollie! I took her to get spayed yesterday morning and today she was released back to her family (that's her son Scout at the end). Her milkshake was bringing aaall the boys to the yard. Now this entire family is sterilized and rabies vaccinated, making them the first colony successfully helped by Provo's Cats. It's just the beginning! Spread the word and help me find the next cat colony! > > Posted by [Provo's Cats](https://www.facebook.com/provoscats) on Saturday, May 9, 2015


Armstrong has been running Provo's Cats mostly by herself since launching it in May, capturing and treating about 10 cats so far. However, she's received requests to help more cats than she can handle herself. As a result, she is hosting an introductory meeting Wednesday at 7 p.m. at Pioneer Book, located at 450 W. Center Street, for those interested in becoming volunteers.

"For people who love cats there are obvious incentives," she said. "From all of the people who I've helped trap for, the cats they take care of are not pets but they are friends — they are cats they enjoy seeing and interacting with."

The program is beneficial for people who don't like having cats around as well, according to Armstrong. The cats are given rabies and feline distemper vaccinations at the same time they are spayed and neutered, so it prevents disease while controlling the population.

The main goal of the organization is to change the perception of feral cats in Provo, so people don't think of the cats as a nuisance but something that everyone can live with and work around, according to Armstrong. She said feral cats generally aren't good candidates for adoption at shelters, so they are often euthanized.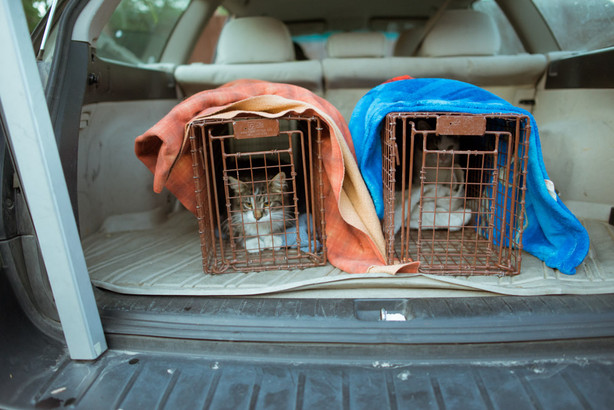 Trapping the cats can be tricky, but Armstrong is patient.
"When you return them (after the procedures) they are obviously very happy to be home and they run off as fast as they can, but they always forget about it in a day or two and are really friendly," she said. "All the cats outside my apartment still come get their food and meow at me. We're friends."
Armstrong, who has a 10-month old son, said the project has kept her busy but it is fulfilling to see the demand for her services grow.
"I'm just excited because I've found a way to be involved. I've always wanted to work with animals but I couldn't be a veterinarian because there is too much sadness to deal with," she said. "So I was really excited to think of this way where there is a need and I can fill it. I can do it in my way."
Provo's Cats isn't an official non-profit organization just yet, but Armstrong is working to achieve that status. She's also looking for volunteers to do things like help trap cats, let felines stay in their garages overnight to recover from the surgeries and plan events. More information about how to become involved can be found online.
Since starting Provo's Cats, Armstrong has received food donations and materials to help build winter shelters for cat colonies.
"It's cool to see people do want to help in whatever way they can," she said.
×
Photos
Related Links