This archived news story is available only for your personal, non-commercial use. Information in the story may be outdated or superseded by additional information. Reading or replaying the story in its archived form does not constitute a republication of the story.
PROVO — BYU football hit the 11th day of fall camp Thursday with a refreshed outlook following its first day off to ride inner tubes down the Provo River on Wednesday afternoon.
It was a good day to take off, reaping immediate benefits, according to special teams coordinator and outside linebackers coach Kelly Poppinga.
"You've got to stay fresh during fall camp," Poppinga said after Thursday's practice. "We felt on Tuesday they were about at a breaking point. We weren't getting much out of them in practice; it wasn't a lack of effort, but they were breaking down."
Poppinga said with many experienced veterans and carry-over players from a year ago, the Cougars are at or above expectations in terms of repetitions from fall camp in 2015.
"We felt pretty comfortable using (Wednesday) as a rest day, to get refreshed and get their minds back," he said. "It was a good day.
"I thought the energy in practice was way better than what we had on Tuesday. Both sides performed better."
It also helped solidify bonds and team chemistry in off-the-field situations, wide receiver Terenn Houk said.
"Anything where we can spend time with each other is good," Houk said. "You've got to love the grind, but it's nice to take a break."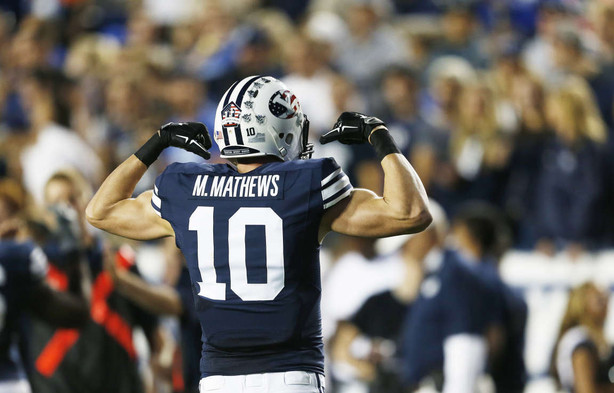 MATHEWS RETURNS — Mitch Mathews increased his work load in practice Thursday after offseason surgery to repair an inguinal hernia, and he immediately jumped into his near-1,000-yard receiver self. Houk said Mathews caught a touchdown pass on the first play of a team series during non-media-observation hours, and he also caught several long balls during 7-on-7 drills toward the end of practice.
"It just shows the dominance and presence he has once he's actually playing," Houk said of Mathews. "I think our offense has been missing that, and it's good to have him back out there."
Head coach Bronco Mendenhall said the senior wide out has been working further into partial participation in practice this week, under the careful observation of the team's medical staff.
"It's just a part of his normal progression," Mendenhall said. "He gets it, and I just look out there and see him or don't. I haven't played a role in that."
Defense dominated the final media observation, an 11-on-11 scrimmage that emphasized the run game. In previous 7-on-7 drills, Taysom Hill threw a pair of touchdown passes to Mitchell Juergens and Nick Kurtz, and backup quarterback Tanner Mangum had a 25-yard touchdown throw to junior David Kessler.
Related:
**NO STARS** — The day off wasn't all good. The team seemed to be unanimous in its disapproval of the film of choice for movie day Wednesday.
"I would not recommend 'Fantastic Four,'" said Houk, a noted superhero enthusiast and 'Batman' aficionado. "When we saw it, we thought it was 'Ant Man.' Then it became 'Fantastic Four,' and everyone goes 'Noooooo.'"
The film, which earned an 8-percent likeability review on the Internet Movie Database, was allegedly either the idea of strength and conditioning coach Frank Wintrich or football operations director Patrick Hickman — though no conclusive evidence was found concerning the decision-making process.
Mendenhall didn't make it to the movie; he had a date with his wife that ran long, and he caught up with the team at the river. Poppinga wasn't a fan of the "Fantastic" reboot, and even took a nap for part of the film.
"Fantastic Four is not one I would recommend to anybody," the BYU special teams coordinator said. "I fell asleep the last 20 minutes; it was terrible. I don't even know how it ended."
LINE DEPTH — Putting together a good depth chart for the offensive line continues to plague the Cougars, and finding a reliable backup center to former freshman all-American Tejan Koroma is proving to be especially tricky.
"It's a work in progress," Mendenhall said. "Parker Dawe and Jacob Jimenez are the leading candidates (to back up Koroma)."
Tackle Kyle Johnson has also been cross-training at center. The Cougars will travel 10 linemen to the opener at Nebraska, and will likely play linemen at multiple positions, according to line coach Garett Tujague.
×
Related Stories