This archived news story is available only for your personal, non-commercial use. Information in the story may be outdated or superseded by additional information. Reading or replaying the story in its archived form does not constitute a republication of the story.
SALT LAKE CITY — We are now just two weeks away from the start of the 2015 college football season, with one of the first games being the University of Utah hosting the Michigan Wolverines.
But when the Utes run out of the tunnel on September 3, you'll notice at least one thing that is different — the Utes will be donning new satin red helmets.
#poll
The Utes' football equipment staff (@UtesEquipment) released a photo of the helmet on Twitter Wednesday, while the official Utah football account (@Utah_Football) followed it up with a video showing the team's reaction to the new helmet.
And now... The players react to the new satin red helmets! https://t.co/QenxEZb17O@UtesEquipment#UteArmour — Utah Football (@Utah_Football) August 19, 2015
This marks the second addition to Utah's uniform combinations so far this year with the first being the throwback uniforms that Utah will wear in its [homecoming game vs. Cal](http://www.ksl.com/?sid=35828895&nid=635).
Utah won't be the only team wearing new gear in the season opener at Rice-Eccles Stadium as Michigan has also announced its plans to sport all-white road uniforms in honor of its 1974 team that went 10-1 wearing similar road uniforms.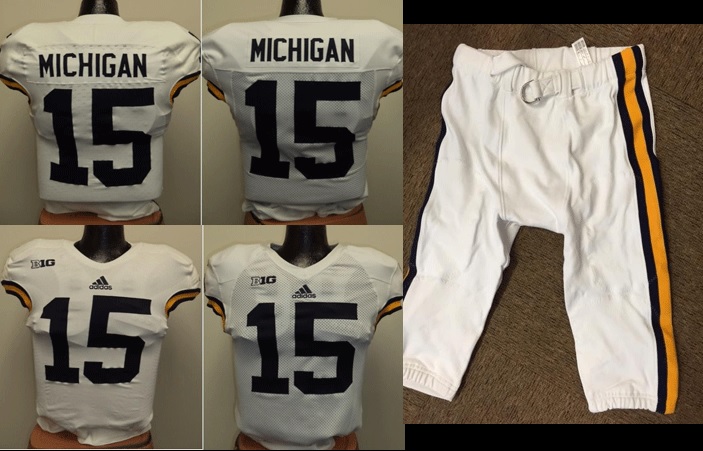 Photo credit: TheWolverine.com
The all-white throwbacks will be used in all road games for the Wolverines in 2015. Robert Jackson is the cross platform sports and weather producer for ksl.com and KSL-TV.
×
Related Stories