This archived news story is available only for your personal, non-commercial use. Information in the story may be outdated or superseded by additional information. Reading or replaying the story in its archived form does not constitute a republication of the story.
HOLLADAY — Inspired by their love of food trucks, a Holladay couple decided to open a permanent park where the trucks could congregate and be easily found.
Shelly Olsen said she and her husband Mark are "big foodies." So much so, that they have traveled from coast to coast following and trying different food trucks in the U.S.
"A vacation to us is going after and following some food movement or restaurant," Olsen said. "It became this adventure. We would travel and go to these different events that they had. … We just saw how amazing the food was and that it really was a culinary experience on wheels versus just fast food. We really had some of the best food in our lives on these trucks."
However, Olsen said she quickly found that it wasn't always easy to track down food trucks. After visiting Oregon and seeing the permanent parks for food trucks, the Olsens decided to bring the concept to Utah.
The Olsens said they discovered that food trucks weren't even allowed in Holladay, so they worked with the city council for several years to get the approval. An ordinance was passed on Sept. 19, 2013, allowing food trucks and a permanent food court in Holladay, and the Olsens purchased land to begin development for the park.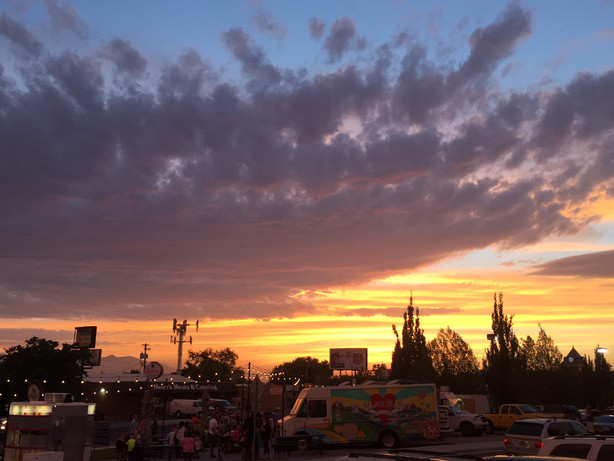 They opened Soho Food Park on July 4 as a convenient space for food trucks to congregate so people could easily locate them, but also to provide a place for people to eat.
"With the food truck situation, a lot of times you are eating in your hands," she said. "It's not a very engaging or comfortable way of eating food. And so with our park, we designed it with the intention of creating a community for the trucks and for the patrons."
To eliminate the noise from the usual generators, the Soho Food Park is set up with electricity and has six stalls for the food trucks to park in. There is seating available for 100 people and the Olsens also have a permanent snow cone hut on the property.
Olsen said she and her husband personally screen all of the food trucks to ensure the food truck park has high-quality eats.
"We hope that the standards and expectations for the trucks will become what they are in other cities, where they're really a craft," she said. "We have some really incredible chefs and just passionate cooks that are doing some incredible dishes."
She said they have had a great response since opening the park and that it has become its own "unusual subculture" in Holladay. The Soho Food Park is located at 4747 S. Holladay, Blvd. and is open Monday through Saturday from 5-10 p.m. The Olsens hope to open for lunchtime soon.
×
Photos
Related Links
Related Stories