This archived news story is available only for your personal, non-commercial use. Information in the story may be outdated or superseded by additional information. Reading or replaying the story in its archived form does not constitute a republication of the story.
KAYSVILLE — A second-grade science project turned into a YouTube success story for a 9-year-old Kaysville boy and his family.
As part of project at Endeavor Elementary School, Lincoln Markham only needed to answer one question that was on his mind and then make a poster board presentation. Little did he know that one question would turn into 100,000 subscribers and over 7 million views on YouTube.
Lincoln's question: What's inside different sports balls?
"Rather than having him simply research on the Internet and print out pictures, I decided to buy some different sports balls and cut them in half so he could have them on his poster board," said Lincoln's father, Daniel Markham.
Markham started filming the process one night then decided to post the videos on YouTube, simply to allow fellow students watch how the pair cut open the balls.
"That was in January 2014 when (Lincoln) completed his project. Fast forward to December 2014, and out of nowhere random people around the world began watching the videos of us cutting open the balls," Markham said. "They started to ask in the comment section to cut open more items."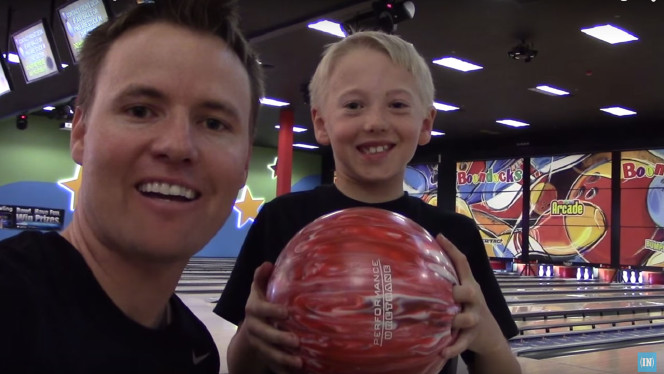 What's Inside/YouTube
And that's just what they did, cutting open as many sports balls as were suggested, from a tennis ball to a bowling ball to a cricket ball and many more, and posting them on their channel called What's Inside?"
They slowly gained followers, and in June of this year — over a year and a half later — they were thrilled to hit 1,000 subscribers. But that number was followed quickly by 10,000 subscribers in June and 100,000 subscribers in August, with over 7 million views across their whole channel. It was beyond anything they ever expected.
"There's key milestones you can hit (on YouTube)," Markham said. "When you hit 100,000 subscribers, they send you plaque that has a silver play button on it. … They give you a $500 gift card to a video store so you can buy a video camera, and they give you a video bag."
Markham said learning what's inside sports balls isn't the only thing Lincoln is learning. Any money the pair makes through the channel is Lincoln's, so he's learning to make a full accounting of money spent and earned for the videos. He's also learning about Internet ads, coding and ways to make his videos better.
Lincoln isn't the only one learning either. Markham said he's never been good with tools, living by his dad's motto, "If I can't fix it with a hammer, duct tape and a screw driver, then I'm going to call somebody to fix it." While he's made tool stumbles along the way, Markham said commenters on the YouTube channel are actually helpful with their suggestions.
"I don't know, maybe some people watched it because they're waiting for me to lose a finger or something," Markham said with a laugh. "But I've been learning."
Of course, there are only so many sports balls, so the pair has moved on to cutting open other items. Markham said a punching bag was the most surprising item they cut open, and the bowling ball was the most difficult. But it was their most recent project that was the most emotionally trying — a BYU football helmet signed by both Ty Detmer and Taysom Hill.
Markham said they have evolved into making sure they cut open professionally used items, so they went to BYU to get a game-worn helmet.
"The only one they had available I could buy from them was one that had Ty Detmer's signature on it, so I was a little reluctant," Markham said. "Once Lincoln wanted Taysom to sign it, I thought, 'Oh my gosh, we could have possibly the only two BYU heisman trophy winners ever on one helmet, and we're going to cut it in half.' But he was excited and ready to cut it open, so we went forward with it."
The two halves of the helmet will not go to waste and will be mounted on Lincoln's wall.
The two items Markham is looking forward to tackling next are a rubber band ball and the plaque they are receiving from YouTube, but the pieces will be put back together and mounted in their home.
"We are creating great memories and spending quality time together learning what is inside things," Markham said. "It all started with a little science project at Endeavor and has turned into something much larger than we ever could have imagined."
×
Related Links
Related Stories