Estimated read time: 1-2 minutes
This archived news story is available only for your personal, non-commercial use. Information in the story may be outdated or superseded by additional information. Reading or replaying the story in its archived form does not constitute a republication of the story.
Senator John McCain has a great idea - offer a 300-million-dollar prize to the person who can develop an automobile battery that leapfrogs existing technology. The prize would equate to $1 for every man, woman and child in the United States. McCain calls that "a small price to pay for helping to break the back of our oil dependency."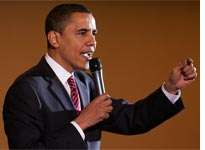 **Race still overrated**

The latest ABC News poll shows that race is not going to affect the election. Even though the poll shows 3 in 10 voters admit to having some feelings of prejudice, most white voters say race will not be the deciding factor in how they vote in November. Steve Roberts explained the poll to Grant and Amanda, and he commented on whether the comparison between John McCain and Bob Dole is a fair one. [**Click here**](http://real.ksl.com/video/slc/2/241/24178.mp3) to hear the interview.

**Where's your IT guy been?**

One in three information technology professionals abuses administrative passwords to access confidential data such as colleagues' salary details, personal emails or board-meeting minutes, according to a new survey. U.S. information security company Cyber-Ark surveyed 300 senior IT professionals, and found that one-third admitted to secretly snooping, while 47% said they had accessed information that was not relevant to their role. "All you need is access to the right passwords or privileged accounts and you're privy to everything that's going on within your company," Mark Fullbrook, Cyber-Ark's UK director, said in a statement released along with the survey results.

×
Most recent News stories