Estimated read time: 5-6 minutes
This archived news story is available only for your personal, non-commercial use. Information in the story may be outdated or superseded by additional information. Reading or replaying the story in its archived form does not constitute a republication of the story.
PROVO — With three returning starters at linebacker, BYU football coach Bronco Mendenhall said there's one thing that strikes him about this year's crop of defensive talent in the front seven.
Depth.
"Probably the position of most depth on our team right now is linebacker," Mendenhall said during the Cougars' first week of fall camp. "It'll be interesting to see as fall camp comes out, who plays where. I'm looking for the best combination.
"There are up to 10 right now in consideration, and we'll see if that verifies as camp goes on."
That depth facilitated defensive standout Bronson Kaufusi's move back to defensive end, a place he feels he can thrive with his hand in the ground. The former Timpview High star recorded 43 tackles, 11 tackles for loss and seven sacks as a junior who vacillated between the two spots.
Thanks to the pool of linebackers, Kaufusi can focus on what he does best.
"It's all about execution, and being able to execute at a high level is what we need from everyone," the senior said. "I thought we did a good job today, and going forward, it has to be an even better job."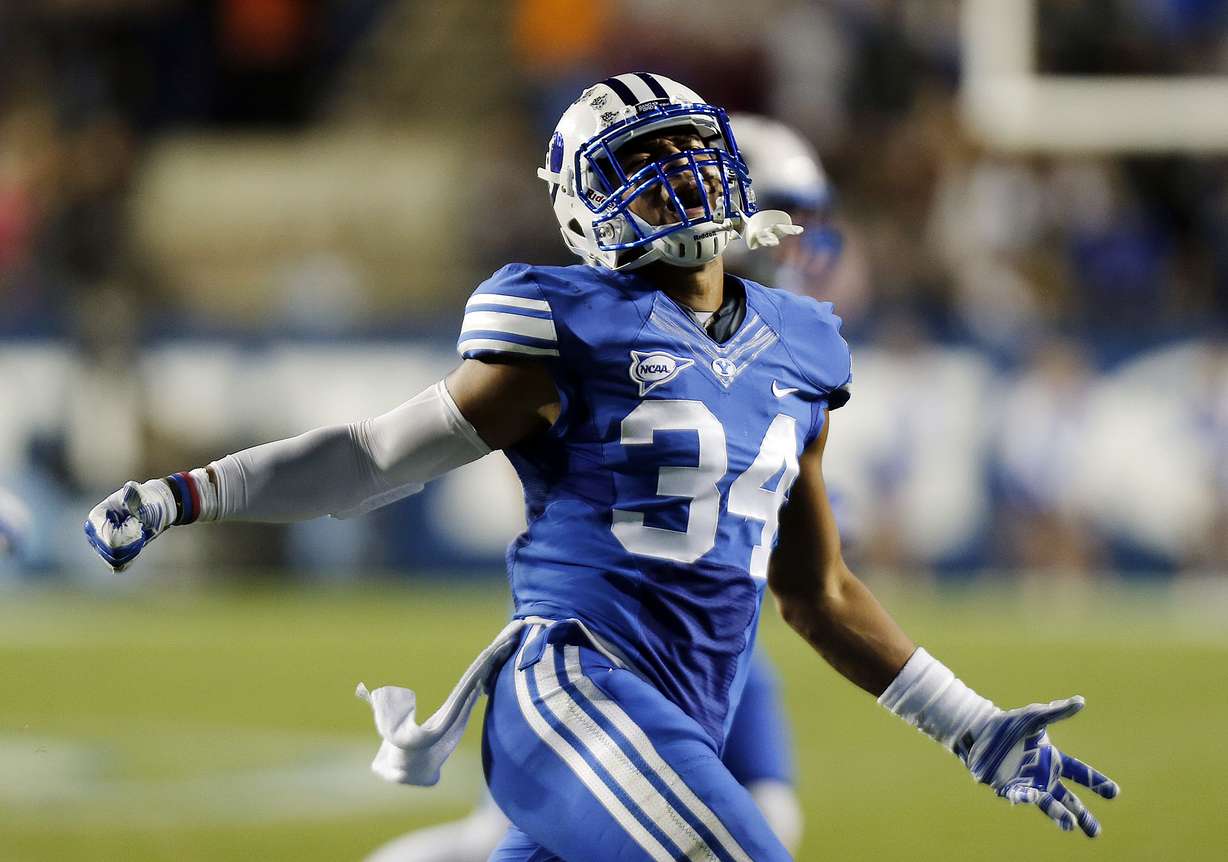 Many of the linebackers have had to grow up fast. Sophomore linebacker Fred Warner played in 10 games as a freshman in 2014, totaling 24 tackles, one tackle for loss and an interception that he returned 20 yards for a touchdown against Boise State.
The former USA Today all-California first team selection struggled with injuries during the latter part of the season, and he had a cast on his left wrist during the spring. Warner still struggles with occasional back soreness, but he's putting his injuries behind him — ready to help lead by example, despite his youth.
"I feel like this year we have a lot of depth at inside linebacker. (At outside linebacker), we have a lot of youth," Warner said. "But every day, you don't just compete against your position group; you compete against everyone else, too."
Some of that youth is less tested, such as junior linebacker Harvey Langi. The Utah transfer and former Bingham High standout running back recorded 14 tackles in 2014 after joining the Cougars, following an LDS Church mission to Tampa, Florida.
The potential on such players is also noticeable.
"He's in shape, he's big, he's fast and he knows the defense better," Mendenhall said of Langi. "Now it's just a matter of watching him play and seeing where he is. So far, so good. It seems that every group he is with, they play better."
The 6-foot-3, 220-pound Warner hasn't been afraid to show the newcomers and young players how things work at BYU fall camp. After all, he's been around campus for a year, and he spent most of the summer with new football performance coach Frank Wintrich and the rest of the team buying into an offseason conditioning program.
"I feel like we've been working really hard," Warner said. "Assignment and execution, there's a little bit to see still. That's expected. A couple of fights broke out (Tuesday), so discipline isn't quite there yet. But we're taking steps forward, for sure."
Chemistry and conditioning have been among the biggest improvements of this year's defense, fellow linebacker Manoa Pikula said. The 6-foot-1 senior is one of the few upperclassmen at the linebacker spot, and the Bingham High grad said there were moments this offseason unlike any other — in a good way.
"In the beginning of the summer, we had two conditioning days a week. It was the same thing, with no surprises, and I feel like that's going to transfer over to the fall," Pikula said. "I think guys are not as tired, and they look to be in better shape. I'm excited to see how it plays out on the field."
Related:
Depth breeds competition, and competition will be key for a linebacker group that has come together during the first week of a fall camp that saw a season-ending injury to Timpview product Colby Jorgensen and a suspension to sophomore Sione Takitaki for legal issues.
"We're all competing against each other, and we all want to play," Pikula said. "It just makes our team better. We've got a lot of talented linebackers, inside and out.
"That's been another good thing: all of the linebackers stepped up during offseason training, and we've got the defense around us, trying to lead the ship."
Pikula has 89 tackles, 8 tackles for loss, three sacks and an interception in 38 games at the position. He totaled 49 tackles, including two for loss, as a junior in 2014.
This year, he wants to do even more — and that includes cross training at mike and buck linebacker.
"I've focused on my conditioning and getting my body fat down and my assignments down," Pikula said. "I think that's one thing I struggled with last year: my assignments. I hit those hard during the offseason, and I'm glad we have fall camp to work on those things and get the little things done."
BYU will put its first week of fall camp to the test with a scrimmage Saturday at LaVell Edwards Stadium. Kickoff for the public exhibition is scheduled for 10:15 a.m. and the event should end around noon.
Mendenhall has a few loose ideas about what he wants from the first intrasquad scrimmage of the fall.
"We'll just assess where our team is," the head coach said. "I'm not going to be more specific that. I'm just looking for a great indicator of where we are as a team — to set practice for the future."
×
Photos
Related stories
Most recent Utah stories