This archived news story is available only for your personal, non-commercial use. Information in the story may be outdated or superseded by additional information. Reading or replaying the story in its archived form does not constitute a republication of the story.
GLENDALE, Ariz. — Former BYU running back Paul Lasike didn't always play like a running back, preferring contact, hitting and blocking to carrying the ball at times.
Forgive him, then, if he doesn't quite fit the usual mold of an NFL tailback.
Arizona Cardinals head coach Bruce Arians, who admits he hasn't "found (a fullback) I love a lot in a long time," has certainly forgiven the rookie.
"He's a running back," Arians told the Arizona media with his usual dry humor. "He's just built like a fullback."
Lasike is OK with the distinction, too.
"I'm a meathead of a fullback, and I love physicality," he said after a recent practice, laughing. "I'm willing to work hard, try to learn, and I'm teachable.
"Some of the nuances of the game are hard for me — it's like a new language."
Whether he knows "the language" of American football or not, the 5-foot-11, 235-pound running back has made quite the first impression. The BYU graduate originally came to Provo as a rugby recruit. After serving an LDS Church mission in Alabama, Lasike was playing rugby when BYU's strength and conditioning staff saw him in a game at South Field. They told the Auckland, New Zealand, native that he had to give American football a shot during the spring.
The rest, as they say, was history. Lasike earned a scholarship in the fall. Lasike earned All-American honors in rugby. But he quickly flourished on the football field as well, ending his career with 843 yards and 10 touchdowns, including seven scores as a senior in 2014.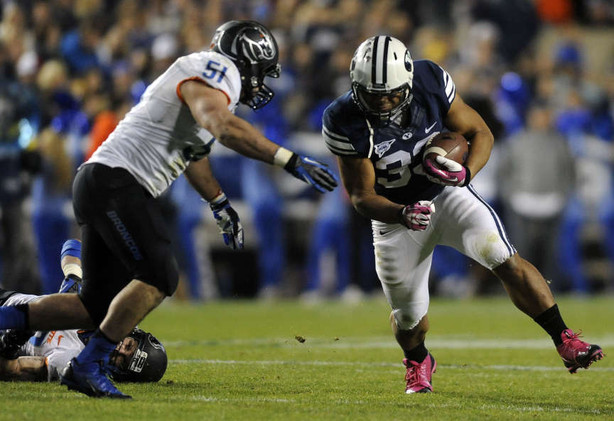 Now he's trying to earn a spot on the Cardinals' 53-man roster at the end of training camp. But even while Arians may seem him as a running back, Lasike admits his first love is contact.
"I love the physicality of the game, and I love the contact," Lasike said. "As far as technique, it is what it is. But I have to offer my physicality and my work ethic, just giving everything every down I get."
After spending three seasons in college with football, Lasike went undrafted in April's NFL draft. He originally intended to sign with the Atlanta Falcons, but turned toward Phoenix as the Cardinals made a better offer at the last minute.
He doesn't mind the physical differences between running back and fullback at the NFL level, either. In fact, he enjoys them.
"I know that everyone's real physical at this level," Lasike said. "You've definitely got to bring your A-game every day. My expectation was to bring nothing less than a physical, grinding (game), and that's what it was (during camp)."
For the rest of training camp, Lasike hopes to use his physicality to show the coaches he's deserving of a spot on the field.
Just like he did three seasons ago in Provo, he's a rugby star just trying something new.
"I just hoped that I showed them that I am out there to work hard, put my head down and give everything," he said.
Contributing: Jeremiah Jensen
×
Related Stories