This archived news story is available only for your personal, non-commercial use. Information in the story may be outdated or superseded by additional information. Reading or replaying the story in its archived form does not constitute a republication of the story.
SALT LAKE CITY — Pinterest is growing in popularity and fast.
The social media website has more than 70 million users, and 70 percent of those users are women. So it's no surprise that Pinterest has become a go-to for many moms looking for recipes, fashion and fitness ideas, along with a million other things.
Liz Webb is one of those moms. She uses the 50 billion pictures on Pinterest to get ideas. But with just a few clicks, she said she recently came across what she considers pornography.
It was the last thing she was looking for. But when she saw a new follower she didn't know, she clicked on his name and there it was.
"Right here there is a board called 'Peek-a-boob,'" Webb said. "There are 349 pins of nude women. It took all of two seconds to find it."
Webb's biggest concern is that kids can happen across offensive material much too easily.
---
It just doesn't seem right to be able to have a children's page on one and then naked women on the other.
–Liz Webb, Utah mom
---
"It just doesn't seem right to be able to have a children's page on one and then naked women on the other," Webb said.
She contacted Pinterest multiple times. When she finally got a response, it wasn't what she was hoping for.Pinterest said even though it doesn't allow pornography, the company would not be taking the pictures down.
Pinterest's policy
That's when Webb called the KSL Investigators, and we sat down with Charlotte Willner, safety manager for Pinterest, over Skype.
"Our acceptable use policy does prohibit pornography," Willner said.
Pinterest's acceptable use policy states users can't post anything that is sexually explicit or pornographic. But here's where the line gets blurred: Pinterest also says some nudity is OK — it all comes down to the definition of art.
"In general, we try not to define art because art can be very, very diverse," Willner said. "You see this in the Smithsonian. You see this in the Library of Congress. There's all kinds of artistic expression that involves some nudity. We do draw the line at things that are sexually explicit."
Webb said the images she saw would not be considered art.
"There's a huge difference between art and nude women and girls that are posing provocatively," she said.
So which posts get removed? Well, that's up to Willner's team. She said they look at each picture before deciding whether to take it down or make it harder to find. But with 50 billion pins and a safety team of 20 people, the job is daunting.
"People think we just sit here and look at porn all day. Wow, how hard could it be?" quipped Willner. "But it's a very important job that's done behind the scenes that very few people know exists."
How to protect yourself
Angela Page is the president of Women for Decency, a local community action group that helps women protect their families against the harms of pornography.
"I think Pinterest is a great site and it's very useful," Page said. "You just have to realize there are dangers there."
She agrees that it's easy to find nudity on Pinterest by accident. But instead of relying on Pinterest to take care of it, Paige said it's up to parents to monitor what their kids are looking at. She also suggests you visit only trusted pages, avoid broad searches like "young women" or "fitness," and — most importantly — talk to your kids about pornography.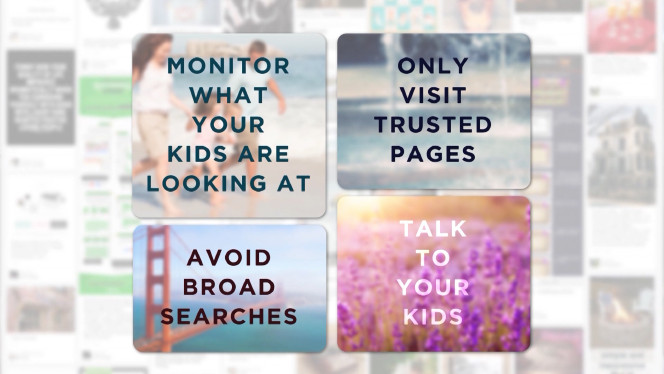 KSL-TV
"It is very important that a child can come and talk to you and say, 'I saw something that made me feel uncomfortable.' And you can say, 'Tell me about it and let's talk about it, and then try to find ways to avoid it in the future,'" Page said.
Good advice; but if you ask Liz Webb, she still wants Pinterest to step up and take more accountability.
"My one voice is not enough," she said. "They need to hear from a lot of people that this is not what we want on Pinterest."
Since KSL's interview with Pinterest, the company says its made it easier for people to report problems, as well as to unfollow and block people directly.
All you have to do is click the Pin to see it close up. Then click the flag at the bottom of the pin, pick a reason for your report and click "Report Pin." Company representatives said they evaluate every pin, along with the board it came from and the person who pinned it.
×
Photos
Related Stories