This archived news story is available only for your personal, non-commercial use. Information in the story may be outdated or superseded by additional information. Reading or replaying the story in its archived form does not constitute a republication of the story.
BLANDING — When a bunch of seventh-graders watch basketball superstar Michael Jordan go in for a slam dunk on a big screen in their Blanding classroom, it's not all for fun. It's to learn.
An animated character on screen demonstrates principles of gravity, Jordan's legendary hang time — and mathematics.
"How many of you thought about all the different mathematical principles that go into somebody being able to dunk a basketball?" asked teacher Nikki Tulley as the video ended.
For some of the kids, this new summer school is a big step into the modern world.
"Many of our students come from homes without running water or electricity," said Sylvia McMillan of American Indian Services, a nonprofit educational organization that's conducting the program.
Forty-two of the 50 students are Native American, McMillan said, most of them from the Navajo reservation.
The middle-school students are investing six weeks each summer for three years. It's a program that organizers hope will help launch college careers for kids who would seem to have the deck stacked against them.
Students from distant parts of the Navajo and Hopi reservations have flocked to the program. The seventh-graders have Navajo teachers as role models. Nikki Tulley is a graduate student at the University of New Mexico, Alden Whitehorse is a Ph.D. student in engineering at BYU. Evelyn Porter of Utah Valley University also teaches in the summer school program. The instruction deals with science, technology, engineering and math.
"They're really just focusing in on math, and I know that's a big struggle around here," said Karah Nay, the site director for the summer school. She said it's designed to eventually lead the students to satisfying job opportunities.
"Every career, you have to do something with math," she said.
---
This is more like college classes. It's pretty challenging, but I think I can take it.
–Kaleia Vicenti, 7th grader
---
"This is more like college classes," said Kaleia Vicenti, a seventh-grader who travels to the summer school from the distant Hopi Nation. "It's pretty challenging, but I think I can take it."
Lincoln Clarke of Blanding already has a firm goal of finishing college.
"This looks good on college applications," he said, "and I have a couple of job options that I would like to try and fulfill."
If that suggests a certain spirit of determination, think of it from the perspective of the students. They're giving up summer vacation. Most travel long distances to attend the school. They live four nights a week on the Blanding campus of Utah State University, a long way from home and family.
"Because our students live out on the reservation, 150 miles away, they can't be bused in every morning and bused home at night," McMillan said. Instead they're bused in on Monday mornings and bused home late in the day each Friday.
Sometimes the students get expert help, remotely, from even farther away.
"I have a Ph.D. in industrial and systems engineering," said professor Alan Gomez as he weighed in on the big classroom screen from the University of Wisconsin. He spoke with the students about his experience in engineering and gave them a chance to ask questions.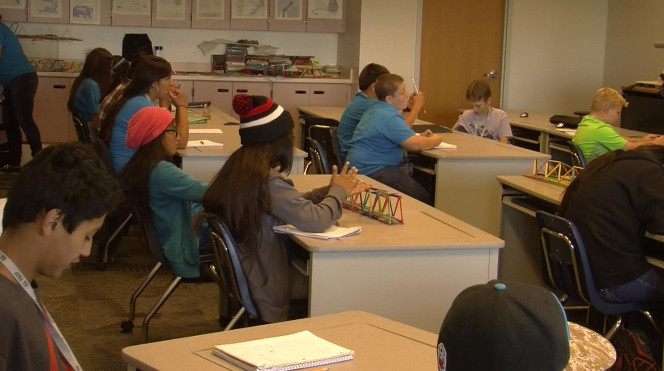 John Hollenhorst/Deseret News
The program is funded by the Utah Department of Workforce Services. It's not cheap. With all the transportation, housing and logistical challenges, the budget is over $200,000 a year. The same 50 middle-school kids are expected to come back next summer and the summer after that. Twenty-five new seventh-graders will begin the program in 2016 and 25 more in 2017.
Some skeptics predicted the program would never catch on. "We were told we'd be lucky to get 20 kids," McMillan said.
"We were a little hesitant about this," Nay added. "We didn't really know what to expect. But the parents have been extremely enthusiastic."
"Me and my parents were thinking this will start my college education," Kaleia Vicenti explained.
Even with mandatory homework and math at a level that might puzzle many adults, some of the kids think it's a pretty good summer.
"Indeed," said Lincoln Clarke. "It is fun."
In addition to the classroom work, the students get help from a team of tutors who meet with them every school day. Similar programs in lower income areas around the country claim a remarkable success rate. According to McMillan, 90 percent of the kids who go through such programs go on to finish college.
"Not just go to college," Nay said, "but they've actually graduated from college."
Could something similar happen in Blanding?
"Fingers crossed, fingers crossed," Nay said. "That's what we're hoping for. That's what we're shooting for. And that would be the main goal."
×
Photos
Related Stories