This archived news story is available only for your personal, non-commercial use. Information in the story may be outdated or superseded by additional information. Reading or replaying the story in its archived form does not constitute a republication of the story.
LOGAN — A family involved in a bad car accident in Logan Canyon last month is still dealing with the difficult aftermath.
The Lindhardt family was driving home to Logan from Bear Lake when they collided with a car that was in their lane, according to the mother of the family, Lori Lindhardt.
Lori Lindhardt said there was a cliff on one side of them and a mountain on the other, and for a split second, she thought the driver would notice them and move.
She does not remember all the details, but was told their car went over the other car, flipped, rolled and landed on its top.
The driver of the Subaru they crashed into was not wearing a seat belt and died at the scene. According to Lt. Lee Perry with the Utah Highway Patrol, witnesses saw two large dogs walking around in the car, and they may have distracted the driver, Tiffani Balling. Both dogs were killed in the accident.
Lori Lindhardt, her husband, Peter, and four of their children were in the vehicle at the time of the crash and all sustained injuries. Her two daughters, Amber, 24, and Olivia, 17, were just minutes behind them in another car, Lori Lindhardt said.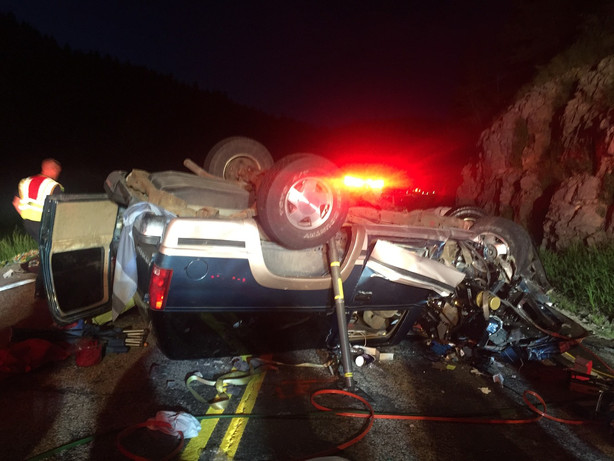 While the mother of seven and her four children involved were able to get out of the vehicle, Peter Lindhardt was stuck inside and had to be extricated by the Jaws of Life and airlifted to the University of Utah Hospital. The rest of the family was taken by ambulance to Logan Regional Hospital and Cache Valley Specialty Hospital.
Lori Lindhardt suffered a fractured sternum and injuries to her chest, ribs and legs. Her son, Adam Linhardt, 12, split his head so deeply on his forehead, his skull was visible. He also received stitches on his chin, and his face and chest were scraped and bruised.
Mason Lindhardt, 14, received several burns from his seat belt and fluid in his stomach from the pressure. Reiss, 16, fractured his back. He will be in a brace for three months and cannot play the sports he is involved with, such as basketball and lacrosse, for a year.
Ryan, 22, sustained cuts from the glass and sprained his thumb. Lori Lindhardt said Ryan was aware enough to help the rest of the family get out of the car and he talked to his dad and was there trying to get him out.
More than a month after the accident, Peter Lindhardt has still not come home and is in the rehab center in Logan. He has had eight surgeries after sustaining a compound fracture of his leg, which went through the metal on the floorboard of the car. He also crushed several bones in his left foot and all the bones in his right leg from the knee down. Additionally, he severed a nerve and cannot not move his foot toward him.
Peter Lindhardt will be unable to put any weight on his foot for three months and cannot return to work until that time. He will also have to be in a wheelchair until he learns to walk again.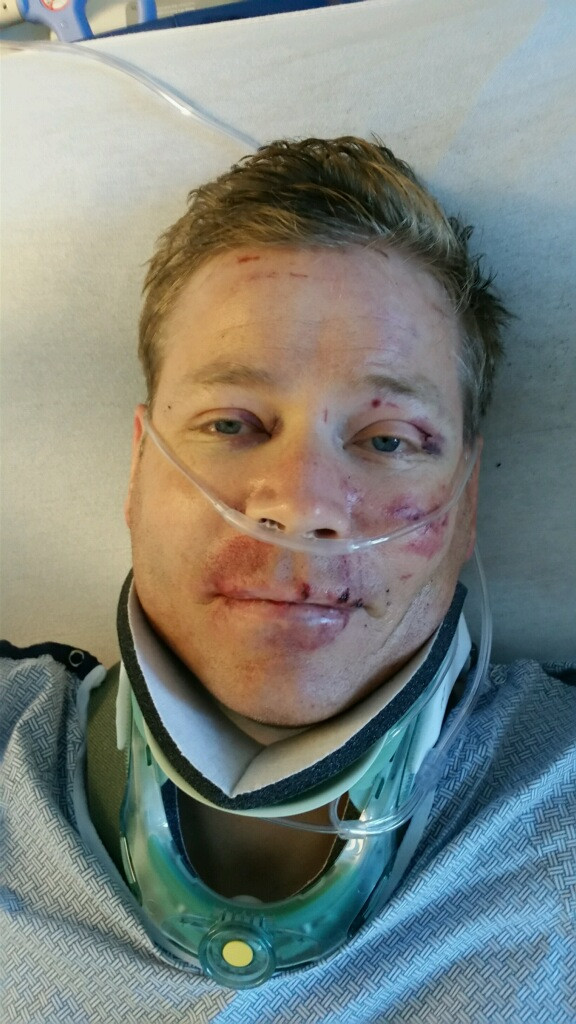 "From the moment the accident happened, our family was split up and we haven't been reunited yet … we're a really close family and that's what we're looking forward to is when our dad can come home and we can all be a family again together in our house, you know, in our home."
Lori added that it has been hard traveling from hospital to hospital and being away from her kids and that it's taking a toll on everybody that they aren't all together.
She said through this trial, she has learned her family can do hard things, to trust in God and not to take things for granted.
Lori Lindhardt added that she's learned how good people are.
"From the minute of the accident, we had people helping us right there on the road, and I've had my fridge full of food, people have given us money, they have mowed my lawn, taken care of my kids. People are good," she said.
Shortly after the accident, police officers told the Lindhardt family that Balling's family wanted to meet with them. Lori Lindhardt said she really wants to meet with them when Peter comes home, and her family has prayed for the other family since the accident.
---
From the minute of the accident, we had people helping us right there on the road, and I've had my fridge full of food, people have given us money, they have mowed my lawn, taken care of my kids. People are good.
–Lori Lindhardt
---
July 22, Amber Lindhardt created a GoFundMe* account asking for $1,000 to assist the family with their bills. As of Wednesday morning, nearly $4,000 has been raised for the family.
Lori Lindhardt said people have been so good to them, and the Boy Scouts are even building a ramp for her husband's wheelchair that goes up to their house.
The Lindhardts have one more son who was not with them because he is serving a mission for The Church of Jesus Christ of Latter-day Saints. Zackary Lindhardt, 21, will return home from Indiana Aug. 12.
Lori Lindhardt said it is hard for him to be away from the family at this time, but he has been asked several times on his mission why bad things happen to good people, and he knows God is always there during the bad times.
Lt. Lee Perry said they are grateful the family survived.
"It's one of those terrible tragedies and we're just grateful that the other family survived and they were all wearing seat belts," Perry said. "And, you know, we just hope that the dad continues to recuperate and get better … we're glad the rest of his family for the most part is doing well."
*KSL.com has not verified the accuracy of the information provided with respect to the account nor does KSL.com assure that the monies deposited to the account will be applied for the benefit of the persons named as beneficiaries. If you are considering a deposit to the account you should consult your own advisors and otherwise proceed at your own risk.
×
Photos
Related Stories