Estimated read time: 2-3 minutes
This archived news story is available only for your personal, non-commercial use. Information in the story may be outdated or superseded by additional information. Reading or replaying the story in its archived form does not constitute a republication of the story.
SALT LAKE CITY — Two brothers, one birth defect.
Spina bifida took away the use of their legs, But it's not slowing Camren and Murray Glad down. The brothers love to ski, ride horses and fish.
"We're just like any ordinary people," said Camren, age 12. "Just because our legs don't work doesn't mean we can't do things other people can do. We just have to do it in other ways."
The boys were born with spina bifida, which the Mayo Clinic describes as a birth defect that occurs when a part of the baby's neural tube fails to develop or close properly causing defects in the spinal cord.
---
Just because our legs don't work doesn't mean we can't do things other people can do. We just have to do it in other ways.
–Camren Glad, 12-year-old with spina bifida
---
Doctors say it's rare for two siblings to have spina bifida, but these boys are living ordinary lives under extraordinary circumstances.
Murray, age 7, has his first crush. "She's only 6," he said. "I told her."
Their parents raised them with one idea: "The only real disability in life is a bad attitude," said Dave Glad, the boys' father.
Camren recently underwent a risky surgery at Shriners Hospitals for Children in Salt Lake City. His spine was so curved his pelvis touched his ribs.
"Every time I tried to balance I'd fall to each side," he said.
Dr. Jacques D'Astous, a pediatric orthopedic surgeon at Shriners, performed the 12-hour procedure, which is complex enough that they only do one to two surgeries like it a year.
"We did what we call an anterior approach, going through the chest and the abdomen on the left side to take several discs out in order to get good fusion," D'Astoous said. "Then we turned him over on his stomach for the second part of the surgery and put these rods and screw in to correct his scoliosis."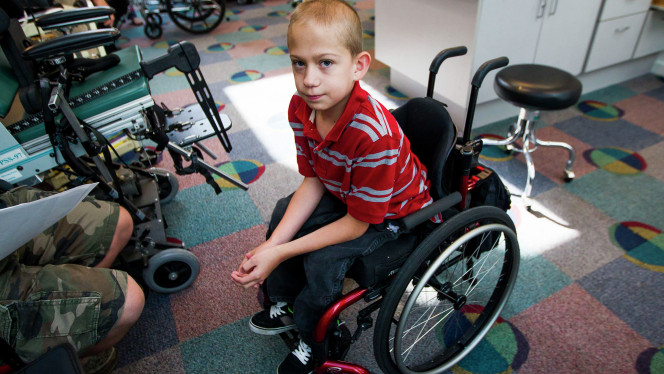 Camren Glad, 12, recently underwent surgery at Shriner's Hospital for Children in Salt Lake City to correct the curvature of his spine. (Photo: Stacie Scott, Deseret News)
The surgery was a success, and Camren said he's much more comfortable.
"I think he's about four inches taller than he was before," his father said.
Through their positive attitudes, the boys are teaching people about ability, Dave Glad said.
"When they put their minds to something, there's nothing they can't do," he said. "If they want to do something badly enough, they'll find a way to do it. As their parent, it's my responsibility to help them get over those hurdles and do those things they want to."
Two brothers. One awesome attitude about life.
Read more about Camren and Murray's "wheelchair adventures" at wheels-slc.blogspot.com.
×
Photos
Related Links