This archived news story is available only for your personal, non-commercial use. Information in the story may be outdated or superseded by additional information. Reading or replaying the story in its archived form does not constitute a republication of the story.
SALT LAKE CITY — We've heard about how Utah's economy continues to grow and is one of the strongest in the nation. New numbers out Friday prove that in a big way.
Job growth in Utah continues to be one of the highest in the nation and there's no indication that it's going to slow down anytime soon.
The presence of construction cranes surrounding buildings and other heavy equipment can be a good indication of the local economy.
That means a lot of people are working. Some statistics released Friday show Utah gained more than 59,000 jobs in the past year, up 4.5 percent from 2014.
"We have an accelerating economy, not just growing at a steady pace but actually gaining momentum," said Carrie Mayne, chief economist for Utah Department of Workforce Services. "There's many job opportunities for our state's workforce."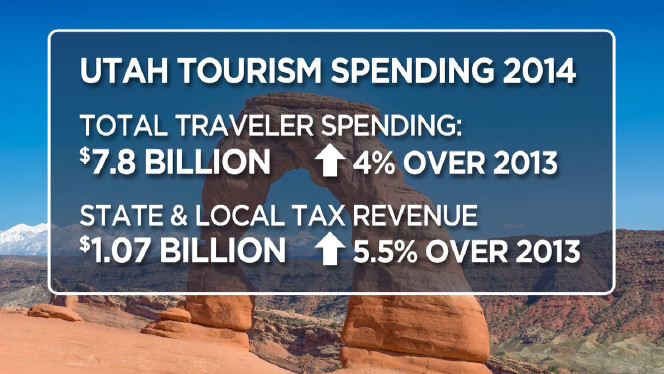 KSL-TV
If you were to liken the economy to a race car, Mayne puts it like this: "If our top is 100 miles per hour, we're definitely higher than 50. We're in the 75 to 80 range."
The sector that is seeing the highest year-to-year growth in the state is "Leisure & Hospitality," or Utah's tourism industry.
"International bookings are up, national bookings are up," said Vicki Varela, managing director of the Utah Department of Tourism. "People want to experience Utah."
The Utah Office of Tourism just released the final stats for 2014, showing visitors spent big: $7.8 billion, up 4 percent from 2013. That generated more than a billion in tax revenues, which was also an increase.
Related Story
"The indicators are 'The Mighty 5' campaign and 'The Greatest Snow on Earth' campaign are really making a difference with national and international visitors," Varela said.
More visitors mean increased demands on hotels, restaurants, campgrounds and other attractions, which means more employers are hiring. Last year, tourism employment in Utah increased by 13,000 jobs, a 10 percent jump from the year prior.
"Diverse economy is always one of the explanatory variables that we have," said Mayne. "And also the fact that we've had low gas prices. That has really propelled things like leisure and hospitality."
Utah has been riding a nice economic wave since coming out of the recession in 2009. For now, there's plenty of optimism that the trend will continue.
"It's a great pattern we're on right now," Mayne said. "The summer season bodes well for our economy."
×
Photos
Related Stories