Estimated read time: 3-4 minutes
This archived news story is available only for your personal, non-commercial use. Information in the story may be outdated or superseded by additional information. Reading or replaying the story in its archived form does not constitute a republication of the story.
PROVO — Six Utah County men are hoping to bring an art house cinema to downtown Provo.
The group came together after a November Facebook post by local musician-turned-barber, Drew Danburry. He asked if people were interested and what it would take. The post piqued client film distributor Brandon Purdie's interest.
Sitting in the barber's chair shortly after, Purdie asked Danburry if he was serious.
"I started telling him about all the groundwork I've done and he started talking about all the groundwork," Purdie said. "So we started talking about what it could be. And Drew, who is incredible at organizing, kind of brought a group of people together who were like-minded and wanted the same thing."
The two formed a board, the Provo Film Society, shortly after. The six-member board is comprised of Danburry and Purdie, Max Orton, Joshua Ligairi, Andrew Adair and Stephen Walter. Each bring a unique skillset to the board, Danburry said.
The theater would be the Utah County home for independent film, screenings and cinematic events.
The society is hosting its first event on July 20 at Velour, where it will screen the independent film "An Honest Liar" and host a Q&A with director Tyler Measom. The board is using this as an opportunity to spread the word and start raising some funds to build a theater.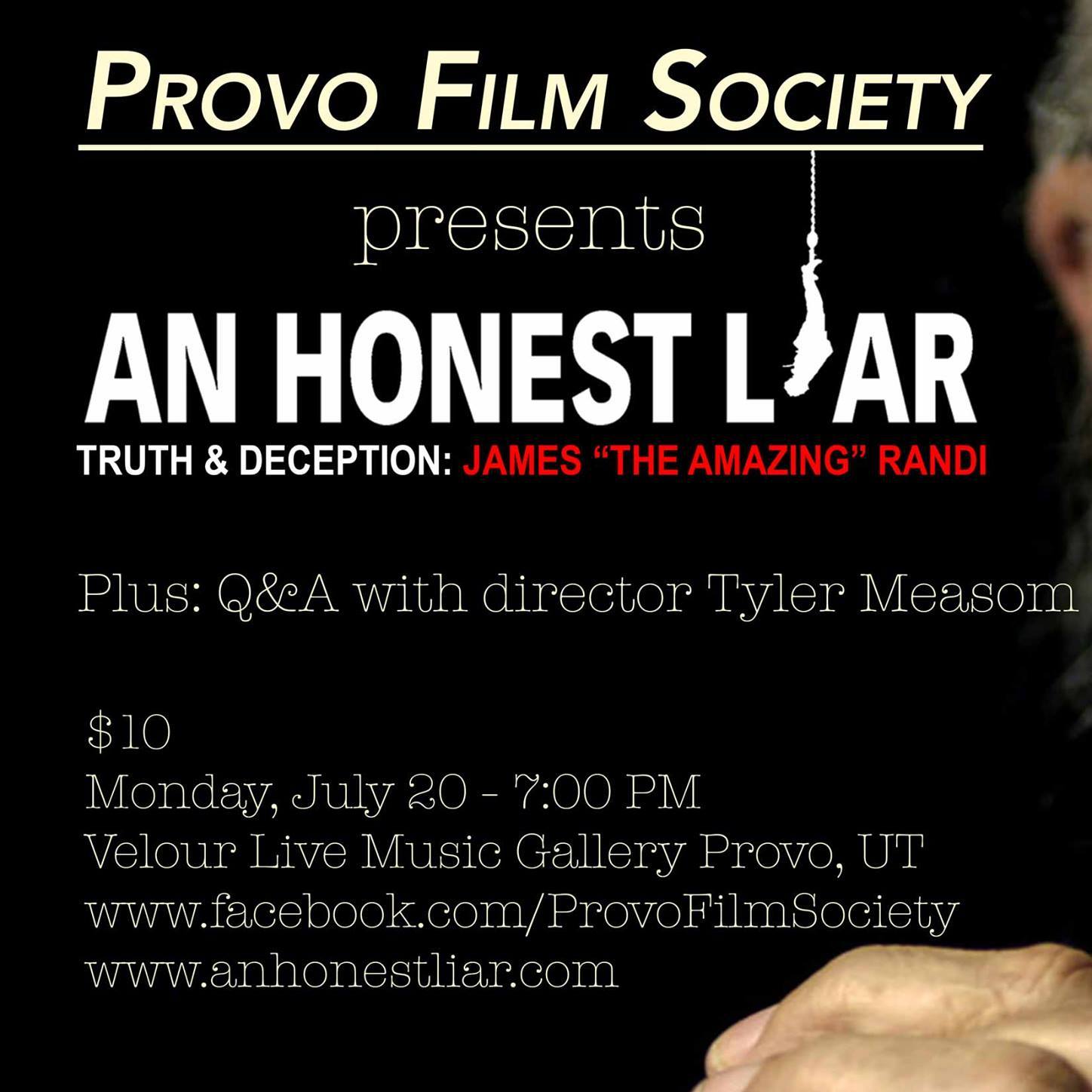 Provo Film Society
With Purdie's extensive background in film distribution, he's been able to track how films have performed in Utah Valley versus performance in Salt Lake. He said that there's an appetite waiting to be satiated in Utah County.
"Because of my distribution, the past 10 years I've tracked what movies perform in Provo and what movies perform in Salt Lake and other markets," Purdie said. "And I've noticed that when these independent art films get to Provo they perform as well or better than they do in Salt Lake. So I've just noticed that there's this craving and desire for more of this content that sometimes doesn't make its way down to Provo."
Provo Film Society sees a cinema as the next step in Provo's burgeoning arts and entertainment scene.
"I just look at it kind of like, 'What are the things that Provo needs to grow up?' We're having great restaurants come in — some high-end restaurants — we've got great clothing stores, we've got all sorts of stuff that's happening and yet we still don't have an independent theater," Danburry said. "I guess for me, that's a hard question to answer. It's just something that I think should happen. It's something, that for me on a personal level, I would want Provo to have."
---
We want to be fully integrated with what's going on there. As far as being another option in what's going on in Provo as far as the art circuit is concerned.
–Brandon Purdie, Provo Film Society
---
Like music venues in the area, the film society hopes it could become home to up-and-coming filmmakers, taking advantage of the young talent around Utah Valley and giving it a stage.
"We want to be fully integrated with what's going on there," Purdie said. "As far as being another option in what's going on in Provo as far as the art circuit is concerned. I think we'll fit in well and we'll round out what's happening really well. And I think that people will be really excited to have that option."
The society is fundraising in order to build a theater downtown from the ground up, as no existing location would fit its needs. It is also, however, looking for investors to buy into its vision.
But for now, Danburry and Purdie are asking for members of the community to buy into the vision by attending events like the Q&A.
"If you live in Provo and you want to have an independent theater, then get involved and come out to events and stay in touch with us so we can all work on this together, because we need all the help we can get," Danburry said.
×
Related Links