Estimated read time: 2-3 minutes
This archived news story is available only for your personal, non-commercial use. Information in the story may be outdated or superseded by additional information. Reading or replaying the story in its archived form does not constitute a republication of the story.
VERNAL — Bubonic plague wiped out a colony of Utah prairie dogs in a remote area of the Uintah Basin, and health officials are urging residents to refrain from handling any of the dead rodents they may find.
The plague outbreak, which is not uncommon in prairie dogs, was discovered last week in an area called Coyote Basin, southeast of Vernal, said Dax Mangus, wildlife program manager in the northeastern region for the Utah Division of Wildlife Resources.
The outbreak killed a colony of between 60 and 80 prairie dogs.
Mangus said the outbreak occurred in an area under monitoring because it is a site for the reintroduction of the black footed ferret, which prey on the dogs. The black footed ferret, North America's only native wild ferret species, has been listed as endangered since 1967 and 90 percent of its diet is prairie dogs.
Plague outbreaks are not uncommon in prairie dog populations and cycles through as the colonies of animals become more dense. The disease wipes out that particular "town," and then new populations later establish.
The disease can be transmitted to humans and can be treated with antibiotics.
A statement by the TriCounty Health Department — which serves Daggett, Duchesne and Uintah counties — advises people to take proper precautions and refrain from handling any carcasses of the animals. In addition, wild carnivores may become infected by eating the remains of any infected animal, which can include mice and chipmunks as well.
People usually become infected when they are bitten by a rodent flea that is carrying the plague bacterium or by handling an infected animal without taking precautions.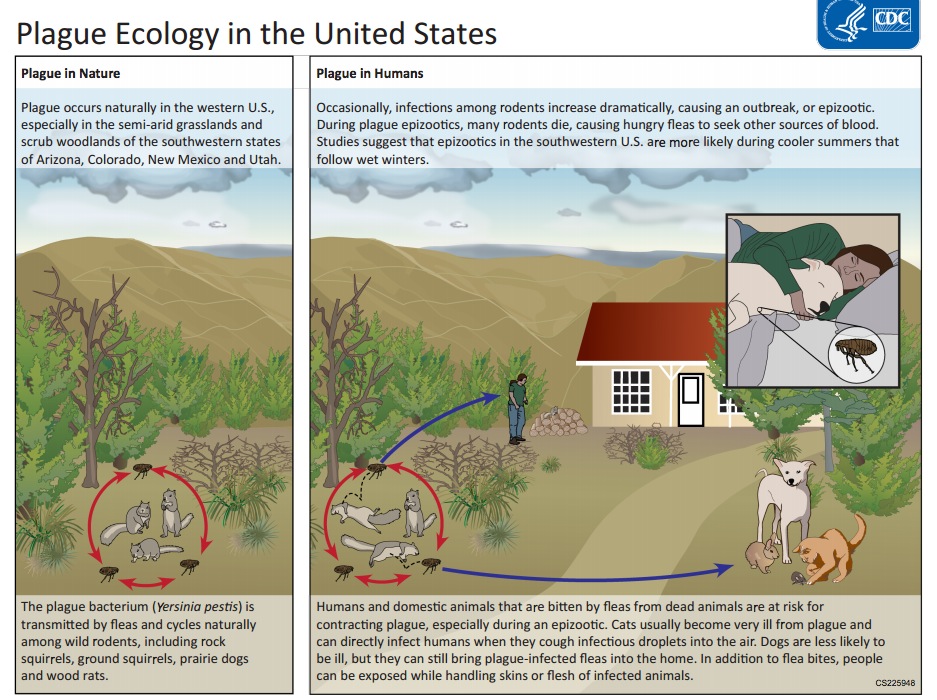 CDC
Symptoms include: sudden onset of fever, headache, chills, weakness, and swollen, tender and painful lymph nodes (generally near the site where bacteria entered the body).
People typically become ill within two to six days after being infected. The health department advised that the sooner treatment is obtained, the better chance of a full recovery. There are no plague vaccines that are available in the United States.
Mangus said the agency is currently involved in an ongoing study to develop and administer a possible vaccine to the rodents to prevent outbreaks like these.
The agency will continue to monitor prairie dog populations with an eye to maintaining its efforts to bolster the reintroduction of black footed ferrets in the area.
"Our primary concern is if their food source goes away," Mangus said.
The Utah Division of Wildlife Resources can be reached to answer questions regarding plague infestations by calling 435-781-WILD (9453). For information regarding disposal of dead animals, call TriCounty Health Department at 435-247-1177 (Vernal), 435-722-6300 (Roosevelt) or 1-866-275-0246 (toll-free).
×
Photos
Related stories
Most recent Utah stories