This archived news story is available only for your personal, non-commercial use. Information in the story may be outdated or superseded by additional information. Reading or replaying the story in its archived form does not constitute a republication of the story.
LEHI — Alex Visker missed more than 300 days of high school, but he still managed to graduate with a 3.6 grade point average.
It took years for his family to find answers to explain why he had been sick for most of his life, experiencing symptoms that included hives, bone pain, brain fog, constant nausea and extreme fatigue. The 19 year old is allergic to the proteins present in food, in addition to environmental factors.
"He's a very interesting case," said Gerald Gleich, the allergist working with Alex. "First of all, he is quite allergic to many foods, but in his case the degree of ability to tolerate the foods is really quite exceptional and he hasn't been able to eat the foods. This kid was darn near starving when I saw him."
Since Alex is unable to eat any foods, he is currently living off of an elemental diet. He receives EleCare formula through a permanent feeding tube. If he takes his medication and avoids the other factors that trigger reactions, like perfumes and overexertion, Alex said he feels better than he has for years.
However, that doesn't mean things are easy. While struggling with his health, Alex continued to tackle schoolwork. He recently graduated from Lehi High School, although he didn't feel well enough to make it to the ceremony.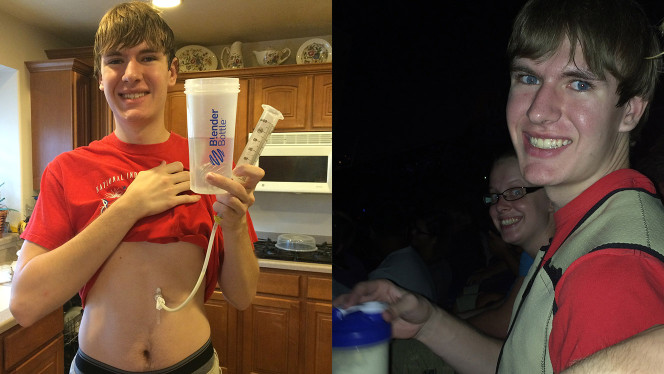 Photo credit: Visker family
"It was such a challenge," said his mother Jodie Visker. "He just went from super, super sick to feeling well enough to get out of bed and then just doing nothing but homework and trying to keep up. He was trying to do the work without the instruction so it was kind of on his own, trying to figure it out. It was stressful and a race right down to the end, but he just did phenomenal things with it."
Next, Alex would like to start taking college classes online to become a computer programmer. He hopes the field would let him find a job with flexible hours that would allow him to work from home so he can keep his health under control.
To help Alex pay for tuition and cover medical bills, the bands Kings Heir, DateNight and The Mainstream are hosting a benefit concert in Orem Monday. It is located at 521 North 1200 West and starts at 7:30 p.m. They also encouraged the Visker family to start a GoFundMe campaign*.
"Part of what we want to do is just get his story out there to maybe help somebody else, because it took us seven years to even find a doctor that could help him," Jodie Visker said. "It's so difficult when you don't know where to start. You feel like nobody else on Earth has this thing, which in some ways not many people probably do."
Benefit Concert
The bands Kings Heir, DateNight and The Mainstream are hosting a benefit concert in Orem Monday. It is located at 521 North 1200 West and starts at 7:30 p.m.
Despite the fact that Alex's condition has forced him to give up a lot of his hobbies, like running because it requires too much exertion and playing the clarinet since he is allergic to both synthetic and wood reeds, he tries not to let it get him down.
"He's so positive and he's so good," his mother said. "He'll cook his friends pizzas. He'll still try to get his girlfriend to go out to eat something. He'll come and sit at the table and sit while we're eating, which has got to be extremely difficult to see it and smell it and never be able to eat it. He's always saying, 'I don't want people to feel like they can't eat or feel bad.' He just has such a fantastic attitude about it."
Alex said he focuses on taking life one step at a time.
---
*KSL.com does not assure that the monies deposited to the account will be applied for the benefit of the persons named as beneficiaries. If you are considering a deposit to the account, you should consult your own advisors and otherwise proceed at your own risk.
×
Photos
Related Links