This archived news story is available only for your personal, non-commercial use. Information in the story may be outdated or superseded by additional information. Reading or replaying the story in its archived form does not constitute a republication of the story.
VILLAIN CON — People have been buzzing about the "Minions" movie ever since it was announced. Everyone's favorite little yellow creatures now have their own movie, but the question is are the minions worth watching?
I've been playing with this notion for a while now and I've finally come to a conclusion: not really.
Wait, is that a conclusion?
How about this — I'll break my review up into two parts. The first will be adult John's take on "Minions" and the second part will be child John's opinion.
Here we go.
Adult John's "Minions" review
The first and second "Despicable Me" were really clever, smart and fun movies. Screenwriters Cinco Paul and Ken Daurio managed to write a really good movie that just happened to be animated. "Minions" didn't quite hit that level.
Paul and Daurio didn't pen "Minions," those duties were passed onto Brian Lynch. Don't get me wrong, Lynch put together some really funny moments and had his work cut out for him considering he had to make us laugh and follow a story with a bunch of characters who don't even speak a real language.
With all of that said, however, "Minions" was missing that clever and unexpected flavor we got from the "Despicable Me" films.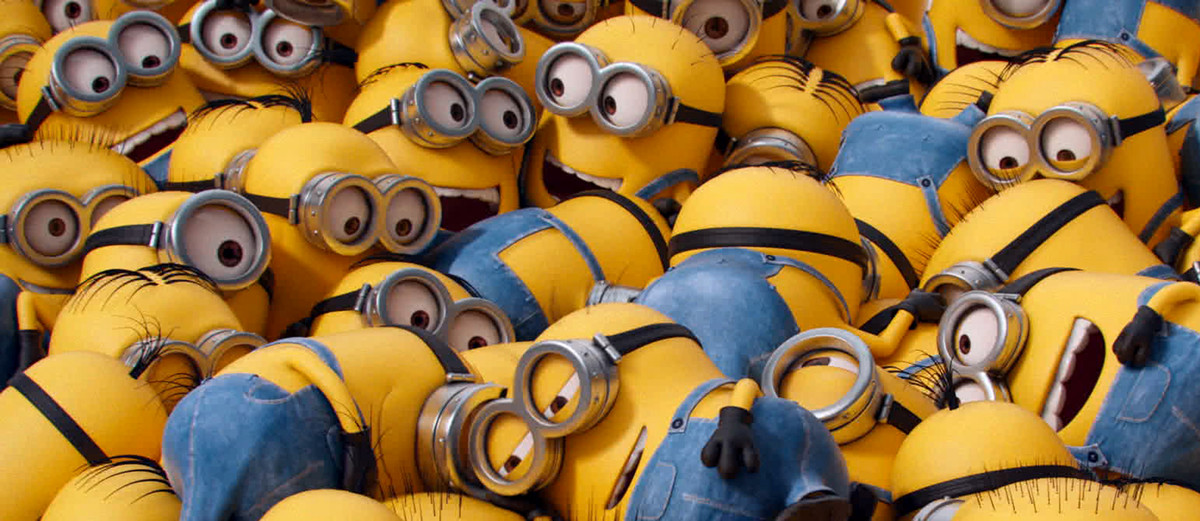 Illumination Entertainment/Universal Pictures via AP
I once had an opportunity to interview Cinco Paul and I specifically asked him how he and Daurio managed to get so many great jokes in that appealed to kids and parents. His simple answer was that he and Daurio didn't try to write some jokes for kids and some for adults, but rather they just wrote what they thought was funny and it worked.
I don't know Lynch's method when he writes, but the film felt like an hour and a half of childish pratfalls and potty jokes. Yes, they made me laugh at times, but the magic that engaged me for "Despicable Me" seemed to be missing.
Little kid John's "Minions" review
Related:
I laughed and laughed and wanted more "Minions."
I attended the film with my 4-year-old daughter and she was an amazing barometer. If I ever wanted to roll my eyes at a joke or scoff at a sight gag, I heard my little girl laughing hysterically and remembered, "This isn't really for me."
If I were a little one, I would have eaten up every moment of that movie waiting to see what other shenanigans these minions were going to get themselves into.
If I were 6 again, I'd be begging my dad to find out when we were headed back to the theater to watch the adventures of Bob, Stuart and Kevin.
Conclusion
Overall "Minions" isn't bad but it's not all that great. It reminded me of "Cars 2" in a way. In the first "Cars" we all laughed at Mater and his funny lines and silly sense of humor. Then "Cars 2" came a long and it quickly became apparent that a little Mater goes a long ways.
The minions are great side characters with their funny language and extreme desire to get their hands on a banana, but an hour and a half focused just on them can wear a little thin.
So, as an adult, if your headed to the theater, sit next to your little ones and remember, "This is for them." You'll have a much better time at the movies.
---
![](http://media.bonnint.net/slc/2540/254022/25402278\.jpg?filter=ksl/65x65")

About the Author: John Clyde ----------------------------

John has been writing about movies, news, sports and pretty much anything awesome for more than five years. John is the co-host of the Flix Junkies podcast and will always entertain you with his stories.

×
Related Links
Related Stories