Estimated read time: 2-3 minutes
This archived news story is available only for your personal, non-commercial use. Information in the story may be outdated or superseded by additional information. Reading or replaying the story in its archived form does not constitute a republication of the story.
Samantha Hayes ReportingThe story we are about to tell you is not one you would think could end well. For 26 years, two women, hundreds of miles apart, hoped, waited and wondered about each other. A mother searching for her baby girl; a daughter trying to overcome a troubled past, not sure who she might find.
We go back a few decades to 1980, when there were no Amber Alerts and no organized systems to find children. Shawnette Davis believes her case was is one of many that go unreported, no mailers, no missing posters, no face on a milk carton. It was up to her, and starting that search made her scared of who she might find.
Shawnette Davis was too young to remember what it felt like to be held in her own mother's arms because when she was still an infant, the two were separated. It's unclear why that happened, but Shawnette believes it was against her mother's will.
She was raised by her estranged boyfriend, hundreds of miles away in Utah.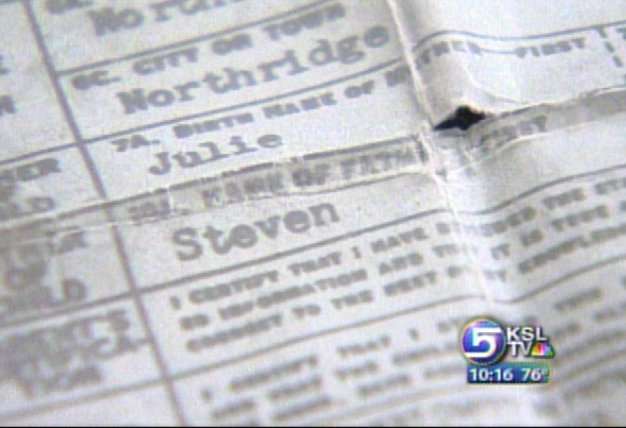 Julie Bray, Mother: "I was so young, 17. I didn't know anything."
Shawnette Davis, Daughter: "I was told my mother was a drug addict and as a baby she was abusive to me."
He married another woman and raised Shawnette in Utah.
Shawnette: "They didn't get along very well. I remember a lot of anger when I was growing up."
Sometimes she felt that anger directed at her.
Shawnette: "It wasn't my fault and there wasn't anything I could have done as a child to prevent it from happening."
Shawnette spent her teenage years in state custody. At eighteen, she ran away.
Shawnette: "I turned to drugs, partying. I lost myself."
And she didn't know who she was. The answer to that was just a name on her birth certificate.
Shawnette: "This is everything I had to find my mom, right here."
But Shawnette Davis doesn't know who that woman is on her birth certificate, and for years, she hasn't been sure if she even wants to.
Shawnette: "Because of the lies I was told as a child. I could have, all these years, I could have looked for her at anytime. And I never did because I wasn't ready to have another monster in my life. And I thought that was who I was looking for."
Tonight I spoke to the man who took Shawnette away from her mother. He says Shawnette's mother didn't want her and that's why he raised her.
But Shawnette's mother told me, she never let go of her daughter; that she's been looking for her for years. She claims to have filed missing persons reports and sent letters to government officials.
Julie: "There were at least 15 times I missed her by 10 or 15 minutes."
We went to Portland, Oregon, to find out the mother's side of the story. Wednesday night at 10, a search that lasted for decades and the volunteers who made the connection.
×
Most recent Utah stories