Estimated read time: 2-3 minutes
This archived news story is available only for your personal, non-commercial use. Information in the story may be outdated or superseded by additional information. Reading or replaying the story in its archived form does not constitute a republication of the story.
WEST JORDAN — Inspired by a diabetic contestant in the Miss Idaho pageant, a West Jordan-based company launched a Kickstarter campaign to create customized clothing that holds insulin pumps.
West Jordan resident Chy Jorgensen said she partnered with her sister and three others to launch the online company Pocket Innerwear in 2013. Jorgensen said she was frustrated that a lot of women's clothing didn't have pockets to hold cell phones.
"We kind of noticed with women's clothing that we have these ginormous cell phones in our pockets and it kind of looks ridiculous," she said. "So we started off with a 'killer pocket' to put your cellphone, like in your basic undershirt."
However, after Jorgensen and her partners saw Sierra Sandison take to the stage during the 2014 Miss Idaho pageant while wearing her insulin pump on her bikini, they were inspired to do more than create pockets for cell phones.
"A light kind of went off and we realized we could really serve a higher purpose," she said. "So we developed a pocket that was just perfect for the pump that had a porthole to go through the shirt into their port site. And we got just phenomenal feedback."
In September 2014, the women began creating clothing with the hidden inner pockets for insulin pumps. On June 18, they launched a Kickstarter campaign to help raise money for their new specialized clothing line. Jorgensen said the inner pockets aim to help protect the expensive pumps and to prevent the tubes from getting caught on things.
"We spoke with several diabetics that carry a pump and moms, especially moms for little kids, that carry those devices that are like $10,000," Jorgensen said. "They put them on their pants and go to kindergarten and you just pray that they don't smash them on the playground or something."
Jorgensen said they have mainly made the pockets on high-quality breathable undershirts and tank tops, but they have also branched out to include spandex shorts, bands and men's and boy's compression tops and briefs. She said none of the founders are diabetic, but they have been touched by the project and have seen such a need for it.
"It's been more gratifying," she said. "It's really kind of emotional. We gave one to a girl that was 16 and she was going to prom and so she wore it underneath her dress… and she started crying because she was so excited because she was so excited that nobody was going to see her pump under her dress."
Pocket Innerwear clothing is currently manufactured by seamstresses in Utah and Idaho.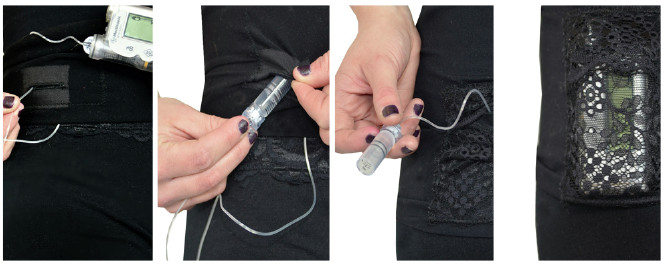 Pocket Innerwear
×
Photos
Related links
Related stories
Most recent Utah stories