This archived news story is available only for your personal, non-commercial use. Information in the story may be outdated or superseded by additional information. Reading or replaying the story in its archived form does not constitute a republication of the story.
SALT LAKE CITY — Even before Karel Capek coined the word "robot," humanity wondered about artificial intelligence.
Automatons have since morphed into androids and wonder has turned into worry. Do the benefits outweigh the dangers? The debate is heating up.
At a symposium celebrating the centennial anniversary of the MIT Aeronautics and Astronautics Department in October 2014, Elon Musk, SpaceX and Tesla founder, took questions from the audience. When asked about AIs, he expressed "grave concerns," CBS News reported.
He compared artificial intelligence research to "summoning the demon. You know all those stories where there's the guy with the pentagram and the holy water and he's like... yeah, he's sure he can control the demon, [but] it doesn't work out."
Musk was thought to be paranoid and a doomsayer until eminent physicist Stephen Hawking also spoke out on the issue in an interview with the BBC two months later.
Professor Hawking doesn't see any harm from the "soft" or basic AIs in our everyday lives, like refilling a prescription, making a cable-TV-service appointment, canceling an airline reservation or obeying the voice from the GPS. These AIs only try to mimic brain functions to make our lives easier. His concern is about what happens when we create an AI that is equal to or surpasses the human brain.
"It would take off on its own, and re-design itself at an ever increasing rate," he said.
ISchmidt/Shutterstock
Martin Ford is the founder of a Silicon Valley-based software development firm and an author. His recent book, "Rise of the Robots" deals with the impact of AI robots on industry meaning loss of jobs. He writes that robots are coming for (almost) all of the jobs. They're getting too smart, too flexible and too convenient. It has already been happening in factories around the world.
Peter Diamandis, chairman and CEO of XPRIZE, disagreed in his article for the Huffington Post titled "Why I Don't Fear Artificial Intelligence." He sees great benefits from AI research.
"In the future, AI will democratize the ability for everyone to have equal access to services ranging from healthcare to finance advice," he wrote.
---
In the future, AI will democratize the ability for everyone to have equal access to services ranging from healthcare to finance advice.
–Peter Diamandis
---
He said it will level the playing field, and pointed to how humans distrust or dislike new things.
"Our default, evolutionary response to new things that we don't understand is to fear the worst," he wrote in the article.
Gray Scott is a philosopher, speaker, artist and self-described "techno optimist." In an interview with CBS News, Scott said he doesn't think AIs are going to be benevolent, but they aren't "going to be terminating, baby-eating machines either. These machines are going to reflect our species and our evolutionary process."
When asked about Musk's comment claiming AIs are as dangerous as nukes, Scott replied, "I think that concern is valid, although I don't think that is what is going to happen. It's not a good economic model for these artificially intelligent machines to kill us and, second of all, I don't know anybody who is setting out to code to kill the maker."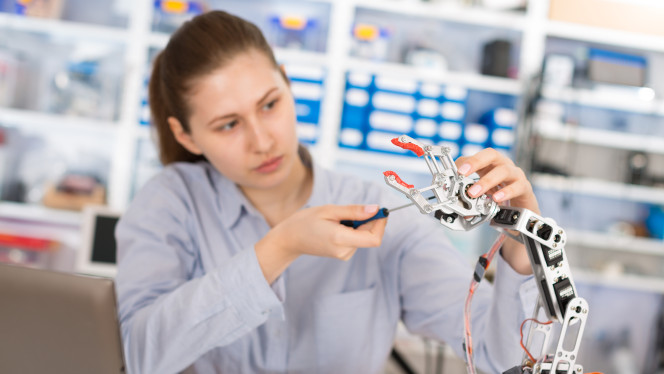 science photo/Shutterstock
Whether the world is ready or not, big businesses are getting into the AI research. Facebook has just announced it is basing a large artificial intelligence team in Paris.
"Facebook apparently wanted to set up shop in Paris because France is considered a hotbed for artificial intelligence research," an article in Fortune magazine reads. It states the team's purpose is "to improve the social network's various services including the news feed, photos, and search.'
#poll
Apple is also rumored to be working on AIs. ValueWalk cited Computerworld's Jonny Evans as saying "there is a growing body of evidence which suggests that Cupertino is in fact working on artificial intelligence as part of 'the digital transformation of pervasive technology embedded within every interaction and device.'" The Apple Car is believed to be part of this planning.
It's way too early to worry about red-eyed terminators, but Moore's Law states "the number of transistors in a dense integrated circuit has doubled approximately every two years." Thus far, this has proven true and now translates to computation power. Time and the ingenuity of mankind will bring us ever closer to our own J.A.R.V.I.S. from the "Iron Man" mythos. The question will be how we use it.
---
Kent Larson is from Phoenix, Arizona. He has been happily married for 30 years and has two sets of twins. He has been teaching for 26 years. His interests are his family, writing, reading, music and movies. Find him at kentalarson.wordpress.com.
×
Related Links
Related Stories