This archived news story is available only for your personal, non-commercial use. Information in the story may be outdated or superseded by additional information. Reading or replaying the story in its archived form does not constitute a republication of the story.
LAKE POWELL — A Price family was caught in a flash flood on Lake Powell and captured photos of the terrifying incident.
Dennis Slavensky said his family and several friends took a trip to Lake Powell on June 4. Slavensky said they checked the weather report before leaving Utah and saw there was a chance of scattered rain showers on Friday and Saturday, but there were no warnings of flooding.
The group camped at a remote beach in Crystal Springs Canyon at the north end of Lake Powell where Slavensky said his friends had camped for several years. Slavensky said the weather was fine Thursday and Friday, but around 2:15 p.m. on Saturday, there was a sudden downpour of rain while the group was on the beach eating lunch.
"At 2:20 til 2:50, the nearby slot canyon began to gush and roar with raging water," Slavensky said. "The loss of our own lives and the (loss of the) sandy beach beneath us was becoming a serious threat. … We were trapped behind a pool of rocks, logs and debris 2-feet thick, with that raging slot canyon to the left of us not stopping anytime soon."
Although their three boats were anchored to the beach, Slavensky said the flash flooding in the canyon ripped their boats away from the shore. The group huddled together on the beach, watching helplessly as their boats were pulled beneath a waterfall caused by the flash flood.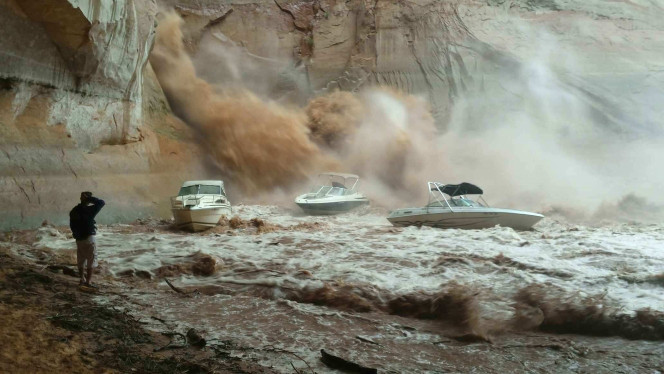 Courtesy of Dennis Slavensky
Around 3:15 p.m., Slavensky said his 23-foot 1997 Maxum was hit and submerged by two boulders that were swept down the canyon. During the entire incident, Slavensky said a woman in the group took photos to document the flooding and damage.
Eventually, the flash flood died down and the group was able to reach the other two boats.
"We used them (sic) boats to help rescue ourselves through the debris and to get out," he said. "One of the boats started and ran enough. We loaded people in one boat and some in the boat that was running and pulled the other boat out. And we just kind of got out to the main canyon there and signaled for help from a nearby house boat …."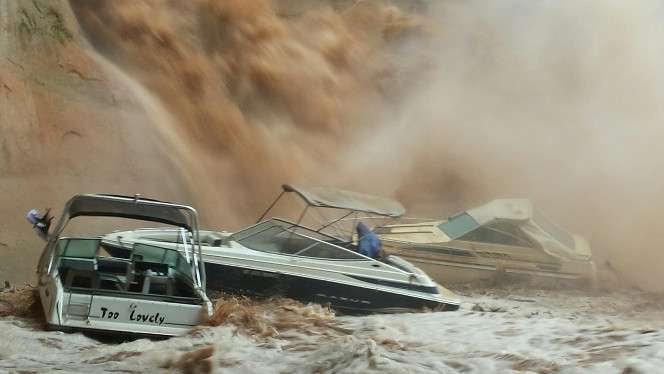 Courtesy of Dennis Slavensky
No one in the group was injured during the incident, but Slavensky's boat was considered a total loss.
Glen Canyon National Recreation Area park ranger Cynthia Sequanna said the group was very lucky that there were no fatalities. Sequanna said the Price family was one of two groups involved in boating incidents on Lake Powell Saturday due to the severe weather.
"It was a pretty serious storm cell that was moving through," Sequanna said. "Especially when you are down in the canyons you can't always see storm cells coming in the distance. And then they find themselves kind of trapped in what could be very dangerous situations."
Sequanna said in many instances when bad weather occurs at Lake Powell, people head to canyons to seek shelter. However, she said that is where the most dangerous flooding occurs.
"People go into the back of the canyons where there is water pour-off where there might be a little alcove underneath a sandstone bench," she said. "And they will try and seek shelter there without realizing that is exactly where the flash floods come, is over the top of that. … When they are choosing their campsite, what looks like a nice, little cozy dry alcove suddenly becomes a torrential flash flood and waterfall during these severe weather events."
Sequanna said people should never go into canyons during severe weather and that they should always check the weather forecast and plan accordingly.
"You need to pay attention to not just what's around you, but what's above you and where water might flow," she said.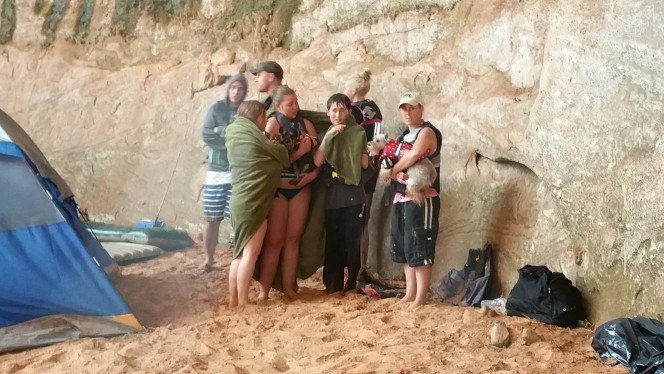 Courtesy of Dennis Slavensky
×
Photos