Estimated read time: 3-4 minutes
This archived news story is available only for your personal, non-commercial use. Information in the story may be outdated or superseded by additional information. Reading or replaying the story in its archived form does not constitute a republication of the story.
SPRINGVILLE — A Springville photographer who made a name for himself with realistic depictions of Jesus Christ now captures emotional scenes of human trafficking.
Mark Mabry didn't grow up dreaming of becoming a photographer. He said he liked music and writing in high school, but mainly played football. Mabry was studying political science at Arizona State University when 9/11 happened and caused him to change his focus.
"I just kind of walked out of class and was like 'meh' and left," Mabry said. "I went and bought a photography lesson and said, 'This looks cool.' It didn't even feel like a monumental decision at the moment."
Mabry said he dropped out of ASU and enrolled at the Brooks Institute of Photography in Santa Barbara, California, in 2001. He gained a passion for photography and began using his newfound skills with jobs in advertising and portrait photography.
"I love to just take a moment and fixate on it. And that's what photography gives me," Mabry said. "Once I got kind of trained and then learned how to break all the rules I'd learned with lighting and things, it freed me up creatively to really tell a new story with existing materials."
In 2008, as part of a personal project, Mabry decided to recruit volunteers and re-create Biblical scenes from the life of Christ. He said it was a daunting task, but one that put him on the map artistically.
"I realized doing it, that it could have been wildly horrible," he said. "Historical recreations are generally bad anyway, unless you have like a monster budget, but then compound that with something that is so sacred to people, it's a lot safer to try and paint it … because then you can claim abstract or impressionism."
His project, "Reflections of Christ," was published by Deseret Book in 2008 and an exhibit was showcased at the LDS Mesa Arizona Temple Visitor's Center. A few of the photos are part of a permanent display at the Bishop's Central Storehouse in Salt Lake City.
"That was kind of my entrance and my exit into like the public, just do-it-for-the-love-of-it photography realm," Mabry said.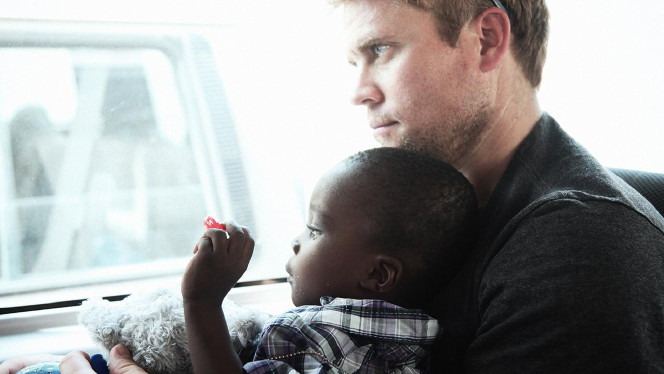 Mark Mabry
He went on to get a master's degree in liberal studies in 2012 and soon after, was hired to work at Mercury Radio Arts and The Blaze with Glenn Beck. In 2014, Mabry was recruited to document undercover trips to Haiti and Colombia with Operation Underground Railroad, a Utah-based nonprofit organization that works with governments around the world in fighting child trafficking.
Mabry said during the trips he took candid photos of the sex-trafficking sting operations.
"That like lit my soul," he said. "I don't do well without a cause. I always have to have a cause. So the cause of modern-day abolitionism has kind of lit me up lately. That's kind of where I've focused all my artistic attention and all my passion and spirit has been into that."
Although his two photography projects are very different by nature, Mabry said he has seen a beautiful symmetry between them.
"This image and this cause flows naturally from 'Reflections of Christ' because it is about inspiring people to action and saving souls," he said. "I think the people that go into those dark, dark situations have to be armed with the greater faith. And if I am telling their story, I have to see it through the lens… of faith and hope and total dedication to some little kid's soul."
Mabry plans to continue doing photography projects for Operation Underground Railroad.
Mark Mabry
×
Photos
Related links
Related stories
Most recent Utah stories