Estimated read time: 6-7 minutes
This archived news story is available only for your personal, non-commercial use. Information in the story may be outdated or superseded by additional information. Reading or replaying the story in its archived form does not constitute a republication of the story.
SNOQUALMIE, Wash. — She was admired as being a dedicated, loving and joyful friend to many that knew her.
Sister Natalie Anne Barnard, 20, of Snoqualmie, Washington, was killed Friday in a car accident while serving a mission for The Church of Jesus Christ of Latter-day Saints in Atlanta. She saw others for what they could become and inspired others them to reach a little higher, said her mother, Deborah Barnard.
"One of Natalie's best qualities was her ability to always put people ahead of her problems," Deborah Barnard said. "She gave and expressed love with joyful abandon."
Natalie Barnard was also a strong leader, said Mara Sundwall, who served as Natalie Barnard's Young Women's Leader in the LDS Church for most of her teenage years.
"I would often ask her to reach out to someone who was lonely or struggling," Sundwall said. "Natalie did this with a sincerity and an inclusive intent that surpassed her young age. It was never done in a spirit of obligation; it was always done with the utmost love for others."
Her childhood years were full of fun and mischief, Deborah Barnard said. As a young child, Natalie Barnard once painted her bunk bed with nail polish, built a Barbie swimming pool in the basement with the water storage supply and gave herself herself tattoos via permanent marker.
"The best part was that she found her own antics so amusing that you couldn't really be upset with her," Deborah Barnard said.
Related:
As Natalie Barnard matured, she became driven to do her best in all aspects of her life, Deborah Barnard said. She also had a deep enthusiasm for the gospel that motivated her to love and serve others, Sundwall said.
When Natalie Barnard was 14, she endured foot surgery which required her to use a knee scooter to get around. Sundwall said her favorite memory of Natalie Barnard was when she was driving her to a dance during this time.
They were talking about how Natalie Barnard's knee scooter could be decorated and displayed as an accessory to her formal dress for the homecoming dance, Sundwall said.
"The conversation was quick and witty— Natalie had a wicked sense of humor— and I had to pull the car over for a short time because we were laughing uncontrollably," Sundwall said.
Deborah Barnard said Natalie Barnard had a special gift to bring laughter and lightness to any situation.
Natalie Barnard started attending Brigham Young University in 2013. Her room adviser, Kristine Jolley, of Vernal, Utah, was impressed by Natalie Barnard's dedication to academics and love for others.
"She would make you feel comfortable, and I could tell her pretty much anything and not feel judged or criticized," Jolley said.
When the age requirements to serve a mission were lowered, Natalie Barnard did not want to serve a mission just because it was something that many other women her age were doing, Deborah Barnard said.
---
The conversation was quick and witty— Natalie had a wicked sense of humor— and I had to pull the car over for a short time because we were laughing uncontrollably.
–Mara Sundwall, former YW Leader
---
"She devoted significant effort to prayer, study and pondering in order to learn for herself that a mission was what Heavenly Father wanted for her life," Deborah Barnard said. "When her answer came, she moved forward with excitement and confidence and was anxious to share with others the joy of the gospel."
Natalie Barnard was called to the Atlanta Georgia North Mission in the summer of 2014.
On her blog, after she received her mission call, Natalie Barnard posted: "I can't wait to be a part of this hastening of the Lord's work and bring his teachings to the people of Georgia. To dedicate 18 months of my life solely to the Lord, putting my social life and education aside, leaving my friends and family behind— that is a big sacrifice, but it is entirely worth it to me."
Natalie Barnard left for her mission in October of 2014. Deborah Barnard said Natalie was loving her time in Atlanta.
"Her letters home were full of love for those she was meeting and teaching, and they could hardly help but love her in return," Deborah Barnard said. "Being around Natalie for any length of time inspired you to try to be as wonderful as she already knew you could be."
Deborah Barnard said Natalie Barnard and her companion, Sister Rachel Beckstrom, 19, of Tooele, were excited about the many individuals and families they were meeting and teaching.
"Natalie loved [Beckstrom] and would send home photos and video snippets full of the lighter moments they found in the midst of their labors," Deborah Barnard said.
Their service was cut short when Natalie Barnard and Beckstrom were involved in a car accident with a semi truck on May 29. Natalie Barnard died as a result of her injuries in the accident.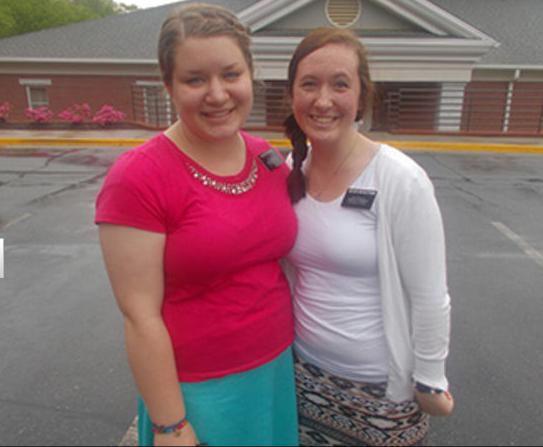 Image provided by Barnard family
In a statement through the LDS Church after the accident, the Barnard family said: "As a family, we are deeply saddened by the loss of our loving daughter, sister and granddaughter. On behalf of our entire family, we wish to express our love and appreciation for all of the support and prayers that have been offered in the wake of this tragic loss." The funeral service for Natalie Barnard has been announced to take place at 15205 SE 28th St., Bellevue, Washington, on Saturday, June 6, at 11 a.m.
Beckstrom is still in a coma and will likely remain so for 2-3 weeks, according to an update on the GoFundMe account* set up for patrons to donate money to the Beckstrom family.
Deborah Barnard said, "Our hearts are broken as we think of the Beckstrom family and pray that they will be sustained by the love of the Savior during this difficult time."
Natalie Barnard was a true friend to everyone she met and was constantly reflecting her love for Jesus Christ to others through her service and radiant personality, Deborah Barnard said.
"We are moving forward with faith and are thankful for the evidences of God's hand in our lives," Deborah Barnard said.
*KSL.com has not verified the accuracy of the information provided with respect to the account nor does KSL.com assure that the monies deposited to the account will be applied for the benefit of the persons named as beneficiaries. If you are considering a deposit to the account you should consult your own advisers and otherwise proceed at your own risk.
---
Spencer Ricks is a KSL.com news writing intern and student at Dixie State University from Snoqualmie, Washington. Contact him at newsintern@deseretdigital.com.
×
Photos
Related stories
Most recent Utah stories